Hi peeps! We have Jana Denardo visiting today with the tour for her upcoming release Blood Red Roulette, we have an exclusive excerpt and a fantastic $10 DSP Publications CG giveaway so check out the post and enter the giveaway! ❤ ~Pixie~
Blood Red Roulette
by
Jana Denardo
Arrigo Giancarlo's friends think he's a rich young man with the unusual job of paranormal investigator, working with his psychic assistant in Las Vegas. In truth he's a two-thousand-year-old vampire and member of the Chiaroscuro, a group of Supernaturals dedicated to keeping humanity safe from the more dangerous of their kind. He's also openly bisexual… but alone.
When he spots Luc St. John in a bar, Arrigo is intrigued. What begins as an effort to repay the kindness shown to him in the past quickly turns into much deeper feelings for the suffering and displaced Cajun. For Luc's part, he feels too poor, too uneducated, and too bound to his hateful family to ever be worthy of elegant and cultured Arrigo.
An old enemy, Eleni, blames Arrigo for murdering her true love. On the anniversary of that death, she's back to take revenge. As Arrigo's closest friends fall victim to savage attacks, he fears nothing will keep Luc safe. Should he break both their hearts and let Luc go, or is it too late? If Luc's already in Eleni's sights, Arrigo knows that like most things in Vegas, the odds are against him.

Exclusive Excerpt!
It didn't take Luc long to join Arrigo outside. It wasn't particularly late, and tourists were still all over the place. No predatory eyes raised his hackles. Usually Arrigo had a good sense about that sort of thing. So how had he missed someone stalking him around the city? Maybe the attack on Taabu was coincidence or maybe Vegas was just that big, with enough resident Supernaturals that Arrigo had dismissed any chance encounters.
"I could go home by bus," Luc said as they walked. "You don't have to pay for a cab."
"I thought we covered the whole 'it's not a big deal to me' thing when I bought those waters." Arrigo grinned in the dark.
"True, true. Okay, thanks, and thanks for getting me out of there. I thought there was gonna be a fight the way Travis and Henri were baiting you," Luc said. "That would suck. You don't deserve it, and somehow I'd get blamed if Henri got himself arrested."

"I can handle myself," Arrigo assured him. "But yes, I'm glad it didn't end in a fight. Did Henri give you those bruises? He thinks you're gay and you like me, doesn't he?"
Luc stumbled to a stop. Arrigo felt his gaze on him. Luc made a disgusted noise, then started walking again. "Guess it doesn't take a detective to figure out what Henri thinks. Don't know if he thinks I like you, but yeah, he thinks I'm gay."
"Are you?" Arrigo grimaced at his own ham-handed way of handling a delicate topic.
Sighing, Luc shrugged. "I don't know what I am some days. Is that why you're being so nice to me? Is it a come-on?"
Arrigo studied their surroundings again before answering, telling himself he was searching for the rogue or maybe Luc's brother. The only thing in sight was the glittering lights of Bally's and Paris. He actually liked Paris's gaudy "hot-air balloon" better than the replica Eiffel Tower. Only in Vegas could one walk from Ellis Island to Paris, then on to Venice or Egypt. In spite of its sunniness, Arrigo loved it, but none of those thoughts were getting him closer to a response for Luc.
"To be completely honest, only in part. Yes, I think you're cute, but if you're not interested, that doesn't mean I'd stop holding out a helping hand, unless you wanted me to go away."
"Nah, I don't want that," Luc said quietly, then fell silent. He studied the tourists as they walked along the sidewalk, careful not to look at Arrigo.
Arrigo let the silence stretch until they reached the hot-air balloon. He stopped in its bright lights. "Want to try your luck in here?"
"Ain't lucky with slots." Luc pouted. "Already used up my stake."
"The house always wins," Arrigo said in agreement.
"Arrigo, you really think I'm cute?" The light played across Luc's face, his eyes huge. He seemed one second from bolting.
Arrigo smiled, hoping to put him at ease. "I do, and what little I've gotten to know about you, I like."
"You don't really know me," Luc muttered, staring at his feet. "You're so far above me."
Arrigo scowled. "I'm wealthier. That's not the same thing."
"Could have fooled me." Luc's chin came up. "I'm poor, and I'm dumb. Why would anyone want a couillon like me?"
"I doubt you're dumb," Arrigo said quickly, realizing he had no proof. Luc could be as stupid as a stone for all he knew.
Luc sneered. "Like I said, you don't know me."
"I'd like to."
Luc ran a hand through his hair, fingers catching on the pale curls. "I like girls."
Arrigo kept his disappointment to himself. "I said that wouldn't change my desire to help you."
"But I like guys too," Luc whispered. "Heard my whole life how wrong that is. I don't want to be like this, but I am."
"There will always be someone there to tell you what you think and feel is wrong, Luc, no matter what it is. Some of it's ignorance, some of it is their strong belief in something that runs counter to it, some are plain hateful."
Luc snorted. "My da and brother are that last one. If they knew I even told you this much, this bleue would be nothing." He gestured to his face.

About Jana!
Jana is Queen of the Geeks (her students voted her in) and her home and office are shrines to any number of comic book and manga heroes along with SF shows and movies too numerous to count. There is no coincidence the love of all things geeky has made its way into many of her stories. To this day, she's still disappointed she hasn't found a wardrobe to another realm, a superhero to take her flying among the clouds or a roguish star ship captain to run off to the stars with her.
Website | Facebook | Twitter | Goodreads | QueeRomance Ink | Amazon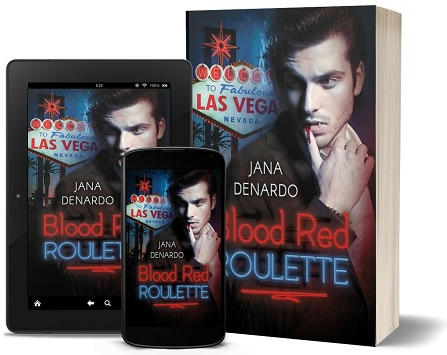 Giveaway!
Win a $10 DSP Publications GC!