Hiya peeps! We have Katie Porter stopping by today with their new re-release Came Upon A Midnight Clear, we have a great excerpt and a brilliant giveaway, so check out the post and leave a comment to enter the giveaway! <3 ~Pixie~
Came Upon A Midnight Clear
by
Katie Porter
Up-and-coming film producer Kyle Wakefield lives in the closet rather than risk the wrath of his influential, conservative parents. The only time he took a chance on love was a tempestuous teenage affair with Nathan Carnes. But when Nathan proved himself hell-bent on self-destruction and wound up in prison, Kyle closed off his heart.
Almost a decade later, Kyle's production partner hires Nathan's stunt company, Second Chances, to work on a big-budget action film in London. Nate is floored by his explosive reunion with Kyle. But he sure as hell isn't surprised that Kyle still treats their mutual needs—and Nate—like dirty little secrets.
As the London holiday season casts its dazzling spell, the two men find themselves falling in love again. Kyle is one breathless kiss away from declaring himself to Nate—and to the world—but they cannot ignore secrets borne of youthful mistakes. To protect their bright new future, Kyle and Nathan will need all their passion and trust . . . and a little Christmas magic.
Publisher's note: This is a lightly edited reprint of a previously published novel.
Excerpt!
"What the fuck are you doing here?"
The minute the words left Nate's mouth, he knew how goddamned rude they sounded. It'd be pretty hard to miss. Kyle Wakefield was more than a ghost from Nate's past. He was a demon. Someone he'd thought himself well quit of.
Confronting that demon meant all bets were off.
Jesus, the man had always known how to wear a suit. Charcoal pinstripe, complete with a slim, narrow-collared vest. Tailored. Of course it was tailored. Showing off the body Nate had once known intimately.
Nate sure as hell hadn't expected to see Kyle in London.
Then it dawned. Cold and trickling, like the growing realization of a bad, bad day when things just kept getting worse. Wakefield. Pennfield. The way Stephanie Penn, with whom Nate had conducted three teleconferences, was looking back and forth between Nate and Kyle. Her partner.
Odds and ratios. The distance to the door. How fucking fast could he be up on the tables? The entire densely packed crowd of genial people calculated into how quickly he could jet. He'd be gone. Betraying, hiding Kyle Wakefield would see no more than the soles of Nate's DMs.
Except Second Chances needed this gig. Ethan Raney, Nate's closest friend since prison, stood at his side, heading up their small crew. Doing stunts for a Peter Upton picture would make them once and for all. There was no other reason Nate would drag his team all the way to merry fucking England.
Kyle smiled. He'd never been exactly handsome. His features were bluntly rounded, with lines carving around his mouth. Those full lips though—they were enough to plant dirty ideas in a man's mind. Especially when he knew what pleasure Kyle was capable of offering.
"Nice to see you too, Nathan."
Stephanie's eyes narrowed. She was an attractive woman, if one went in for the overdone look. And women. "You two know each other?"
"Well now, that's a matter of interpretation," Nate drawled. He flicked his jacket back, which was rapidly becoming too warm in the closely packed pub. The fireplace at the far end didn't help. "I used to know someone named Kyle Wakefield. Turned out I knew someone entirely different than the rest of the world."
Kyle's eyes were brown. Just brown. Not rich or fathomless. But once, they'd been so special. Nate couldn't look away.
"Is that really at issue right now?" Kyle asked with the same everybody please love me geniality he'd had all those years ago.
Nate ground his teeth. "You tell me. Does Ms. Penn know you like dropping to your knees and—"
"That's more than enough," Kyle said. "If you don't mind, Steph, apparently we need to adjourn to my office and discuss a few things."
The blonde looked stunned. "Apparently you do. I'll fix things with Robert and wardrobe."
Kyle nodded, then wrapped his hand around Nate's upper arm. Raney tweaked his chin toward the door in a silent inquiry, but Nate waved him off.
Through the dark-paneled pub, up a narrow stairwell, and down to a single door, Nate let himself be herded. Upstairs, the large multi-use space stretched the entire length of the narrow building. A pool table at one end contrasted with three tables pushed together piled with papers and half a dozen computers. Midway along the room was a grouping of couches that faced a seven-foot screen, probably for running dailies.
Most of all, it was private. Quiet. Through the wooden floorboards and scattered rugs came the muted hum of patrons downstairs. Up here, there was no one except him and Kyle. No sound but their breathing.
Nate curled his fingers into fists at the small of his back. "Your partner. In business?"
"Mostly."
Edgy, still stunned, Nate ranged toward the front of the room. Two slender windows pointed toward the hotel where he'd agreed to stay for the next month. Most importantly, he wasn't looking at Kyle. That moment to recover his bearings was priceless. But he could feel the weight of the other man's gaze on his nape.
"Have you broadened your horizons, then? Used to be you had very narrow tastes."
"Still do." Kyle's voice was hoarse. Almost as if he gave a shit.
Nate had been with plenty of guys over the years—only one in the joint, despite prison's reputation. Didn't mean he'd ever forgotten Kyle's mouth, neither those lips nor the wet heat. More than that, though. The way he'd made Nate feel like the center of the world.
"I need this job," he found himself saying unwillingly. "I've got five of my best drivers, our parkour specialists, and Jimmy, our pyro guy. We turned down two other jobs. The outlay in time alone . . ."
"You've got the job."
"Then why the hiding?"
There were a few quiet footsteps. The shifting of cloth and fine wool. "Would you have taken it if you knew I was involved?"
"Fuck no."
Nate turned. A punch to the gut all over again. Kyle had stripped his jacket. A slim gray vest hugged his trim waist. His shoulders had filled out, wider and thicker. The crisp white dress shirt gleamed in the low light.
Out of Nate's league. He had been, even when they were in school. That had been a hard lesson learned, but Nate had never thought himself dumb. Slow, maybe. Yet he'd been stupidly deluded by Kyle's insistence that so long as they were together, everything would be fine.
His feet moved him toward Kyle, who held his ground. When they were alone, he held firm. They'd come together like two boxers going toe to toe. Not making love.
"I don't much care for working with two-faced assholes," Nate said quietly.
Kyle lifted his chin. He never smelled like anything so simple as soap. Expensive cologne made of musk and spice. "Nine years is a long time."
"You're right." Nate nodded with mock understanding. He was close enough that the small movement brought his mouth in line with Kyle's. The wash of breath over lips made him think of how hot they used to burn. "So maybe I should check in first. Downstairs, did you cut me off because I was rude as fuck? Or does everyone else think the pretty blonde bounces on your dick every night?"
"Stephanie has her own partners."
"That's not an answer."
Kyle licked his lips. Pink tongue, pink lips. Brown eyes, however, remained steady. "I keep my private life private."
Nate understood keeping things quiet sometimes, when necessary. But when a man had a trust fund, a Yale education, and all the privileges available in life . . . he didn't understand. His top lip peeled back from his teeth. "Yeah," Nate said. "If that's what you want to call it."
"I'm trying to do you a favor here, to make the right impression." Kyle's wide shoulders were tense beneath the pristine cloth. "Don't be like this."
"You led me around by the dick in high school, but I'm not your little bitch." He framed Kyle's jaw. The sharp bristle of evening growth abraded his palm. The tender flesh under Kyle's chin was meant for the press of a man's fingers. "Or maybe you can convince me that your financial beneficence is completely unlike your parents' methods of buying the world."
Kyle's tendons twitched, but he didn't pull away. "We each have a job to do here."
"You're playing an angle."
"It's called being a professional. And you're doing really good work with your company."
Nate locked down against the greedy impulse to take that as a real compliment. He'd learned after three years on the inside that ex-cons didn't always get good breaks. Not only did future employers look on a record with disdain, it was a different kind of life. Freer. No regimen to keep the restlessness at bay. Adjustment was slow. People who didn't understand failed to provide the necessary help, which meant more offenders back behind bars.
So Nate had combined the adrenaline he used to get from boosting cars with a better purpose. Stunts. Then he'd set out to hire as many cons as he could reasonably train. They turned out to be excellent stunt people.
Having little to lose helped.
Nate had Second Chances, which meant that pushing made no sense. He couldn't risk this gig.
Well, shouldn't risk it. Kyle went to his head. His cock too.
Nate set his jaw. "That's not an answer."
"I need a Maserati to barrel past Big Ben. It's not a bullshit stunt, and neither are the others. They're big. The whole project is big. I need the best." Kyle's dark eyes narrowed. "Steph thought you were it too. It wasn't just me. If we were wrong, say the word. We'll find someone new."
"Don't you dare."
Kyle lifted his eyebrows, carving lines across his forehead. "Or what?"
Jesus, Nate knew that look. That challenge. They'd spent two years hiding in Kyle's fancy, so-huge bedroom. Sweaty and sticky, wrapped up in each other's bodies. All because of challenges thrown down and picked up again. Seeing it repeated, now all grown up, punched Nate in the small of his back. Tense pleasure.
Anticipation.
Read more at: https://riptidepublishing.com/titles/came-upon-a-midnight-clear (just click the excerpt tab)
Riptide Charity!
20% of all proceeds from this title will be donated to the Russian LGBT Network.
Each year, Riptide Publishing releases a holiday collection in support of an LGBTQ charity. Twenty percent of the proceeds from this year's collection will be donated to the Russian LGBT Network.
The Russian LGBT network was founded in April 2006. It is an interregional, non-governmental human rights organization that promotes equal rights and respect for human dignity, regardless of sexual orientation and gender identity. They unite and develop regional initiatives, advocacy groups (at both national and international levels), and provide social and legal services.
To learn more about this charity or to donate directly, please visit their website: https://lgbtnet.org/en.
This collection would not be possible without the talent and generosity of its authors, who have brought us the following holiday stories:
Pre-ordering this collection will allow you to download each story two days prior to its official release date, as well as save 20% off the list price of the individual books.

About Katie!
Katie Porter is the co-writing team of Lorelie Brown and Carrie Lofty, friends and critique partners of six years. Both are multi-published in several romance genres. Carrie has an MA in history, while Lorelie is a US Army veteran.
Generally a high-strung masochist, Carrie loves weight training but she has no fear of gross things like dissecting formaldehyde sharks. Her two girls are not appreciative.
Lorelie, a laid-back sadist, would rather grin maniacally when Carrie works out. Her three boys love how she screams like a little girl around spiders.
Connect with Lorelie and Carrie: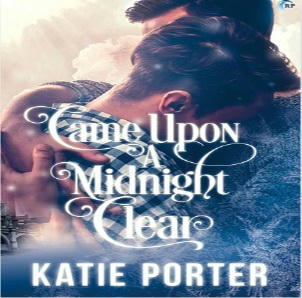 Giveaway!
To celebrate the release of Came Upon a Midnight Clear, one lucky winner will receive a $10 Riptide credit!
(Just leave a comment with your contact info to enter the contest.)
Thanks for following the tour, and don't forget to leave your contact info!
(Entries close at midnight, Eastern time, on November 25, 2017. Contest is NOT restricted to U.S. entries.)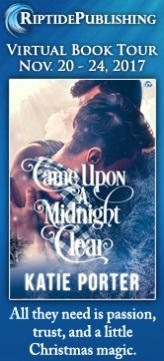 Check out the other blogs on the tour!