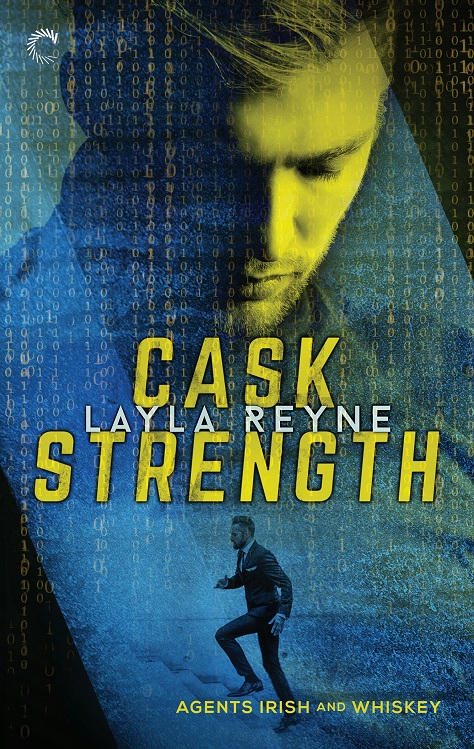 Title: Cask Strength
Series: Agents Irish and Whiskey #2
Author: Layla Reyne
Genre: Contemporary, Crime
Length: Novel (205 pages)
Publisher: Carina Press (May 1st 2017)
Heat Level: Steamy
Heart Rating: ♥♥♥♥♥ 5 Hearts
Blurb: Professionally, the FBI team of Aidan "Irish" Talley and Jameson "Whiskey" Walker is as good as it gets, closing cases faster than any team at the Bureau. Personally, it's a different story. Aidan's feelings for Jamie scare the hell out of him: he won't risk losing another love no matter how heart-tripping the intimacy between them. And loss is a grim reality with the terrorist Renaud still on their trail, leaving a pile of bodies in his wake.
Going undercover on a new case gets them out of town and off the killer's radar. They're assigned to investigate an identity theft ring involving a college basketball team in Jamie's home state, where Jamie's past makes him perfect for the role of coach. But returning to the court brings more than old memories.
As secrets and shocking betrayals abound, none may be more dangerous than the one Jamie's been keeping: a secret about the death of Aidan's husband that could blow his partner's world apart and destroy forever the fragile bonds of trust and love building between them.
ISBN: 9781488024399
Product Link: http://www.carinapress.com/shop/books/9781488024399_cask-strength.html
Reviewer: Aerin
Review: Cask Strength is pretty much exactly what I expected considering how the first book ended. I honestly don't understand why some people expected Aidan and Jamie's journey to be lean waters when we've been told from the blurb and from the final chapter of Single Malt that stormy waters and a rocky road is ahead of them both. And just in case you're wondering, the big secret that Jamie is keeping from Aidan is still threatening to ruin their relationship. The third and final book in this trilogy will be the most angsty and emotional of them all, but I have complete faith in these two.
Aidan finds it hard to come to terms with his new feelings for Jamie and he's scared to death of losing the only other person he's ever loved. Aidan is trying hard to keep things casual with Jamie by going out with other guys; we all know he's only lying to himself, but I'm ok with temporary self-delusion as long as Aidan finally gets on the love train. With the risk of spoiling this part of the story, I have to assure you that Aidan doesn't have sex with any of the guys he goes out with! He leads Jamie to believe that he does, and that's because he's trying really hard to keep their relationship casual. Aidan lost the love of his life, give this scared, confused guy a break; he'll come through and make it worth every exasperated moment.
Trying to draw attention away from themselves after terrorist Renaud starts killing all persons of interest in Gabe and Tom's murder; Aidan and Jamie go undercover on a new case. This brings Jamie up close and personal with the career he loved more than anything and his ex-lover, the one responsible for Jamie giving up on the game he loved so much. You know how sometimes a blast from the past makes you question your decisions and wonder if you made the wrong one? Jamie's ex might be a beautiful man who wants Jamie back, but even though Aidan leads Jamie to believe things between them will never be serious, Jamie's heart knows exactly who it wants. For Jamie, Aidan is home.
This book is action packed, much like the first one has been, and the action served as a distraction from the emotional angst. While I loved the first book more than this one, Cask Strength didn't disappoint. The sexual tension and chemistry between Aidan and Jamie is still there, just as strong as always, especially after Aidan stops being a commitment phobe.
I wish there wasn't such a long wait until Barrel Proof comes out, because based on how Cask Strength ended, it will either be emotional as fuck or emotional as fuck. Have your pick.