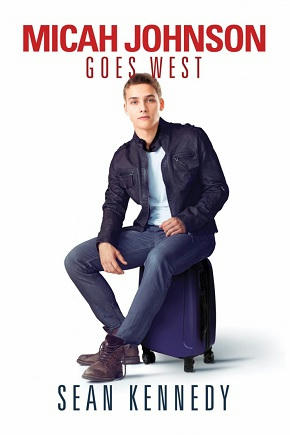 Title:  Micah Johnson Goes West
Series: Get Out 02
Author: Sean Kennedy
Genre: Contemporary, Young adult, Sports
Length: Novel (186 pages)
Publisher: Harmony Ink Press (Dreamspinner Press) (4 April 2017)
Heat Level: Low
Heart Rating: ♥♥♥♥♥ 5 Hearts
Blurb: Micah Johnson is living two separate lives. On the field he's making a name for himself as a rookie with the AFL football team the Fremantle Dockers—at just eighteen. But when he steps off the field, Micah is a mess: confused, away from home for the first time, and feeling isolated from family and friends three thousand kilometres away. The foster family he's staying with is nice, but Micah isn't ready to open up to them about what he's going through. Distracting himself with hookups and partying seems like a good idea until a friend's life is changed by misfortune and Micah's own health is threatened by his behavior. Micah knows he has to make a change, that he can't do it alone, and that maybe there's no shame in reaching out to others. 
ISBN: 978-1-63533-364-0
Product Link: https://www.dreamspinnerpress.com/books/micah-johnson-goes-west-by-sean-kennedy-8209-b
Reviewer:  Prime
Review: I'm just putting it out there – I love reading anything by Sean Kennedy and I especially love reading anything in the Tigers and Devils, and the related series Get Out (which this title is part of). However, something important to note is that the Get Out series needs to be read in order, starting with The Ongoing Reformation of Micah Johnson. I will admit that I have a particular soft spot for this series because I love reading sports books with sportsmen who are out of the closet. The fact that this series, like Tigers and Devils, is set in Australia and as an Aussie this is just way too many levels of awesome.
Micah Johnson Goes West picks at where we left off. Micah was a troubled teen who was helped by a program run by an ex-football (AFL) player who was outed towards the end of his playing career (See Tigers and Devils, though not necessary to read to understand). He is mostly reformed but since being drafted into the AFL and having to move from Melbourne to Perth is difficult for him to cope. He tries not to depend on his now ex boyfriend as an anchor to sanity, but that only leads him down a path of self destruction once more until he gets to know his roommate/team foster family Sam and Dane. Micah is struggling as the first openly gay footy player but he is still on the path of "growing up" and becoming the football player he wants to be.
This book strikes me on a number of levels. 1) As I said, I'm Aussie and I love the fact there is stories being written about gay men in football, it's something that we need in real life. 2) I totally relate to Micah's difficulty in moving from Melbourne to Perth since I made the move in the opposite direction between Adelaide and Sydney for work. And 3) It reminds me of something cool that hasn't been overly talked about (I wonder if it's because it's about 2 women and not 2 men, whatever). Ok, so a bit of back story, in Australia this year was the first year that the women's AFL was played at a professional level. The Co-captain of the Adelaide Crows – who won the grand final just the other week – is a woman who started her professional career playing state and national level basketball. She also happens to have a wife, who she married in the States, and adorable twins who were pictured seated in the AFLW grand final trophy with their sporty mama.
One other thing I love about this book – it almost has a soundtrack, with the song by the Village People, Go West – although to me it is was the version by Pet Shop Boys which was popular during my childhood. The themes of the song, as stated by Micah's ex, perfectly sum up the themes surrounding Micah's life. I love the concept of books having soundtracks, although I often construct my own playlists and often use Foo Fighters, Red Hot Chilli Peppers and Pete Murray songs for romances.
So in short – this is one fantastically written and totally down to earth, coming of age in professional sport in the world of the Australian Football League. I love Sean Kennedy's wit and humor and the development of the characters so far have me looking forward to more.