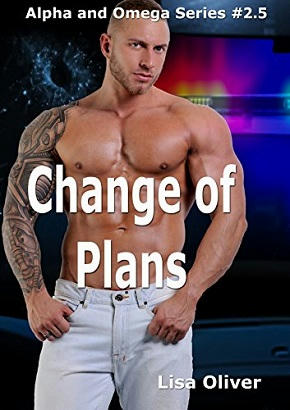 Title: Change of Plans
Series: Alpha and Omega #2.5
Author: Lisa Oliver
Genre: Paranormal
Publisher: Lisa Oliver (May 15, 2017)
Length: Novella (81 Pages)
Heat Level: Low
Heart Rating:  ♥♥♥♥ 4 Hearts
Blurb: Detective Sully Roberts spent his life living a lie but when his best friend Zander mated with Terry, Sully was thrown into a world where wolf shifters looked human and true mates were real. Of course, as a human he never expected to find a mate. Zander explained they were rare and while he dreamed of finding someone to call his own, he'd settle for getting his father off his back. In the meantime, Sully was doing his best to climb out of the closet; not easy, even with new friends by his side. 
Gunnery Sergeant Quentin Thorne, Q to his friends, lived for the armed forces. After spending eight years in the Marines, he was on leave pondering his re-enlistment. Something was holding him back and it wasn't just his wolf. Deciding to visit his brother Richard, he'd barely got off the plane, when he was assailed with a scent he hadn't known he was waiting for. 
Two career men; one bite would change everything. But not everyone accepts their union. When a fire breaks out and Sully is wounded both men have to seriously consider a change of plans. 
ISBN: B0722V6YPT
Product Link: https://www.amazon.com/dp/B0722V6YPT
Reviewer:  Lisa
Review: Each book in the Alpha and Omega collection features a different romantic couple. To enjoy the overall story arc and crossover characters, I would recommend reading the series in sequential order. 
I haven't really been a fan of short stories that are added into the other series, but Lisa gives you more than just a bite.  They are quite entertaining and a bit on the frisky side of things.  This short story is a spin off from Dancing Around the Cop, book two in the Alpha and Omega series. While it can be read as a standalone, you will understand more about the secondary characters if you have read that book first. 
Sully has redeemed himself in some ways.  If you remember he was a homophobic jerk who not only pulled a gun on his partner but reported him to the higher ups.  The truth of the matter was he was just so damn far in the closet; he was hiding out in Narnia.  He is slowly getting used to being friends with his partner and his partners mate.  He was also getting use to shifters.  Now he is finding out that there is more to it.
Quentin is a powerful wolf who is in the Marines.  He was on leave, thinking about re-enlisting.  That is until he finds his sexy mate.  
Now with danger approaching, Q is set to keep his mate safe.  Even if the damn man is a pain in the ass.  I got a kick out of these two, but had to go back to the original book to get more into Sully's character a bit.  I loved the little twists and turns.  It is a good story that is a fresh look into Sully's head.  Now he is not my favorite character but he was fun to get to know. 
I had fun reading this book and would definitely recommend it.