Hiya peeps! We have Elyse Springer popping in today with the tour for her new release Changing Colors, we have a great excerpt and a fantastic giveaway, so check out the post and leave a comment to enter the giveaway! <3 ~Pixie~
Changing Colors
by
Elyse Springer
Tony Quinn has a knack for figuring people out. He likes labels, likes to be able to put everyone and everything in tidy boxes. As a theater director, it allows him to run a production without too much drama. But when he meets Gentry—"call me Gee"—in a bar one night, he discovers that some people aren't so easily defined.
Gee Parnell is unlike anyone Tony has ever met before. He refuses to conform—to Tony's expectations, or to society's gender roles. He's sexy and flirtatious, unapologetic and unashamed. And Tony isn't sure he's okay with that. So he breaks things off and escapes back into his well-ordered life.
But then an attack leaves Gee bloody and bruised, and Tony realizes that he isn't ready to lose him. Not only is the passion between them off the charts, but Gee shows him a different way of understanding people. However, an exciting new job opportunity means that Tony has to decide between hiding his sexuality and his relationship with Gee, and his newfound appreciation for the color and beauty Gee brings to his life.
Excerpt!
Hi! Welcome to the blog tour stop for Changing Colors, the fourth and final book in the Season of Love universe. I can't wait to introduce you to Tony and Gee– who is, by the way, one of my favorite characters ever! This book is a stand-alone, but readers of previous SoL books will definitely see some familiar faces. Follow the blog tour to learn more about the book, the series, and the romance… and don't forget to check the tour each day, for your chance to win an Amazon gift card!
~~~~
Ten Months Ago
The club was not Tony's regular scene. He felt like one of the oldest people in the room, ancient at age thirty-four and desperately trying not to roll his eyes at the hundreds of twenty-somethings grinding together on the dance floor to too-loud pop songs he didn't recognize.
"Getting old, Anthony."
He shoved his father's words away and took another sip of his beer, leaning back against the bar and looking across the room for a familiar face.
It hadn't been his idea to come here tonight. Half-price drink specials and close proximity to the theater had drawn his cast and crew to the club, and he'd followed in their wake, too exhausted and in desperate need of a few cheap drinks to complain. They'd just wrapped on a well-received run for a musical that Tony had directed, and there was no doubt the party was going to go until the early hours of the morning.
Mostly what Tony wanted to do was go home and sleep for twelve straight hours, maybe call his friend with benefits, Elena, for a hard-earned reward fuck, and then get to work on his next project. He loved directing musicals, and next month they'd begin preparations for one of his all-time favorites: Rent.
But he could be a good sport for a few hours more. And, as a woman from the crew gave him a flirty wink and raised a glass in his direction, he realized it might actually be a pretty fun night. After all, I'm not her boss anymore. A no-strings-attached night of sex and stress relief definitely would not go amiss, and would be a lot easier with her than convincing Elena to come to Midtown at this time of night.
Tony drained his beer and turned back to the bar. It was a busy night, and it took several minutes before the bartender was able to work his way down and get Tony a fresh bottle. He was already sipping the icy liquid as he turned back to the dance floor—
And choked on his next sip.
A pair of eyes was watching him from across the club. Even with the room between them, the gaze punched the air out of Tony's chest.
The guy on the dance floor tilted his head up when he realized Tony was watching him in return, and Tony spotted a flash of white teeth under the strobe lights. Then the connection was gone, the guy turning to face the other dancers.
What the . . .?
Tony studied the man on the dance floor. He was thin and blond, with miles of white skin visible—not difficult, seeing as how he wasn't wearing much: a scrap of fabric that only barely qualified as a shirt over his chest, and tiny shorts that reflected the light as he moved.
If anyone fit the definition of a twink, it was this kid. And he was a kid; even from this distance, no way was he more than a year or two past the club's twenty-one minimum. Definitely not Tony's type. Blondie would probably whine and beg for Tony's cock, pouty lips eager to suck him in . . . but that wasn't what he wanted tonight.
He pulled his eyes away from the blond, skating them over to a man a few feet away. Tall, probably a few inches on Tony's own five-foot-seven frame, muscled arms gleaming with sweat and a black tank top stretched tight over his chest. He looked like the kind of guy who would shove Tony into a mattress and pound his ass all night.
That's more like it.
Except something about the twink caught his attention again, and he found himself glancing back over. The guy was lithe, graceful, dancing to the heavy beat with the crowd, not focusing on any one person.
And damn could he move.
Tony worked with singers and dancers every single day. He'd seen women trained in classical ballet, and men who had done tap or modern dance since they were toddlers. But he'd never seen anyone move like that: hips swaying, arms above his head, sinuous and tempting.
The guy looked up, like he'd sensed that he was still being watched, and his dark eyes met Tony's across the room once again.
His smile this time was wicked, and the distance between them wasn't enough to hide the challenge in that smirk, or the unmistakable Come and get me in the way his chin tilted up. It wasn't a request . . . it was a command.
Tony had set his full beer on the edge of the bar and was stalking across the room before he even realized what he was doing. The blond turned away, showing off an ass that perfectly filled out the tiny shorts. But he kept glancing over his shoulder to watch Tony's progress, and his grin was all sex and triumph when Tony finally stepped behind him, chest to back, and settled his hands on narrow hips.
"Dance with me?" Tony asked.
The blond smiled. When he spoke, his voice was full of laughter, and he had an accent that was easily audible over the music, sweet and drawling. "Nope. But you can dance with me."
Yeah, Tony could do that. He pulled the guy back until there was no space between them, brushing his hands along sweaty, hot skin.
One song merged into another, and the blond eventually turned around, hooking his long arms over Tony's shoulders. He was shorter than Tony by at least four inches, and this close Tony could see the corded muscles that ran down his arms . . . muscles he used to position Tony exactly where he wanted him.
Fuck yes.
This was what he'd been craving. He could have called Elena, who had no qualms about shoving him onto the nearest horizontal surface and having her way with him. Tony wasn't really submissive, but a strong woman or man who knew what they wanted had always turned him on. But she didn't have the muscle mass to force him, to hold him down.
And he was fast realizing that this guy, the kid he'd pegged as a skinny twink who only knew how to shake his ass, was deceptively strong, and more than happy to push Tony around wherever he wanted.
Half a dozen songs later, that meant up against a wall in the back hallway, the building vibrating from the bass, and a narrow thigh pressed between Tony's legs as dexterous fingers wove through his hair and pulled him down into a furious kiss.
"God damn."
The blond smirked and bit Tony's lower lip. "Darlin', if you're still able to talk, then I'm doin' something wrong." His voice was honey-smooth, and so Southern that Tony wondered if it was even real.
Then those lips were back on his own, and he didn't have a chance to wonder much about anything.
It wasn't until they were stumbling toward his bed, half an hour and one excruciating cab ride later, that Tony thought to ask the other guy's name.
"You can call me Gee," he said. And then he pushed Tony backward onto the bed and climbed on top of him, framing Tony's body with long legs as he straddled his chest. "Though I'm hopin' you won't be able to manage even that one syllable by the time I'm done with you."
Read more at: http://www.riptidepublishing.com/titles/changing-colors (just click the excerpt tab)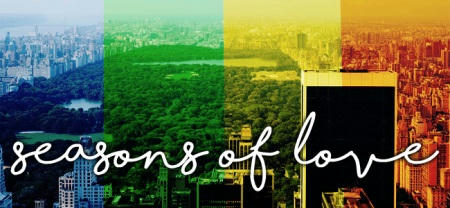 Seasons of love Universe!
New York is the city that never sleeps: where everything can change in the blink of an eye, and where anything is possible—especially romance. In the bitter cold of winter or the impossible humidity of mid-summer, your own happily ever after might be right around the corner.
The people of New York come from all walks of life, and the relationships are just as diverse. So whether you're a waiter or an aspiring actor, a banker or a model, falling in love can happen quicker than the seasons change.
Check out Seasons of Love! Seasons of Love

About Elyse!
Elyse is an author and world-traveler, whose unique life experiences have helped to shape the stories that she wants to tell. She writes romances with LGBTQ+ characters and relationships, and believes that every person deserves a Happily Ever After. When she's not staring futilely at her computer screen, El spends her time adding stamps to her passport, catching up on her terrifying TBR list, and learning to be a better adult.
She's always happy to chat with other readers, and you can find her online at: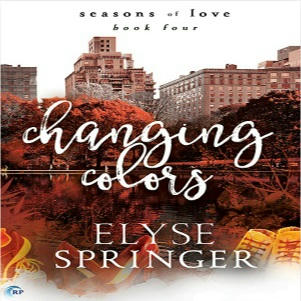 Giveaway!
To celebrate the release of Changing Colors, one lucky winner will receive a $15 Amazon gift card!
(Just leave a comment with your contact info to enter the contest.)
Thanks for following
the tour
, and don't forget to leave your contact info!
(Entries close at midnight, Eastern time, on October 28, 2017. Contest is NOT restricted to U.S. entries.)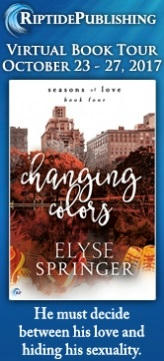 Check out the other blogs on the tour!