Hiya peeps! We have Kelly Jensen visiting today with her new release Chasing Forever, we have a fantastic guest post with an exclusive excerpt and a fantastic giveaway where you can win a $25 Riptide Publishing gift card and a swag pack of stickers, art cards, and bookmarks! So check out the post and leave a comment to enter the giveaway! ❤ ~Pixie~
Chasing Forever
Kelly Jensen
Old wounds, new directions, and a forever worth chasing.
Malcolm Montgomery was a history teacher and track coach until an accident left him with two broken legs. He'll recover, but life has knocked his feet out twice now. He's not sure if he's ready to try again, especially when it comes to love—and slick guys like Brian Kenway. Still, he needs help mentoring the school's LGBTQ society, so he asks Brian to take some responsibility.
Brian has been hiding behind his reputation as a liar and a cheat for so long that he actually believes he's that guy—until his nephew, Josh, turns up on his couch, tossed out for being gay. Brian has never considered being a father, but he knows all about being rejected by loved ones. Now Brian wants to be more: a partner for Mal and a role model for Josh.
But when Mal's recovery is set back and the sad truth of Brian's past is revealed, the forever they've been chasing seems even further from their grasps. It'll take a rescue effort to revive their sense of worth and make Brian, Mal, and Josh into a family of their own.
Kelly Jensen & Excerpt!
Chasing Forever is the final book in the series This Time Forever. Brian and Mal's story is special in all sorts of ways. Even though these books all standalone, Brian has been there since the beginning–as the character everyone loved to hate in the first book, and the character who seemed to have more to him in book two. In this final story, I share who Brian really is, and hope you'll all come to love him as much as I do. Then there's Mal, his other half, my serious soldier who has been waiting all his life for a challenge like Brian. Sometimes we have to be knocked lower than ever before in order to reach that high, and Mal's journey is one I treasure. I hope you enjoy reading this story of redemption and learning to live out loud.
Whiskey Kisses
For the previous books in this series (Building Forever and Renewing Forever) I've written posts about the food, festivals, and fun to be had in the small town settings I've chosen. I'm going to do something a little different for Brian's book, mostly because the story doesn't have a theme food like the first two. I had intended to put one in there, but neither Mal nor Brian seemed as obsessed with food as I am. I know. What's with that?
They do share a nice meal together, which is something from my menu of favorites: seared tuna steaks (preferably crusted with sesame seeds) with a side of stir fried bok choy and shitake mushrooms. I also make mention of all the barely palatable food Josh eats, from the perspective of someone who doesn't really get being vegetarian (Brian). But there are no signature snacks! No lifetime soda addictions. But, Mal and Brian both enjoy a drink or two (in a responsible manner), so I thought I'd share a favorite cocktail recipe for each.
Brian is fond of Manhattans. I actually think they sound better than they taste (they're a bit sweet for me), but I'm not the one drinking them. Here's the recipe Brian prefers:
Classic Manhattan
2 parts whiskey (bourbon or rye)

1 part sweet vermouth

1 to 2 dashes of bitters

1 to 2 Maraschino cherries

Orange peel
To a cocktail shaker, add ice, whiskey, vermouth and bitters. Shake for thirty seconds to ensure the liquor is chilled. Wipe the orange peel around the rim of a cocktail glass and drop it into the bottom with one or two cherries. Pour in the liquor.
The bartender at the colonial (Leo) makes them without the orange peel which is expedient, but a bit of a shame as a classic Manhattan benefits from not only having the peel wiped around the rim of the glass, but the tang of orange in there with the liquor.
With the warm flavor of bourbon, this is the perfect cocktail with which to toast the New Year and Brian does just that before sharing a first kiss with Mal in this short excerpt:
~*~
Brian chuckled softly and raised his glass for another sip. He did it slowly, as though knowing Mal would watch him swallow and wonder what the drink would taste like on his lips. His tongue.
"Want a taste?" Brian asked, offering him the glass.
Mal accepted the glass and took a quick sip. The drink was strong and his head spun lightly. Putting it aside, he licked his lips again, tasting bourbon and something sharper, drier. Vermouth? The bitters touched his tongue last, a tangy aftertaste, and he could imagine how well an orange peel would go with the drink.
He was wondering how Brian managed to smell like oranges when the countdown began.
"Ten, nine, eight . . ."
Brian hadn't leaned in. Should he do it?
"Seven, six, five . . ."
Should he take his glasses off?
"Four, three . . ."
What if he missed?
"Two . . ."
What if the kiss landed on Brian's cheek or nose or—
"One!"
Oranges, cardamom, cinnamon, and musk. Warmth whispering across his lips in quick invitation before pressing down, lightly, without demand. Somehow their noses didn't collide. Somehow, Mal's lips were parting before a swipe of Brian's tongue.
Brian didn't invade, though. He teased. He waited.
Understanding flashing inside his head like a cracked blind at dawn, Mal leaned in and kissed back. Offered up his mouth. Tasted. Hummed at the delicious flavor of whiskey and man. The persistent hint of orange. The prickle of stubble as their mouths moved and realigned. He touched his tongue to Brian's and opened his mouth. Brian swept inside and the warmth at the back of Mal's neck now must be Brian's hand. Oh God, it felt good.
~*~
Mal is also a whiskey drinker, but he prefers Scotch whisky and drinks it straight, or with a touch of water or ice. During his Christmas visit with family, his brother Donny presents him with a doctored hot chocolate and after a few sips, Mal's day gets a little warmer and fuzzier.
Both bourbon and scotch pair well with chocolate, but scotch goes exceptionally well with dark chocolate. You know what else goes well with chocolate? Tequila. But let's not get crazy here!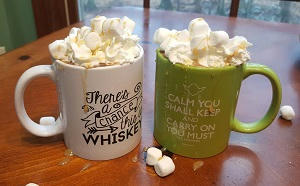 Whiskey Hot Chocolate
1/4 cup cocoa powder

1/4 cup chocolate chips

1/2 cup sugar

1/4 tsp chili powder

2 cups whole milk

3 fl. oz. whiskey

Toppings: mini marshmallows, caramel, whipped cream
Add the cocoa, chocolate chips, sugar, chili powder, and milk to a small saucepan and heat over medium high, whisking constantly to dissolve the cocoa and melt the chips. Do not boil! Once the chocolate is melted and steam is rising from the pan, remove it from the heat. Then, add the whiskey and divide the hot chocolate between two mugs. Swirl on some Reddi-wip, top with mini marshmallows and drizzle with caramel topping.
I can pretty much guarantee a warm and merry holiday after one (or two of these). 😀
This Time Forever Series!
Small towns and second chances.
Simon, Frank, and Brian think love has passed them by. Each is facing down his fiftieth birthday—Simon in a few years, Frank next year, and Brian soon enough. Each has loved and lost. But for these men, everything old really is new again, and it's only when they return to their roots that they'll find their second chances and the happily ever after they've been waiting their whole lives for.
This time it's forever.
This series includes:
Building Forever

— releasing October 15, available now!

Renewing Forever

— releasing November 12, available for preorder!

Chasing Forever — releasing December 10, available soon!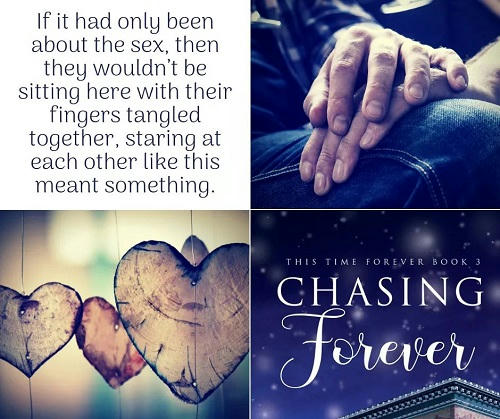 About Kelly!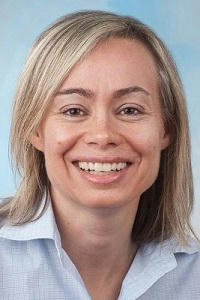 If aliens ever do land on Earth, Kelly will not be prepared, despite having read over a hundred stories about the apocalypse. Still, she will pack her precious books into a box and carry them with her as she strives to survive. It's what bibliophiles do.

Kelly is the author of a number of novels, novellas, and short stories, including the Chaos Station series, cowritten with Jenn Burke. Some of what she writes is speculative in nature, but mostly it's just about a guy losing his socks and/or burning dinner. Because life isn't all conquering aliens and mountain peaks. Sometimes finding a happy ever after is all the adventure we need.
Connect with Kelly:
Giveaway!
To celebrate the release of Chasing Forever one lucky person will win a $25 Riptide Publishing gift card and a swag pack of stickers, art cards, and bookmarks!
Thanks for following along, and don't forget to leave your contact info!
Entries close at midnight, Eastern time, on December 15, 2018. Contest is NOT restricted to U.S. entries.
Check out the other blogs on the blog!