Hi guys, we have Meg Harding stopping by with her new release Checking It Twice, we have a brilliant guest post where Meg chats about her research, we have a great excerpt and a fantastic giveaway! So check out the post and click that giveaway link <3 ~Pixie~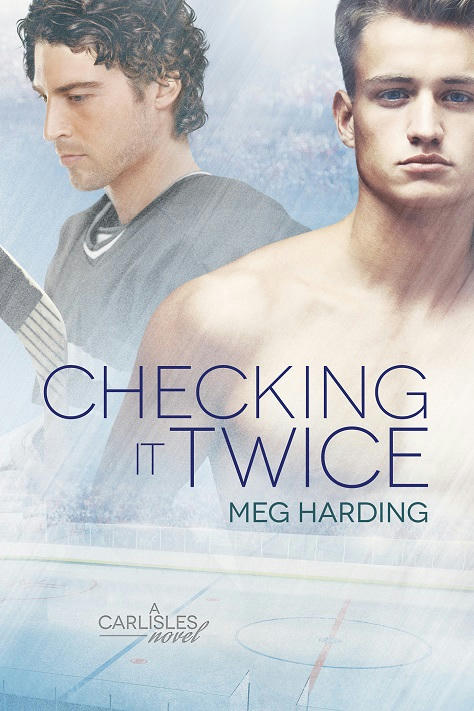 Checking It Twice
by
Meg Harding
Closeted professional hockey player Eric Belanger is falling hard for an out-and-proud male model. He's unable to resist Dorian's charm and pushing personal boundaries he never thought he'd cross. But Dorian is the kind of guy who deserves someone who isn't afraid to be himself. Eric's fears about what coming out will do to his career clash with the future he hopes to build with Dorian. He knows he'll eventually have to make a choice.
Dorian Carlisle knows better than to date a man who wants to keep him a secret, but there's something about Eric he can't ignore. So he'll take the risk, and it'll be all right, because this isn't a forever romance. He's happy to live in the moment. But somehow, at some point, feelings sneak up on him and he's not okay anymore. At a breaking point, Dorian must also make a decision. Their time together will either be the start of something wonderful or nothing more than a happy memory. 
Release date: 28th November 2016

Meg Harding!
Thanks for having me today, Pixie! Checking it Twice is the third novel in The Carlisles series, and it features Dorian. Dorian's boyfriend, Eric, is a hockey player. It's not a secret—and my readers probably know this by now—but I LOVE hockey. It's the one and only sport I'm obsessed with. I had so much fun writing this book, and I had even more fun doing research for it!
I've got three favorite teams because I'm the type of person who can't pick one of anything: The Chicago Blackhawks, the Pittsburgh Penguins, and the Dallas Stars. I discovered hockey several years ago through fan fiction (hockey fan fic is a big thing), and once I started watching it, I was a goner. I've been fortunate enough to see all three of these teams play and to see my favorite players out on the ice, goofing around and stretching and showing off. Hockey players are the biggest dorks around!
It's only fair if I share some of the pictures I've taken with you.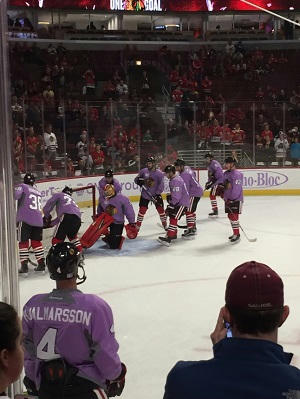 Hockey fights cancer night. For warmups the players wear special jerseys that are later auctioned off.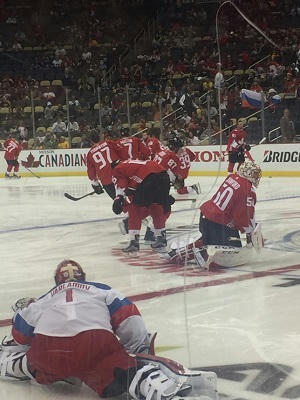 Sorry for the crack in the glass, but GOALIE STRETCHES.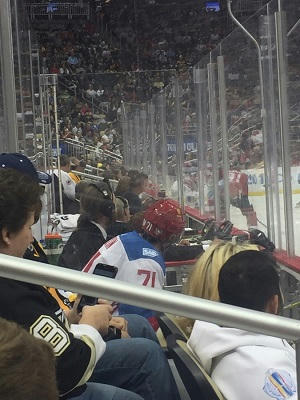 That's Evgeni Malkin, and he's sitting in the sin bin (penalty box), which is basically adult time out.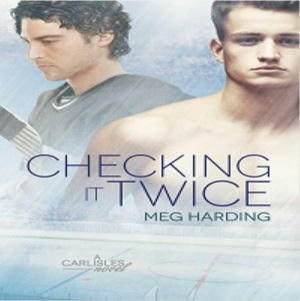 Excerpt
Somehow Dorian's name got tossed into the ring for a winter clothing line spread in some sports magazine, and now he's on a set in downtown New York City with five big, hulking hockey players. A few of whom are pretty damn hot, and the majority of whom aren't American. He can admit he's a sucker for an accent, and it's a little distracting.
Jackson, his brother, flicks his nose. He stops staring at the tall European guy who's talking to the tall French Canadian, who has his shirt off and an abdomen that Dorian would pay to be able to lick. He scrunches his face up at his brother, mimicking the judgey look being thrown his way. He can't believe Jackson took this job. Isn't it bad enough that he has to work with Denver—his twin—more often than not?
"What was that for?" he asks, gaze already trying to return to the guys. He can't help it. He's innately wired to appreciate beautiful things.
"I'm trying to do your makeup, and you're making it difficult. Stop looking at the toys you can't touch and look at me." Jackson grabs his chin and tilts his head just so, wielding eyeliner in his other hand like it's a weapon.
Dorian pouts, sticking his bottom lip way out. "You don't know. I could touch them." In my dreams.
Jackson gives him a stern look, which is ridiculous since he's a year younger. Dorian should be the one giving the parental stare-downs. "Hands to yourself. Professional athletes are never a good idea. Now open your eyes wide and don't blink."
It takes a lot of self-control to not sneak glances at the hockey players while they get dressed and their makeup gets done. And well, he just doesn't have that control. So he manages a peek or two. The whole process is a lot of clothes coming on and off, muscles flexing, watching stylists run their hands through gorgeous hair. It's like being in a candy shop and getting told you can't have anything. So not fair.
Dorian can list on the fingers of one hand the things he knows about sports, and all of it mostly has to do with what the balls look like and the overall purpose of them: score goals. It's not that he's not interested—well, okay, he is—but he just doesn't have the attention span for it. He's done jobs with plenty of athletes, both male and female, and their sports sound interesting enough when they talk to him about them. It just doesn't translate to him watching it.
His lack of interest isn't normally a problem, but athletes are a peculiar lot, and sometimes that makes working with them difficult. They have a hard time understanding the shoot isn't about them. It's about the photographer's vision. The designer's vision. It's about serving a purpose. And then there are the times where it's like they're speaking a whole other language.
Like now.

About Meg
Meg Harding is a graduate of UCF, and is completing a masters program for Publishing in the UK. For as long as she can remember, writing has always been her passion, but she had an inability to ever actually finish anything. She's immensely happy that her inability has fled and looks forward to where her mind will take her next. She's a sucker for happy endings, the beach, and superheroes.  In her dream life she owns a wildlife conservation and is surrounded by puppies. She's a film buff, voracious reader, and a massive geek.
Website | Facebook | Twitter | Goodreads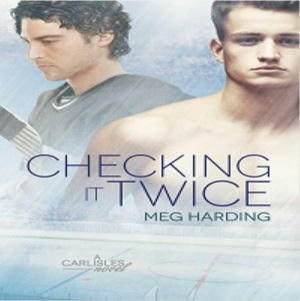 Giveaway!
Win a choice of Ebook from Harding's backlist!
(Just click the link below)