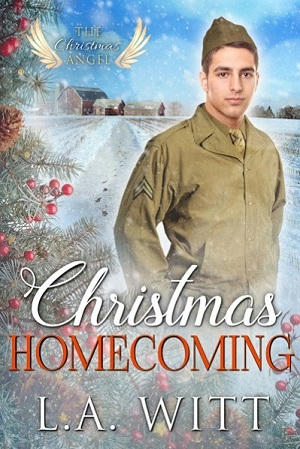 Title: Christmas Homecoming
Series: The Christmas Angel 04
Author: L.A. Witt
Genre: Christmas, Holiday, Historical
Length: Novella (79pgs)
Publisher: L.A. Witt (December 2, 2018)
Heat level: Low
Heart Rating: 💖💖💖💖 3.5 Hearts
Blurb: August 1939. Roger Miller and Jack O'Brien have been close since childhood. By the time they realize there's more between them than friendship, Jack is leaving their sleepy Iowa town for college. But they console themselves knowing he'll be home for Christmas. Right?
It is Christmas before they see each other again, but that Christmas comes six years and a world war later. Aged, beaten, and shaken by combat, they're not the boys they were back then, but their feelings for each other are stronger than ever.
Neither know the words to say everything they've carried since that peacetime summer kiss, though. Even as they stand in the same room, there's a thousand miles between them.
But maybe that's some distance the little angel in Roger's rucksack can cross.
ISBN: 978-1-64230-0352
Product Link: Amazon US | Amazon UK
Reviewer: Lisa
Review: Two best friends who just seem to be in tune with each other, leave to join the war. They go in different directions only to find each other down the road once more. A kiss at a pond keeps them remembering each other then things do change. Now many years afterwards they find each other one last time. They are still so much in tune with each other but love shows the way, well with the help of an angel. Roger and Jack are definitely a team that are meant to be together, but in a time where it was dangerous and deadly.
I will be honest that I had not checked this book out until now. I am not a fan of historical's in any way, so when I read the blurb right before starting to read it, I had a feeling that it was not going to go so well. I do not like the past and for two men it would have been dangerous to be gay. However it was a well written story and with the author being who it is, I knew it would be. It actually kept my attention a little better than most books that are in the past. I really liked the guys and liked the fact that they did not pretend to be anything different then who they were. They never came out but they didn't marry some female to hide behind. So that was a good sign. Now it catch my attention when I started reading as well which gave me a sense of the fact that this was going to be a good story.
I didn't care for the parents and could have done with out them. However the story was pretty well developed with beautiful characters. I did like it but it won't be one of those that will be read more than the first time. I am just afraid that this book just wasn't my kind of story and didn't really give me that oh my god spark.