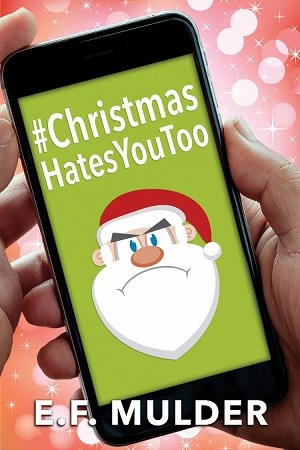 Title: #ChristmasHatesYouToo
Series: Dreamspinner Press 2016 Advent Calendar Bah Humbug.
Author: E.F. Mulder
Genre: Contemporary, Holiday
Length: Short (66 pages)
Publisher: Dreamspinner Press (12th December 2016)
Heat Level: Moderate
Heart Rating: ♥♥♥♥ 3.5 Hearts
Blurb: Born December 25, Noel Beebe is tired of having his birthday overshadowed by all things Christmas. While looking for love on social media, he comes across a prospective new beau just in time to celebrate the Big 3-0, someone who encourages him to take back his day and say thumbs down to Christmas! On a trip to the Big Apple, Noel does just that, flipping off the Rockefeller Center tree and demanding his coffee in a nondecorative paper cup as a fun birthday prank. His act of defiance is caught on video and soon goes viral, leading to a backlash all over the Twitterverse, Internet, and TV. Suddenly what Noel thought would be his best birthday—and even Christmas—yet is shaping up to be his worst. Can his family and his potential boyfriend prove to the world that Noel isn't the Scrooge he's been labeled? 
ISBN: 978-1-63533-174-5
Product Link: https://www.dreamspinnerpress.com/books/christmashatesyoutoo-by-ef-mulder-7968-b
Reviewer: Prime
Review: Ok, this one is really a hard one to talk about. I mean, I liked the story well enough, but I can't say that the characters or the plot well and truly grabbed me and dragged me.
#ChristmasHatesYouToo is about a guy, Noel, who hates Christmas because he was born on Christmas Day. I can understand that, I hate sharing family birthday celebrations with people whose birthday are the day before and day after me. Evidently, with the name Noel, he also has parents with a sick sense of humor.
For me getting a handle on the characters that Noel mentions – the main ones being guys he met via Twitter – was a bit difficult. I found that I had to concentrate on the words to make sure I got everyone straight in my head – it was especially necessary with the twist at the end. After doing a certain action that goes viral and has so many people hating on Noel, he relies on his family and his new love interest to help him through.
For people that dislike insta-love, this book is definitely a no go. I don't mind insta-love myself and even I had some difficulty in swallowing how things unfold. I think mostly because I didn't feel a particularly strong spark between Noel and his love interest (I'm purposely not naming names as there are more than one possible boyfriend for him). In fact, I can't say that there was much of a spark with the other guy either. But no matter, I still think that this is a nice, quick story to pass a half hour or so.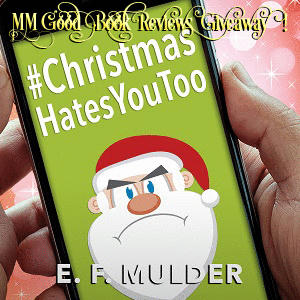 1st prize $100 DSP credits!
2nd prize $50 DSP credits!
3rd prize $25 DSP credits!
4th prize $25 DSP credits!
E.F. Mulder's Question!
In Quadruple Flip, (which I co-wrote with David Connor) what traditional fast food meal did Tom Alan and Erika share with their family for Christmas while living in Japan?
(Just leave a comment with the answer on this post)
(Winners will be picked by a dart on 1st January 2017)