Hi guys we have Jeanne G'Fellers stopping by today with the tour for her new release Cleaning House, we have a great exclusive excerpt and a fantastic $10 Amazon GC giveaway so check out the post and enter the giveaway! ❤ ~Pixie~
Cleaning House
(Appalachian Elementals 01)
by
Jeanne G'Fellers
Centenary Rhodes is an old soul with a well-traveled name, but she doesn't know this yet.
Growing up in southern Appalachia wasn't easy, so Cent left home as soon as she could, but the post-collegiate happiness she'd expected has never occurred. She can't find a decent date, much less find that special someone and, after losing her job in a corporate downsize, she's struggling to meet her most basic needs. Her car has been repossessed, her bills are piling up, and her questionable North Chicago neighborhood is dangerous to navigate.
Returning home to Hare Creek, Tennessee, never crosses Cent's mind until her Great Aunt Tess contacts her with an offer she can't refuse. The family's southern Appalachian homestead must be sold, and Aunt Tess needs someone to clean it up. Cent will have access to Aunt Tess' garden and truck and can live on the homestead rent-free for as long as it takes. A part-time job is waiting for her as well.
It's a chance to solve some of Cent's financial woes, but will her return be enough when evil sets its sights on Embreeville Mountain and the homestead?
Cleaning House is a carefully woven Appalachian tapestry of granny magic, haints, elementals, and the fantastic diversity of the human condition – served with a delicious side of fries and a generous quart of peach moonshine.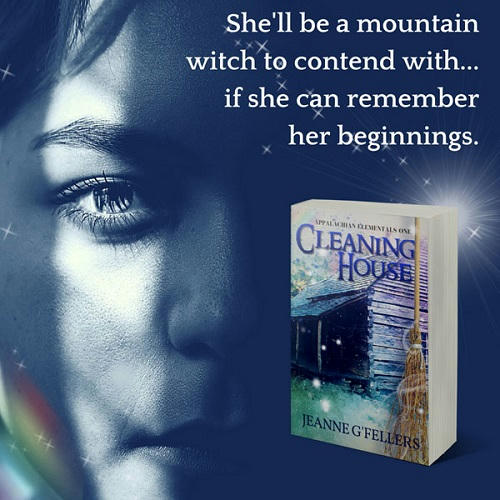 Excerpt!
"Close your eyes, Centenary." Rayne moved behind Aubrey, pressing against him to hold him steady when his hands began shaking. "You're trying too hard. Gentle. Recall how it all works. Feel the energy, the blockage caused by the injury, then blow it away."
"Yep, he's Rayne's." Pyre crackled.
"Not helping." Cent tried to sit still though her entire body tingled. Both Stowne's and Aubrey's energy pulsed through her now, Aubrey's moving through her wrist as he blew over it again.
"There. There… yes." Aubrey's energy began to shake inside her, oscillating between heat and cold until— "I can't!" He fell back into Rayne's arms as Cent opened her eyes. "I'm sorry, Cent. I can't."
"But you did." Aunt Tess stood in the front doorway. "See for yourself, Aub. The blisters are gone."
"Naw, I didn't do nothing to help, didn't…" He opened one eye when Rayne encouraged him. "I did that?"
"Yeah, cuz, you did." Cent turned her wrist to examine it. The blisters were mostly gone, the worst now in the post-fluidic, loose-top period before they dried and the dead skin peeled off. And the bruises that'd been rising when Aubrey had wrapped her were now a dull yellow-brown. "Thank you!" She turned her wrist to show him that the swelling and pain had eased.
"I did it?" He pulled her arm close to examine it for himself. "I did it!" But he shook against Rayne.
"You're tired." Rayne pressed their cheek to his forehead. "You helped her, now let me help you."
"Why, you're as warm as a person." He reached up to touch Rayne's face, pulling back to see the damp on his fingers before reaching again, this time with a smile on his face. "Yes, I remember you." He sagged against Rayne. "But I'm dadblamed tired."
"Shh." Rayne wrapped him much like Stowne did Cent when she was fatigued. "Let me feed you a while. You'll sleep better then."
"Feed?" Aubrey looked at Cent who nodded. "Are we talking vampire stuff?"
"It's what they call an energy transfer."
"So I fed you?" Aubrey could barely lift his head.
"No." Tess went to the cedar chest sitting in the living room corner. "Healing and energy-feeding are different things." She pulled out a quilt that she spread over Aubrey and Rayne.
"It smells musty." He peered down at the patchwork. "Is this the crazy quilt that used to be on my bunk?"
"It sure is. Your great-granny Sudie made it when I was a kid. It'd do her heart good to see it in use again." Tess leaned in to pat his head. "Let Rayne help you to the bunkroom after they finish feeding you, and you take a nap. Supper should be ready by the time you wake." She lifted her head to see Cent. "Wrap your wrist and go see Stowne. Take a nap too, and I'll see you later." Tess turned toward the door but stopped, turning back to see Pyre. "Can we talk outside?"
"Certainly." Pyre floated with their feet a good three inches above the floor. "There's too much touchy-feely in here anyway."
"Supper's at seven." Tess led the way out the door. "Touchy-feely, Pyre? You're how old again?" Their voices faded as soon as the door swung shut.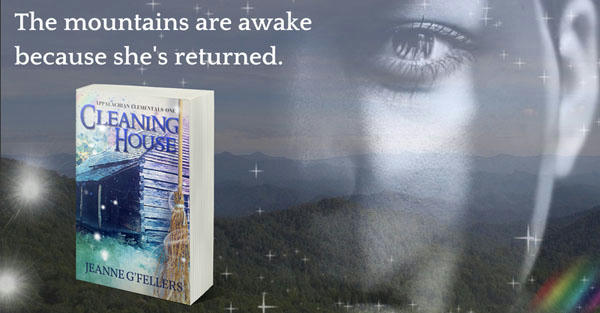 About Jeanne!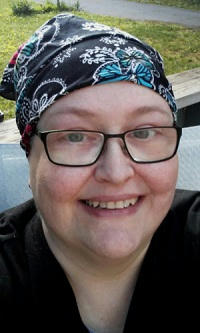 Born and raised in the foothills of the Appalachian Mountains, Science Fiction and Fantasy author Jeanne G'Fellers' early memories include watching the original Star Trek series with her father and reading the books her librarian mother brought home. Jeanne's writing influences include Anne McCaffrey, Ursula K. LeGuin, Octavia Butler, Isaac Asimov, and Frank Herbert.
Jeanne lives in Northeast Tennesee with her spouse, Anna, and their five crazy felines. Their home is tucked against a small woodland where they regularly see deer, turkeys, raccoons, and experience the magic of the natural world.
Website | Facebook Author Page | Twitter | Goodreads | QueeRomance Ink | Amazon Author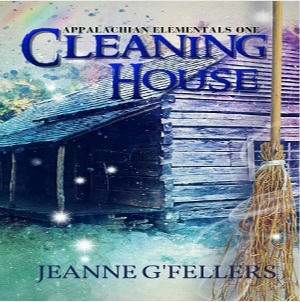 Giveaway!
Win a $10 Amazon GC!