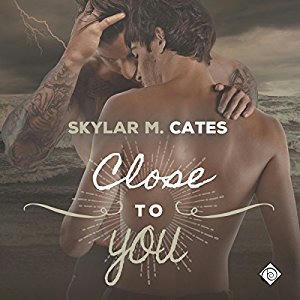 Title: Close to You
Series:  Sunshine and Happiness 03
Author: Skylar M Cates
Narrator: Tristan James
Genre: Contemporary
Length: 10 hrs, 12 mins
Publisher: Dreamspinner Press LLC (8 Dec 2016)
Heat Level: Low
Heart Rating: ♥♥♥♥ 3.5 Hearts
Blurb: It's hard to recover from a first love. Some people never do.
How hard would you fight to keep your best friend? Marc Lucas and Tomas Santos have been best friends forever, but now their friendship is in a crisis. When they were boys, betrayals ripped their world apart. They thought it was fixed, but some parts remained broken. Ever since he saved him from a humiliation at school, Marc has loved Tomas. The last thing he expects is for Tomas to love him back. To keep his best friend, Marc revisits an abusive past he's tried to forget.
For Tomas, loving Marc has been anything but easy. His upbringing told him it was wrong, so why did it feel so right? Accepting who he is as an adult, Tomas decides he needs a committed relationship. To his deep sorrow, he can't seem to find it with Marc.
When the two find themselves alone and in the grip of a hurricane, long-buried feelings emerge. Being "just friends" is no longer an option. They must risk it all on love.
Product Link: Audible US | Audible UK
Reviewer: Prime
Review: Close to You is the third book in Skylar M Cates' series, Sunshine and Happiness. You don't necessarily have to read or heard the two previous books to get this, I honestly haven't read the first book, but I enjoyed the audio of the second book immensely. In fact, it was some of what had happened and shown about the characters of the third book that made me want to get my hands (or ears) into this story. The series is set around a group of guys living in a shared house and are still dealing with the fallout of the death of one of their best friends.
Marc Lucas and Tomas Santos have both lived difficult lives. They have been friends for years, since high school. There has been the potential for more between them for years, since day one in fact. But Marc is damaged after a childhood of abuse and neglect and Tomas, who was damaged from losing his father as a child, is devoted to the little family he has left. Marc is certain that he is not capable of love, getting his only real feelings from being Tomas's friend and from his passion of cooking. Back in book 2, something that is explained to us anyway, Marc made a deal with a friend that he would go to a therapist as a sort of buddy system for the friend. Between the therapy, Tomas moving away to be with his mother and grandparents, and an approaching hurricane, Marc begins to learn that maybe he isn't quite so damaged any more. And maybe he has a chance to actually know what love is like and reciprocate the love from his best friend.
I loved the story, I loved the angst and I loved the narration. I think the only criticism that I have is the pacing. I didn't really get into the flashbacks. For me they were too disruptive to what was happening in the here and now. However, in saying that, I generally don't like excessive flashbacks and for me this was excessive, almost every second chapter was a flashback. I know that Mark and Tomas's relationship/friendship as kids was vital to the story but I just wasn't into the flashbacks.