Hey guys! We have R.J. Scott & V.L. Locey stopping by today with the tour for their new release Coast to Coast, we have a fantastic $10 Amazon GC giveaway so check out the post and enter that giveaway! ❤️ ~Pixie~
Coast to Coast
by
R.J. Scott & V.L. Locey
When opposites attract, it's not just the team that's in for a shake-up.
When a stipulation in his father's will throws Mark back into a family that disowned him, he has only two things on his mind; buying his way out of contractual obligations and running in the opposite direction as fast as he can. When neither option pans out, he finds he is now a one third owner of the struggling Arizona Raptors hockey team, and that is just about the worst thing he could have happened to him. Not only does he hate hockey, but the Raptors are a bottom-of-the-league team, rife with jealousies and anger in a locker room that only knows self-pity. How is he supposed to help turn things around when the only way to start fixing things is to form an alliance with the estranged siblings he'd run from fifteen years earlier?
Then there's Rowen Carmichael, a stubborn, opinionated, irritating man with superiority issues and questionable taste in music. Butting heads with Rowen, who he'd never even wanted to hire in the first place, is one thing, but there is no way in hell that he will allow the growing attraction to the new coach become anything more. Until with everything on the line, he has to make decisions that will change his life forever.
After years of collegiate coaching, Rowen is given an offer that he simply can't refuse, although perhaps he should. When he's presented with the chance to take one of the worst teams in the league and mold them into a future cup contender, the challenge is just too alluring to pass up. He leaves his beloved Ontario behind and moves west to the arid city of Tucson where he is faced with a broken team, shoddy management, and players overflowing with resentment and bigotry.
Never in his twenty years of hockey has he ever seen such a raging dumpster fire of an organization. Yet there's something about this team and this city that compels him to roll up his sleeves and start dismantling. He has his eye on a new associate coach that's bound to makes waves, and several key players who should be sent packing. Now all he has to do is convince the new owners of the team that his choices are for the best. If only Mark Westman-Reid, one of three siblings who now own the Raptors, wasn't so damned rock-headed, so damned snooty, and so damned appealing his job might be a bit easier.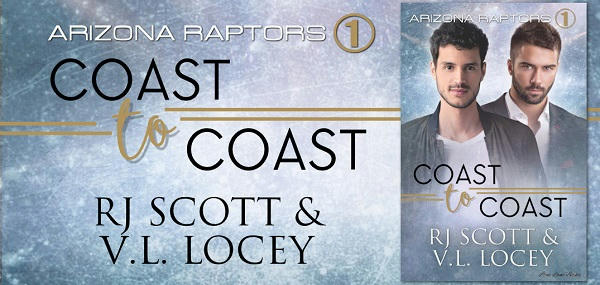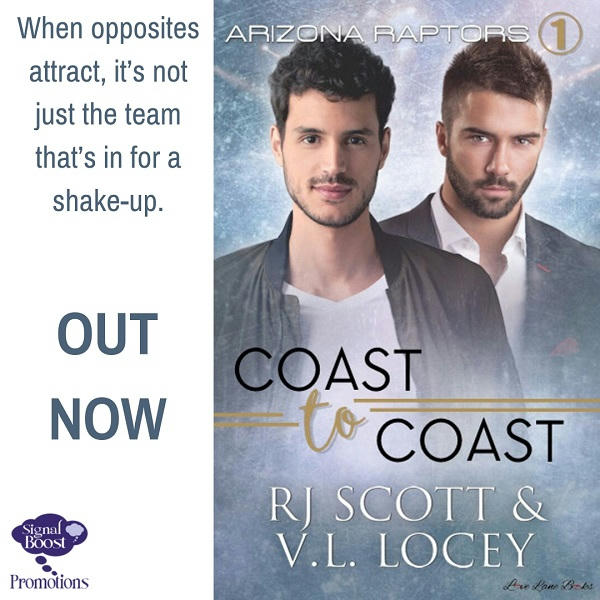 About R.J. & V.L.!
RJ Scott is the bestselling romance author of over 100 romance books. She writes emotional stories of complicated characters, cowboys, millionaire, princes, and the men and women who get mixed up in their lives. RJ is known for writing books that always end with a happy ever after. She lives just outside London and spends every waking minute she isn't with family either reading or writing. 
The last time she had a week's break from writing she didn't like it one little bit, and she has yet to meet a bottle of wine she couldn't defeat.
Website | Facebook | Goodreads | Twitter | LibraryThing | mailto:rj@rjscott.co.uk
V.L. Locey loves worn jeans, yoga, belly laughs, walking, reading and writing lusty tales, Greek mythology, the New York Rangers, comic books, and coffee. (Not necessarily in that order.) She shares her life with her husband, her daughter, one dog, two cats, a flock of assorted domestic fowl, and two Jersey steers. 
When not writing spicy romances, she enjoys spending her day with her menagerie in the rolling hills of Pennsylvania with a cup of fresh java in hand. She can also be found online on Facebook, Twitter, Pinterest, and GoodReads. 
Website | Facebook | Twitter | Pinterest | Goodreads | Blog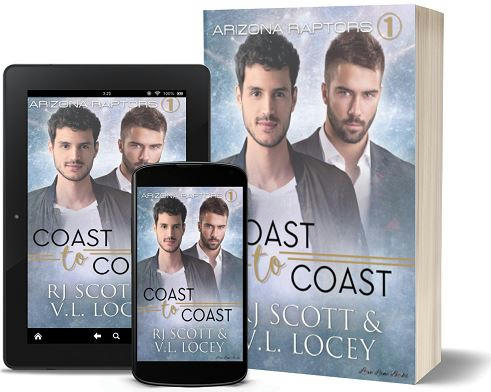 Giveaway!
Win a $10 Amazon Gift Card!