Hi guys! We have Bryan T. Clark stopping by today with his new interracial historical romance Come to the Oaks, we have a great excerpt and a fantastic giveaway, so check out the post and click that giveaway link! <3 ~Pixie~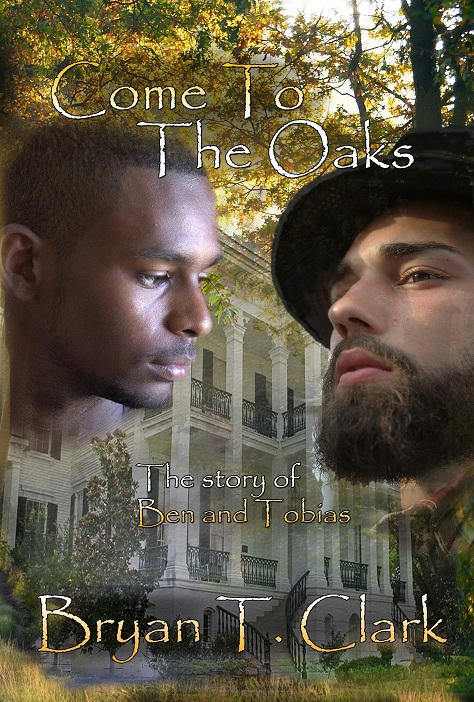 Come to the Oaks
The Story of Ben and Tobias
by
Bryan T. Clark
In 1845, as America is drowning in its own racial conflict, in a time when forbidden love has to remain a secret, can two young men find love when one has everything to lose, and the other has nothing?
For Tobias, a young African man, life has ended before it began. Snatched abruptly from his homeland and enslaved into the Antebellum South, grand homes and majestic oak trees meant little to him. Now he is considered the property of other men, but his spirit would not be broken.
The awkward Benjamin Nathanael Lee lives a privileged life. His father owns the largest tobacco plantation south of the Mason Dixon line. Ben wants little to do with the harsh realities of running a plantation—that is, until he meets Tobias, the one person that changes everything for him.
Wealth, greed, and power brought them together. The same now threatens to separate them forever. The two men are on the verge of losing the one thing that matters: their love for one another. Against the odds, they steal off and embark on a journey to find freedom: the freedom to love one another and to live a life without the chains of slavery.
Come to the Oaks is the tale of a forbidden romance—a love forged by two young men as they journey through a land that is tearing itself apart.
Excerpt!
In the dead of night, Tobias made his way out into the giant oaks. His heart pounded like that of a cat chasing a mouse as the cool air filled his lungs. Bursting with excitement, he had to slow his steps in the dark, to force his body not to run. They had shared a kiss, and he wanted more. Swiping away at a harassing cicada in front of him, he focused on where he was stepping, listening for Ben as he thought of that kiss. 
Tobias smiled when he first heard what sounded like an owl's call being carried to him on the gentle breeze. Immediately, he knew it was Ben—it was the worst impression of an owl he had ever heard. 
Tobias must have been five feet in front of Ben before he saw him kneeling beneath the leafy canopy created by the massive oak trees. 
"You're right, it's dark out here." Tobias stopped in front of Ben and started to sit. 
"No, not here." Ben took Tobias by the hand and led him about thirty feet deeper into the grove of oak trees. "Here." Ben pointed to a quilt spread out over a carpet of dried leaves. 
Tobias stood over the small patchwork quilt as he listened for something, anything indicating that they weren't alone. The rattling buzz of the cicadas and the susurration of the branches swaying above them was all he could hear. Being in the dark didn't scare him—he was used to running through the jungle at night by himself. So why was he nervous? 
Ben lay on the quilt. "Sit down." A slight smirk brushed his face as he gently patted the quilt beside him. A devilish grin turned the corners of his mouth. 
Tobias hesitated before taking a seat. He wondered what was going to happen. Was Ben going to kiss him again? Tobias forced himself to take a breath. When did I get so nervous? I was fine when I left the cabin. A light touch on his hand from Ben caused him to jerk his hand back and suck in a breath of cool air. 
"Relax, no one's out here." 
Tobias sighed deeply. "How long have you been out here?" His eyes had adjusted to the low light of the moon, and he was able to see Ben's beautiful smile. 
"About an hour. Beginnin' to think you weren't comin'." Ben moved in closer to him. Their eyes locked onto one another. Leaning in, Ben gently kissed him. The ever-so-light touch of his lips caused Tobias to gasp for air. 
The gentleness in the kiss, the sweetness in Ben's innocent eyes as they focused solely on him, sent a warm sensation throughout his body. Meeting Ben's piercing stare, Tobias initiated the next kiss. It was wet and awkward as they struggled to find the place they had been the other day. Feeling a light push across his chest, Tobias realized that Ben was trying to lay him down. 
"Wait, wait!" Tobias broke free and sat up. "I've never done this." His heart was pounding as he tried to think of what to say. He could feel his entire body quivering as if he was about to explode. 
"Me neither," Ben murmured, as he reached for Tobias again.

About Bryan!
Bryan Thomas Clark is a boisterous extrovert who is a proud member of the GLBT community. After twenty-seven years in law enforcement, he retired in 2015. Born in Boston, Massachusetts, Bryan now lives in the Central Valley of California with his husband of thirty-one years. Behind his keyboard working on his next novel, Bryan writes gay fiction with an emphasis on a moral dilemmas and M/M romance. On the rare occasions he isn't writing, Bryan enjoys traveling, following his husband around the state of California to various equestrian competitions, laying by a body of water soaking up the sun, and watching a good movie while snuggled up with his husband on the couch. 
Facebook | Twitter | Instagram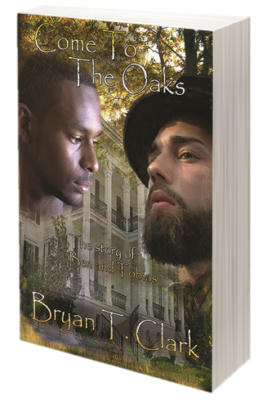 Giveaway!
Win a $20 Amazon Giftcard!
(Just click the link below)