Hiya guys! We have Alex Beecroft popping in today with her new release  Contraband Hearts, we have a great exclusive excerpt and a fantastic giveaway, so check out the post and leave a comment to enter the giveaway! ❤ ~Pixie~
Contraband Hearts
by
Alex Beecroft
His future depends on bringing the smuggler to justice. His heart demands to join him.
Customs officer Peregrine Dean is sent by his patron to investigate rumors of corruption in the Porthkennack customs house. There he is tasked by the local magistrate to bring down the villainous Tomas Quick, a smuggler with fingers in every pie in town. Fired with zeal and ambition, and struck to the core by his first glimpse of Tomas, Perry determines to stop at nothing until he has succeeded.
Tomas Quick is an honest thief—a criminal regarded by the town as their local Robin Hood. He's also an arrogant man who relishes the challenge posed by someone as determined and intelligent as Perry. Both of them come to enjoy their cat-and-mouse rivalry a little too much.
But the eighteenth century is a perilous time for someone like Perry: a black man in England. Two have already disappeared from the wrecks of ships. Tomas and Perry must forsake their competition and learn to trust each other if they are to rescue them, or Perry may become the third victim.
NOTE: All profits from the sales of this book are donated to Black Trans Advocacy.
Exclusive Excerpt!
"You will, I think, need more tangible authority than your own word," Lazarus Quick had said to Perry later. Once he had pledged himself to their cause, the ladies had withdrawn, and Perry had followed the magistrate through to his study, a sumptuous room in shades of indigo and silver that put him in mind of a moonlit night. Here, despite the scorching heat outside, a fire burned in the grate and Perry's travel-worn clothes prickled on him, reminding him that he had not had a change of shirt for days.
Lazarus settled into his imposing chair and uncapped an ink-bottle in the shape of a schooner, pulling pen and paper before him and beginning to write. Perry did not tug at his collar, and if he found himself gazing wistfully at the firmly closed windows, it was easily passed off as a natural curiosity over the doings of the port. Admiral Quick's house commanded an excellent view of the shipping just approaching the point, and a better angle to see the rocks lying beneath the water than Perry had seen before.
"So here." Lazarus shook sand over his note to dry the ink, tapped it off, then passed it to Perry. "A note in my hand to say you are in my employ and are to be obeyed with the alacrity with which a man should obey me. If you need to take charge of the customs cutter, the Vigilant, in order to intercept the rogue at sea, you will show this to her captain."
Even his eyes were grey, as he levelled them firmly on Perry's face. "I hope I do not need to stress what a high degree of trust I am placing in you."
Despite being stifled, the flush of warmth within Perry's breast at this was pleasant—barely arrived and he was already in the confidence of the highest authority. Why would that not feel pleasant? "I am sensible of the great honour you do me, sir, and I will not fail you."
"Good." Lazarus's prim little smile looked out of place on his mouth. The worry his face fell back into seemed habitual. "I feel it only right to stress to you that the man is dangerous. I did not wish to urge this in front of the ladies and frighten them, but you should go armed, for Tomas so-called Quick carries both blade and pistol. Though we cannot prove it, I believe he has murdered upwards of a dozen men. Let your zeal be tempered with caution, therefore. It will not do to find evidence against him if it is only to take it to your grave."
Perry had cherished a somewhat ill opinion of the Quicks thanks to their chill reception, but this warmed his heart. To receive both trust and consideration so far away from home and so early in the process of proving himself was a boon. If anything, the caution just spurred him on. "I am equal to the challenge, sir."
"Excellent." Lazarus broke out the awkward smile again and rose to indicate the door. "Then I look forward to hearing from you soon."
Having arrived as a disrespected foreigner, Perry retraced his path into town as a trusted agent of the magistrate. He had been given no timescale but soon, so he considered returning to the inn to unpack a few things from his trunk, discover where he could have his clothes laundered, and perhaps take a bite of lunch. But all of that seemed tedious and time-wasting, and he wanted to get started on the important task that had been entrusted to him.
He could at least find out what this Tomas Quick looked like, where he lived, and who his principal friends and neighbours were. Which boats did he have a share in, and which was his own principal vessel? If Perry did nothing more today than learn to identify his prey by sight, that would be a start.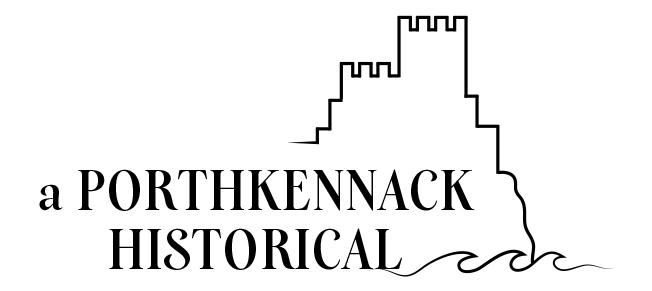 About Porthkennack!
Welcome to Porthkennack, a charming Cornish seaside town with a long and sometimes sinister history. Legend says King Arthur's Black Knight built the fort on the headland here, and it's a certainty that the town was founded on the proceeds of smuggling, piracy on the high seas, and the deliberate wrecking of cargo ships on the rocky shore. Nowadays it draws in the tourists with sunshine and surfing, but locals know that the ghosts of its Gothic past are never far below the surface.
This collaborative story world is brought to you by five award-winning, best-selling British LGBTQ romance authors: Alex Beecroft, Joanna Chambers, Charlie Cochrane, Garrett Leigh, and JL Merrow. Follow Porthkennack and its inhabitants through the centuries and through the full rainbow spectrum with historical and contemporary stand-alone titles.
Check out Porthkennack Universe!

About Alex!
Alex Beecroft is an English author best known for historical fiction, notably Age of Sail, featuring gay characters and romantic storylines. Her novels and shorter works include paranormal, fantasy, and contemporary fiction.
Beecroft won Linden Bay Romance's (now Samhain Publishing) Starlight Writing Competition in 2007 with her first novel, Captain's Surrender, making it her first published book. On the subject of writing gay romance, Beecroft has appeared in the Charleston City Paper, LA Weekly, the New Haven Advocate, the Baltimore City Paper, and The Other Paper. She is a member of the Romantic Novelists' Association of the UK and an occasional reviewer for the blog Speak Its Name, which highlights historical gay fiction.
Alex was born in Northern Ireland during the Troubles and grew up in the wild countryside of the English Peak District. She lives with her husband and two children in a little village near Cambridge and tries to avoid being mistaken for a tourist.
Alex is only intermittently present in the real world. She has led a Saxon shield wall into battle, toiled as a Georgian kitchen maid, and recently taken up an 800-year-old form of English folk dance, but she still hasn't learned to operate a mobile phone.
She is represented by Louise Fury of the L. Perkins Literary Agency.
Connect with Alex:
Giveaway!
To celebrate the release of Contraband Hearts, Alex is giving away a $10 Amazon gift card and an ebook from her backlist, your choice!
(Just leave a comment with your contact info to enter the contest.)
Thanks for following along, and don't forget to leave your contact info!
(Entries close at midnight, Eastern time, on May 5, 2018. Contest is NOT restricted to U.S. entries.)