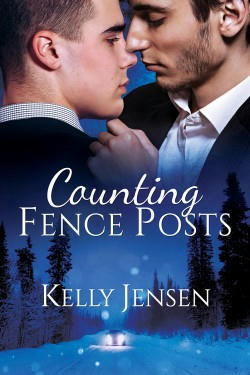 Title: Counting Fence Posts
Series: Counting 01
Author:  Kelly Jensen
Genre: Contemporary
Length: Short Story (61 Pages)
Publisher: Dreamspinner Press (July 23, 2016)
Heat Level: Low
Heart Rating: ♥♥♥♥ 3.5 Hearts
Blurb: There are over two hundred thousand fence posts between Syracuse and Boston. Henry Auttenberg likes numbers—it's his job—but he isn't going to count them all, even if the view outside the rental car is less confounding than the driver, his attractive but oh so obnoxious colleague, Marcus Winnamore. It's Christmas Eve, and Henry would much rather be home with his family. When the blizzard that grounded their flight forces them off the road, however, he's stuck with Marc until the storm passes—or a plow digs them out.
As the temperature outside plummets, the atmosphere inside the car slowly heats up. Henry learns the true reason for Marc's chilly distance—he's not exactly straight… maybe… and he's been fantasizing about Henry's mouth, among other things. Confession laid out, Marc is all for sharing body heat… and more. Henry isn't interested in being an experiment, but as the night and cold deepen, he could be convinced to balance certain risk against uncertain reward.
ISBN: 978-1-63477-011-8
Product Link: https://www.dreamspinnerpress.com/books/counting-fence-posts-by-kelly-jensen-7304-b
Reviewer:  Lisa
Review: This has always been a dream of mine, to be stuck in a snow storm but it usually includes a nice cabin and a roaring fire.  Now one would hope that there is a sexy man to get stuck with, but in my case I would be happy with a book.
Mark and Henry have gotten themselves in a bit of trouble.  Instead of sticking it out at a motel, these two decide to drive in the middle of a snow storm. You guessed it, off the road they go and right into a bit of snow.  So these two are stuck and it is getting colder outside.  However it seems like things inside the car might just heat up.
Now I am not one for those gay-for-you characters or even one who has never had sex before.  Because one can say that first times would be quite painful in the back of a car.  This story was told mainly from Henry's point of view so you really don't see Marc's.  It is a very fast paced story with a lot of meat to it for such a short story.  Now it is a very sweet and romantic story with a bit of danger to it.  However I just couldn't really get into it as I should have.  I am afraid that this story was not for me.