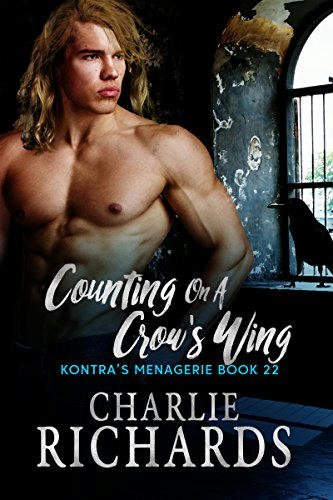 Title: Counting on a Crow's Wing
Series: Kontra's Menagerie 22
Author: Charlie Richards
Genre: Paranormal
Length: Short Story (75 Pages)
Publisher: eXtasy Books (September 1, 2017)
Heat Level: Low
Heart Rating: 💖💖💖💖💖 5 Hearts
Blurb: On the Road: When a fae prince makes a bad bet, he must rely on strangers to win his freedom.
Lord Elron Paxton is a fae prince–one of many. Bored with the never-ending politics of the Fae Court, he takes a dare to enter the human world. Elron gives his bodyguards the slip, finds a fun gay club, and prepares for a night of revelry. Unfortunately, Elron wakes in a dirty room crowded with other men. He finds himself stuck there for days, weighing the pros and cons of revealing his true nature to a number of humans–something against fae law–just to save himself. When a crow shifter appears outside the window, Elron hopes he's found an alternate way of saving not only himself, but those stuck in the room with him–even if they do think he's nuts for talking to a bird. Can he trust the crow to get help before the men who kidnapped everyone sells them on the black market…or will he have to break fae law to save them, sentencing himself to certain death?
ISBN: 978-1-4874-1527-3
Product Link: eXtasy Books | Amazon US | Amazon UK
Reviewer: Lisa
Review: Each book in the Kontra's Menagerie collection features a different romantic couple. To enjoy the overall story arc and crossover characters, I would recommend reading the series in sequential order. This story is branched off to several other series, so you might want to check those out also.
Warning for those of you who have triggers, this tale talks of abuse and rape.
I have never really cared for the fae in stories, but Charlie made him rock. He is a prince and usually has to have guards watching and protecting him. But thanks to a bet, he manages to enter the human world for a bit of fun. He just hadn't expected to wake up in dirty room filled with men that were being abused. Now his night out has led him into a few days and trying to find a way out for them all. Then he see's the answer, a crow shifter. However that crow shifter, turns out to be his mate.
Castor is flying around enjoying the day. He see's something and decides to check it out. What he finds is his mate and several others being held. He goes to find help and it leads him straight to Kontra.
Excitement, danger, trouble and some hot sex is just a bit of what you get in this story. And what a story it was, rocked it out of the park this time. I got a kick out of it and cannot wait for the next story.
I had a lot of fun reading it and will definitely recommend it.