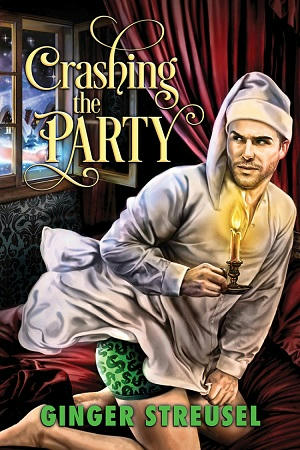 Title: Crashing the Party
Series: 2016 Advent Calendar- Bah Humbug
Author: Ginger Streusel
Genre: Contemporary, Holiday
Length: Short Story (24 Pages)
Publisher: Dreamspinner Press (December 16, 2016)
Heat Level: Low
Heart Rating: ♥♥♥♥ 4 Hearts
Blurb: Retail workers and evil never get a day off, and traveling printer salesman Kale Green is no exception. He might look like a Jolly Green Giant, but he can be a real Grinch. Working on the holidays can dampen anyone's spirits, and on top of that, a sleepy Georgia town has it out for Kale and his car. From fender-benders to flat tires, Kale and his trusty company car Bessie suffer through it all.
While everyone else enjoys holiday parties, Kale drives down south to demo printers. Business is good, but on Christmas Eve, the weather turns bad. A few patches of ice put an end to Kale's Christmas plans—a night alone with his video games. While Kale waits for the police, his only consolation is the company of fellow driver Wes Armstrong. As festive as a Christmas tree and as jolly as Kris Kringle, Wes proves unexpectedly charming. Kale never thought he'd crash right into a crush.
ISBN: 978-1-63533-178-3
Product Link: https://www.dreamspinnerpress.com/books/crashing-the-party-by-ginger-streusel-7972-b
Reviewer: Lisa
Review:  Kale works on Christmas, so for him his spirits are a bit down.  Not to mention he seems to always end up in a fender bender somehow.  However Wes just might change his mind, but for you to know you have to read it.
When it comes to short stories it is a bit hard not to give the story away.  I thought this one was cute, if not a bit rambled to me.  I had a bit of trouble following it, but it was still a fun little story for the holidays.
1st prize $100 DSP credits!
2nd prize $50 DSP credits!
3rd prize $25 DSP credits!
4th prize $25 DSP credits!
Ginger Streusel's Question!
What are the names of the couple in my previous Dreamspinner Press release?
(Just leave a comment with the answer on this post)
Catch up with the previous questions: MMGBR Bah Humbug Giveaway!
(Winners will be picked by a dart on 1st January 2017)