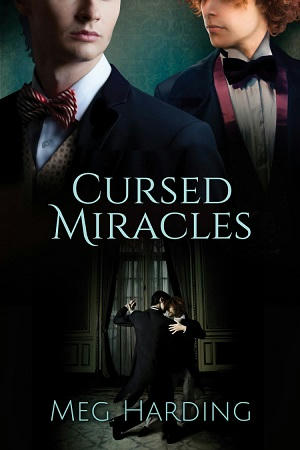 Title: Cursed Miracles
Series: 2016 Advent Calendar Bah Humbug
Author: Meg Harding
Genre: Paranormal, Holiday
Length: Short Story (48 Pages)
Publisher: Dreamspinner Press (December 14, 2016)
Heat Level: Low
Heart Rating: ♥♥♥♥ 4 Hearts
Blurb: Two hundred years ago on Christmas Eve, William Mashinter was frozen in time, cursed by his wife to roam the world on his own, waiting for the love of his life to find him. The love of his life, whom she killed. Time hasn't healed this wound, and William is tired of the happy holiday and the constant reminders of a love that's been taken from him. But then the impossible happens, and maybe… maybe he can get a new Christmas perspective.
Brady Gallagher has lived three different lives, always aware of the first and most important, yet unable to find the man who will fill in the missing pieces and let him know he's not crazy. He encounters him at a work event, of all places, but is he willing to throw everything else to the wind and embrace the miracle laid out before him?
ISBN: 978-1-63533-176-9
Product Link: https://www.dreamspinnerpress.com/books/cursed-miracles-by-meg-harding-7970-b
Reviewer: Lisa
Review: Back in a time when it was never allowed two men loved each other deeply. Time when marriages were arranged and William was forced to marry a woman.  A woman with a secret that would destroy the two men.  For two hundred years he was forced to roam the world waiting for the man he loved to find him.  Want to know more, read the book.
I have always gotten a kick out of Meg's stories and this one was no different.  I do hope that she turns this one into a longer story with more details and fun times though.  I hope that the evil witch got what she deserved in the end.  I had fun reading this and can guarantee that you will too.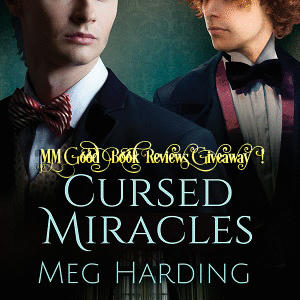 1st prize $100 DSP credits!
2nd prize $50 DSP credits!
3rd prize $25 DSP credits!
4th prize $25 DSP credits!
Meg Harding's Question!
James (Dinner for One) knows the perfect way to apologize. How did he go about winning Bastien's heart back?
(Just leave a comment with the answer on this post)
(Winners will be picked by a dart on 1st January 2017)