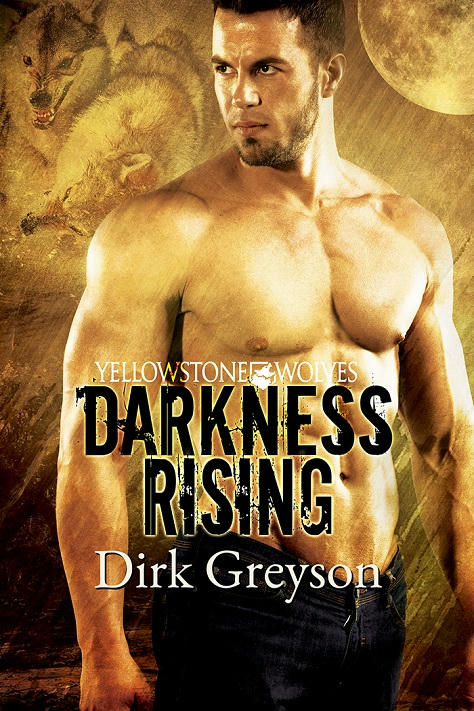 Title: Darkness Rising
Series: Yellowstone Wolves #3
Author: Dirk Greyson
Genre: Paranormal
Length: Novel (200 Pages)
Publisher: Dreamspinner Press (February 6, 2017)
Heat Level: Low
Heart Rating: ♥♥♥♥♥ 5 Hearts
Blurb: The last thing Tobias, alpha of the small Greenview Pack, expects is to find a lost human asleep in his storage building. As soon as he sets eyes on Pete, Tobias knows they are destined mates. But he cannot act on his attraction, no matter how much he feels compelled. Exposure to the human world could mean the end of their way of life, so he decides to help Pete get a room until he can reunite with the tour group he separated from.
But Tobias's disgraced half brother, Zev, has other ideas. He takes a liking to Pete and decides he wants what Tobias has—both his position as pack leader and his mate. Tobias can't let that happen, but protecting Pete means keeping him close, which only increases the mounting tensions between them.
Duty, protection, desire, and secrecy clash as the darkness within Zev rises to the surface, and only Tobias can save his mate—even if he never plans to tell Pete that's what they are.
ISBN: 978-1-63476-416-6
Product Link: https://www.dreamspinnerpress.com/books/darkness-rising-by-dirk-greyson-8122-b
Reviewer: Lisa
Review:  Each book in the Yellowstone Wolves collection features a different romantic couple. To enjoy the overall story arc and crossover characters, I would recommend reading the series in sequential order.
Now even though this has the guys from the first two, this is actually a story about another pack.  Pete is a city boy all the way around, but his best friend talked him into going on a trip to the country so to speak.  However Roger ended up getting sick and Pete was on his own.  He just hadn't expected it to mean he was stuck going on a hike.  A hike that ended up with him lost.  
Tobias's finds the sexy human in one of his barns, but realizes that this man is his mate.  A mate that is from New York, and fears that no one in his pack would accept him.  Or maybe he was afraid that his mate wouldn't want to stick around.  To top it off Tobias's have brother Zev is causing trouble once more.  Zev is the son of the wolf that caused problems for the other packs.  One of the dark ones and you can tell that it is deep in Zev as well.  Now if you want the juicy details, well pick up the book.
I can guarantee that you won't be disappointed at all.  This is a fascinating story that is very unique.  I love the energy that you can see from these wolves.  Although I think I would have smacked Tobias upside the head a couple of times.  It is an action packed story with some very hot little scenes in it.  I do hope that there is more to this series because it is a total hit with me. 
I had a lot of fun and I would definitely recommend it.