Hi guys! We have Michael Mandrake stopping by today with his new release Death's Angel, we have a brilliant giveaway so check out the post and enter the giveaway! ❤ ~Pixie~
Death's Angel
(An Immortals Story)
by
Michael Mandrake
Death's plan for revenge is derailed by his lust for one of the Creator's angels.
Being second to Michael has never sat well with Allerio. Feeling slighted, he travels beyond the heavens, meeting a creature who informs him of his Father's secrets. With curiosities niggling him, he challenges his god, seeking freedom from stringent rules. Though the prize might look wonderful on the surface, it comes with a heavy price the angel will bear for eternity.
Death's banishment was only the beginning of his descent. Since then, he's concocted a scheme to overthrow the highest being, proving him to be a liar. Although confident his plot will succeed, he convinces one of High's top helpers to assist him. However, Death never intended for feelings of affection to consume him. Suddenly wrecking God's perfection isn't as important anymore.
Two gods join forces and become bonded in more ways than one. Can they overcome their emotions to achieve their ultimate goal?
Death's Angel is the prequel story to Immortals, chronicling the very beginning of Lucifer's ascent as the god of the third and fourth planes. This story involves male pregnancy and mating.
Warning: On page violence, extreme torture, and death. Look inside for further triggers.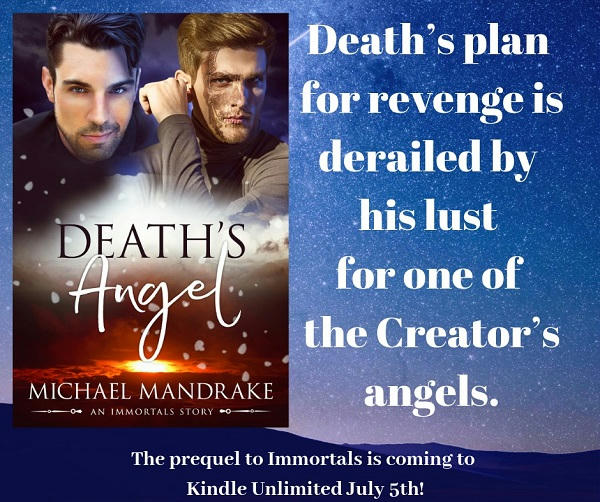 I'll be giving out ARCs in the group posts I'm doing. They won't be takeovers, I'll just be dropping by to do a giveaway and or a post about the book. 
Friday
SJ York
Amy Aislin
Emma Leya
Amy Bellows
Neve Wilder (Giveaway only)
Kayleigh Sky
Saturday
Giovanna Reaves
Pierce Smith
Joyce Page
Shane Morton
Daniel Sanderfer
Kristine Cayne
Sunday
L.M. Brown
Garrett's Den
Brea Alpeou (Giveaway Only)
Jackie North
Katze Snow
Alicia Graybill
Monday
Jacy Bregan
B.A. Tortuga
Wendy Rathbone
Jami Dabney
Vic Alexander
Nero Seal
Tuesday
T.L. Travis
Autumn Breeze
R. Pheonix
Joelle Sambouse
Helena Stone
Alina Popescu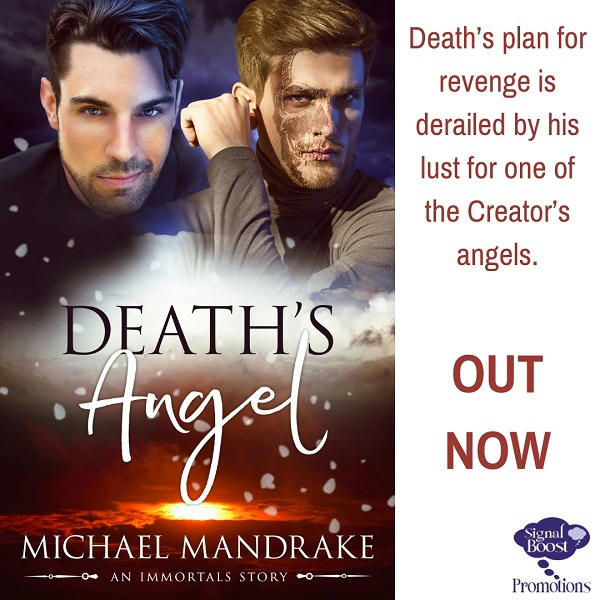 About Michael!
Michael Mandrake pens complex characters already comfortable with their sexuality. Through these, he builds worlds not centered on romance but rather the mainstream and/or obscure plots we might encounter in everyday life and beyond.
Website | FB Page | Facebook | Goodreads | BookBub | Triad Newsletter | Triad Fangroup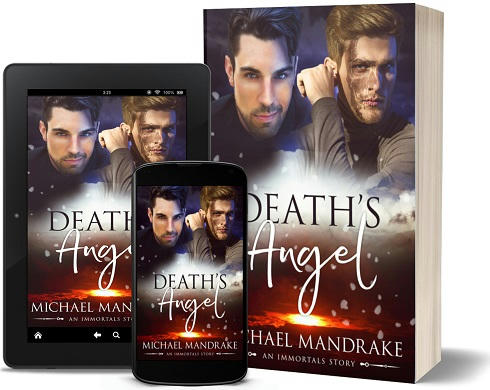 Giveaway!
Win a Backlist Ebook from Michael Mandrake!

Check out the other blogs on the Blast