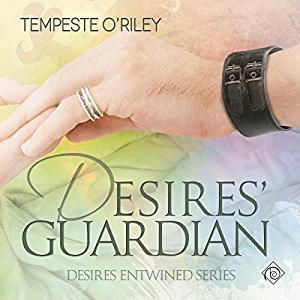 Title: Desires' Guardian
Series:  Desires Entwined 02
Author: Tempeste O'Riley
Narrator: Jeff Gelder
Genre: Contemporary
Length: 6 hrs, 39 mins
Publisher: Dreamspinner Press LLC (14th June 2016)
Heat Level: Moderate
Heart Rating: ♥♥♥♥ 4 Hearts
Blurb: Most people see Chase Manning as the party-boy twink he seems on the surface. Only James, Chase's BFF, knows the depth of his loyalty and the extent of the wounds Chase carries inside. When Chase meets Rhys Sayer, things don't go well, but he can't shake his attraction to the huge, sexy man.
Rhys is a man of contradictions and fear – a strange combination for a PI and bodyguard. He's in a bad place emotionally when he sets eyes on Chase for the first time. When Chase puts the moves on him, Rhys insults him, thwarting any possibility of a relationship. Rhys doesn't see himself as a complicated man, but he dreads the very kind of connection he desires.
Just as they're trying to overcome their uncertainties, Chase is put in harm's way. Luckily Rhys and their friends have all the right talents to help Rhys save the man of his dreams.
Product Link: Audible US  | Audible UK
Reviewer: Prime
Review: This is my first audio and book I've had my hands on by Tempeste O'Riley. Yes, this is book 2 in a series and I have to say Desires Entwined is absolutely brilliant series – I had to binge listen to this. The point is that these books can be read as standalones but you'd be doing yourself an injustice if you don't get to them all, even if you do as I did and go through books 2 to 4 and then book 1.
Desire's Guardian is quite simply a wonderful audio experience. (Sort of Spoiler: Jeff Gelder is a wonderful narrator and gave a perfect voice to so many of the characters throughout the series). The story follows Chase and Rhys. I have to admit that there is a lot more depth to these characters than I first expected. The development of both guys throughout their story is spot on and just so damn relatable.
Chase is a party boy and loves being around his friends. At first it is easy to write him off as a bit shallow-headed. But there is a lot going on inside. Just recently he has already suffered a blow when Rhys, who he met through his friend James. There had been an instant attraction between the two but Rhys makes it more than clear that he doesn't want to be with someone who he thinks is about as shallow as a tide pool. See, the thing is though, when we meet Rhys, we realize that the big, tough PI has his own hurt and hidden depths lurking below the surface.
What you see in the blurb is what you get, so there is no point me rehashing the story and risk giving out spoilers. This is an intensely sweet story and just so enjoyable. The only thing that got me was that the general time line of the story didn't seem to mesh well.