Hi guys! We have Reesa Herberth and Michelle Moore stopping by today with their new release Detour, we have a great excerpt and a fantastic giveaway where you could win a $20 gift card to the Ripped Bodice ($20 Amazon GC if winner in the UK). So guys, check out the post and leave a comment to enter the giveaway! ❤ ~Pixie~
Detour
by
Reesa Herberth and Michelle Moore
Ethan Domani had planned the perfect graduation trip before tragedy put his life on hold. Smothered by survivor's guilt and his close-knit family, he makes a break for the open road. He doesn't know what he's looking for, but he's got the whole summer to figure out who he misses more: his boyfriend, or the person he thought he was. It's just him and his memories . . . until he almost runs over a hitchhiker.
Nick Hamilton made some mistakes after his younger brother died. His violent ex-boyfriend was the most dangerous, and the one that got him shipped off to Camp Cornerstone's pray-the-gay-away boot camp. His eighteenth birthday brings escape, and a close call with an idiot in a station wagon. Stranger danger aside, Nick's homeless, broke, and alone. A ride with Ethan is the best option he's got.
The creepy corners of roadside America have nothing on the darkness haunting Ethan and Nick. Every interstate brings them closer to uncharted emotional territory. When Nick's past shows up in their rearview mirror, the detour might take them off the map altogether.
Intro & Excerpt!
We're Michelle Moore and Reesa Herberth, and if you know our writing, you probably know that we've won awards for our science fiction and mystery romance. (That was the same book, for the record.) What you might not expect from us is a New Adult rom com… but that's exactly what our new book, Detour, is. Sort of. Mostly? Definitely, yes.
Detour is the book of our heart. It's a story we've always wanted to tell- and one we've been telling each other, in some fashion, for as long as we've known one another. It's pretty funny in some places, and sad in others, and delightfully quirky throughout. It's the story of Ethan and Nick, two strangers on a summer road trip. One of them is running from ghosts, and the other is looking for them. Somewhere along the way, they find themselves in love, and in possession of a plush Titanic.
But not necessarily in that order.
~~~
Six hours deep into his month-long road trip, Ethan was lost. Not lost-lost, but there was no way he could find his way back to anything approximating a highway. It didn't help that what had started as a mere thunderstorm had become a full-force monsoon. He didn't remember turning on the "avoid any road with more than one lane" setting on his GPS, but he hadn't seen another car in the past ten minutes. He squinted, trying to make out where the shoulder ended and the ditch next to it began, and bit back a startled gasp when his headlights panned over someone walking down the side of the road.
He was on the person too fast, and Ethan stomped on the brake pedal with all his weight. The car fishtailed, the rear end sliding sickeningly close to the ditch, before he got control again. By that point, he was a good hundred feet past the dark figure. Ethan smacked the button for his emergency flashers and pulled as far to the side of the road as he dared while his heart tried to resume a normal rhythm. There'd been no tell-tale thump, and the car hadn't rolled over anything large. If luck was on his side, he hadn't just killed someone in the dark backwoods of West Virginia.
No matter how hard he squinted at the mirrors, he couldn't make out anything more than a few feet behind the car. Sighing heavily, Ethan reached for the door handle, then paused. Too many horror movies started this way.
A flash of lightning illuminated the dark road for a few seconds—long enough for him to catch sight of the pale face outside the driver's-side window. And scream.
Like a goddamn adult.
His fingers clenched involuntarily, including the ones still on the handle, and the door caught a gust of wind and blew open.
This time the scream wasn't his. Scream or shout of pain, it was hard to tell over the drumming rain. There was no denying the hunched-over person in the middle of the road, though, or the steady stream of obscenities that wereaudible over the monsoon.
"Are you okay? I'm so sorry!" Ethan scrambled out of his car, the water rushing over the pavement soaking into the hems of his jeans. Adrenaline spiked again when he didn't get an answer, and he reached for the person hunched over next to him, catching their shoulder. "Are you crazy? You're going to get run over out here!"
As if to prove Ethan's point, the first car he'd seen in fifteen minutes drove past in a flurry of honking, flashing high beams, and standing water that crested over them like a wave. Thunder rolled in its wake, drowning out Ethan's angry shout.
"Fucking asshole," Ethan muttered, wiping muddy water out of his eyes. The person next to him turned their—her?—his head to watch the car drive off. The same dirty water dripped down his face, rivulets running under his chin from his crew cut.
"Yeah, jeez, he could've at least stopped after almost running us over," the boy said. His smile was replaced almost instantly by a somewhat blank look.
"It's the polite thing to do," Ethan said staunchly. "We should probably get out of the road." Driver's Ed had taught him he should keep the car between himself and the road. Given that his car was sitting dangerously close to the slope leading down to the ditch, passenger-side tires riding the edge, that probably wasn't the best idea. He opened his mouth, closed it, and then sighed. In for a penny, in for a pound, his gram had always told him. "Why don't we get in the car? At least we'll be out of the rain."
"Pretty sure I remember hearing something about not getting in cars with strangers."
Ethan snickered as he opened the door. "I heard that this morning, but here I am picking up a stranger. If I promise I'm not a mass murderer, does that help?"
Ethan's damp friend didn't say anything else, but he moved toward the passenger side, edging carefully along the muddy embankment as Ethan slid into the driver's seat and yanked the door shut.
Ethan was soaked to the skin, and the air-conditioning hit him like an unwelcome slap on the ass. Turning on the heat seemed a little excessive but, since his passenger was shivering hard enough to shake the whole car, maybe not a bad idea.
"Are you heading anywhere in particular?" Ethan finished fiddling with the temperature controls and looked up in time to catch a fleeting expression of fear.
"That way." He nodded toward the road in front of them. "Or anywhere, really. Somewhere that isn't here."
Laughing, Ethan turned off his flashers and started rolling forward, letting his old Subaru find its footing before he tried to gain speed. "I can manage that. My GPS says there's a town about ten miles from here, and I think I'm done for the night. Almost killing someone will really do a number on your nerves."
Ethan did his best to keep his eyes on the road in front of him, only sneaking glances a few times before he licked his lips and tried to entice more conversation. "I'm Ethan, by the way." The guy jumped at the sound of his voice, and Ethan cringed.
"Oh. Um. Nick. Thanks for the ride."
"Pretty much the least I could do after almost running you over. I didn't see you at all." Because you were standing there in the dark, in the road. But he kept that last bit in his head. Nobody would've been out in this weather by choice, and Nick looked miserable enough already.
Nick shifted in the seat, holding his hands in front of the warm air blasting out of the vent. "Yeah, I appreciate that too. The not-running-over-me part, I mean."
"So, I gotta ask. What were you doing out in the middle of this?" Ethan had to raise his voice to be heard above the rain and the heater. "It's fucking horrible out."
There was a long pause in place of an answer, and Nick seemed at a loss for words. He coughed into the sodden sleeve of his hoodie, pulling the cuffs over the tips of his fingers and not looking in Ethan's direction at all. "Pissed off some carnies." Nick shrugged, water dripping off his head. "They hold a grudge. You win one too many goldfish at that ping-pong ball toss, suddenly you're walking the lonely roads in a hurricane." He shrugged again. "You know how it is."
It was such a blatant lie that Ethan couldn't help laughing to let Nick off the hook. Obviously Nick didn't want to talk about it. They'd known each other for about five minutes, so Ethan wasn't sure what the social conventions were when it came to prying. His mom's voice niggled in the back of his head anyway, and he ventured one more question to shut it off. "Just promise me you're not going to kill me and hide my body in a cave, okay?"
Nick swung his gaze away from the window, staring at Ethan for a beat before he laughed. It sounded rusty, jagged, like it almost hurt. "I promise I won't murder you and hide your body in a cave or harm you in any other oddly specific way you might come up with."
"That one I can blame on a paranoid younger sibling. She was certain I was going to be dismembered by a hobo and dumped in a cave."
That earned Ethan a raised eyebrow. "Like I said, oddly specific."
Things were quiet for a few moments, except for the thunder, the engine, the vents blowing, and his windshield wipers trying to beat themselves to death holding back the rain. Ethan jumped when Nick spoke up again.
"I can't be where I was anymore. I'm not fleeing a crime scene or anything."
The Outback's headlights swept over a road sign ahead of them, the giant white letters reflecting faintly as they got closer. Ethan giggled nervously, lifting a hand to point at the sign.
STATE CORRECTIONAL FACILITY AHEAD. DO NOT PICK UP HITCHHIKERS.
Nick's tired laugh sounded less painful this time. "Well, see? You picked me up a good five miles back, so we're golden."
"Geography saves the day." Ethan shivered as a drop of water rolled down his spine. The storm blew them down the road, farther from places neither of them could stand to be anymore.
About Reesa & Michalle!
About Reesa Herberth
Reesa Herberth grew up in Hawaii, tried Arizona for a few years, and eventually settled in the D.C. area, where they have trees and rain.
She's held a variety of crazy writer jobs, including book and video store manager for a defunct chain of music shops, office goddess for an artisan ice cream maker, cheese-cup scrubber at an organic goat dairy, high school secretary, and dye-stained proprietress of a small yarn and fiber business.
When not writing, she can usually be found reading, gardening, cooking, or spinning yarns of another sort entirely. She often resents her need for sleep.
With Michelle Moore, she is the author of the Ylendrian Empire books, including The Balance of Silence, the award-winning space opera caper, The Slipstream Con, and Peripheral People, a sci fi thriller with psychics and squishy feelings, coming soon.
Connect with Reesa:
About Michelle Moore
Michelle Moore has a well-documented obsession with travel, television, frappaccinos and flamingos. These, however, come in a distant second to her love of writing. Most evenings she can be found huddled over her laptop at the local Starbucks, dividing her time between actually writing and pretending to be a barista.
While Michelle would like to claim child prodigy status, the truth is that she's only been scribbling words on paper since she was six. However, she's moved beyond those initial Dick and Jane story knock-offs to the Ylendrian Universe, a much more rewarding and enjoyable choice of subject matter.
Connect with Michelle: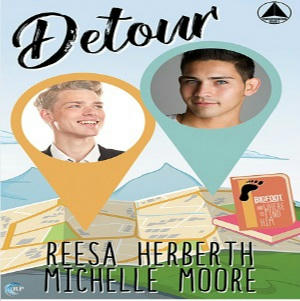 Giveaway!
To celebrate the release of Detour, Reesa and Michelle are giving away a $20 gift card to the Ripped Bodice!
(If the winner is outside the US, it will be a $20 Amazon gift card instead.)
(Just leave a comment with your contact info to enter the contest.)
Thanks for following along, and don't forget to leave your contact info!
(Entries close at midnight, Eastern time, on May 12, 2018. Contest is NOT restricted to U.S. entries.)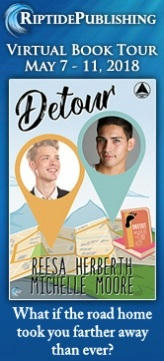 Check out the other blogs on the tour!
May 7, 2018 – The Novel Approach
May 7, 2018 – Boy Meets Boy Reviews
May 7, 2018 – La Crimson Femme
May 8, 2018 – Scattered Thoughts and Rogue Words
May 8, 2018 – Open Skye Book Reviews
May 8, 2018 – Wicked Faerie's Tales and Reviews
May 8, 2018 – MM Good Book Reviews
May 9, 2018 – OMG Reads
May 9, 2018 – Bayou Book Junkie
May 9, 2018 – My Fiction Nook
May 10, 2018 – Love Bytes Reviews
May 10, 2018 – Book Reviews and More by Kathy
May 10, 2018 – Jessie G Book Reviews
May 11, 2018 – Dog-Eared Daydreams
May 11, 2018 – The Day Before You Came
May 11, 2018 – Fangirl Moments and My Two Cents