Hiya peeps! We have the ever amazing Rhys Ford visiting today with the tour for her upcoming release Dim Sum Asylum, we have an intro post from Rhys, we have the fantastic 3rd part of Wok This Way (her blog tour short story) AND we have an awesome giveaway, so check out the post and leave a comment to enter the giveaway! <3 ~Pixie~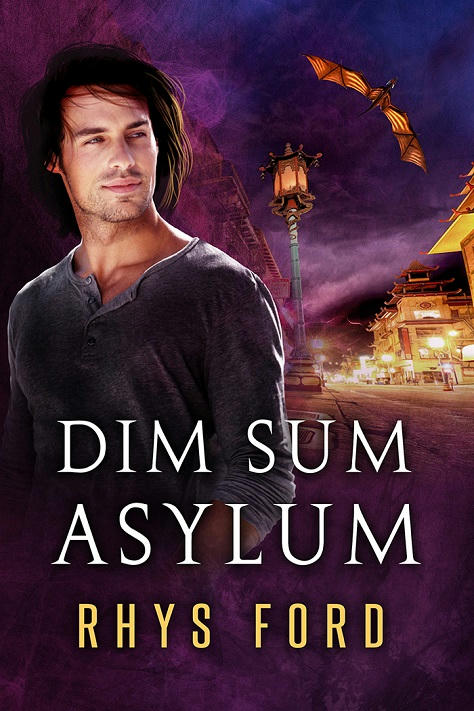 Dim Sum Asylum
by
Rhys Ford
Welcome to Dim Sum Asylum: a San Francisco where it's a ho-hum kind of case when a cop has to chase down an enchanted two-foot-tall shrine god statue with an impressive Fu Manchu mustache that's running around Chinatown, trolling sex magic and chaos in its wake.
Senior Inspector Roku MacCormick of the Chinatown Arcane Crimes Division faces a pile of challenges far beyond his human-faerie heritage, snarling dragons guarding C-Town's multiple gates, and exploding noodle factories. After a case goes sideways, Roku is saddled with Trent Leonard, a new partner he can't trust, to add to the crime syndicate family he doesn't want and a spell-casting serial killer he desperately needs to find.
While Roku would rather stay home with Bob the Cat and whiskey himself to sleep, he puts on his badge and gun every day, determined to serve and protect the city he loves. When Chinatown's dark mystical underworld makes his life hell and the case turns deadly, Trent guards Roku's back and, if Trent can be believed, his heart… even if from what Roku can see, Trent is as dangerous as the monsters and criminals they're sworn to bring down.

Rhys Ford!
Thank you for joining me on the Dim Sum Asylum tour! And a huge thank you to the blogs who are letting me rent their space for the day!
Now a little bit about Dim Sum Asylum the novel. It was originally a short story in Charmed and Dangerous, a fantastic anthology created by JCP. When I was invited to contribute, I couldn't type yes fast enough and so, the original short Dim Sum Asylum was created. Other authors have taken their contributions and expanded on them, delivering full length pieces but I hadn't planned on doing that… mostly because of time.
Then Lynn West, the Editor in Chief of Dreamspinner Press, said to me; I want that story. One does not simply turn down Lynn and to be honest, I really enjoyed writing Roku. There was a lot about the world and his life I couldn't fit into the short story and expanding Dim Sum Asylum would give me that chance.
So I folded it into the queue and after a few months of unstitching the short story and weaving in the pieces I'd always longed to put in, Dim Sum Asylum the novel was born. This is my first urban fantasy romance and I had a blast writing it. A lot of romantic tension, a bit of suspense and murder plus a whole lot of magical creatures and fantastical people. Oh…and there's Bob the Cat.
It is available on June 9, 2017 at Dreamspinner, Amazon, Barnes & Noble and other online book stores. I hope you enjoy reading the story as much as I loved writing it.
Did I mention this blog stop's giveaway? Because there is one. Comment, Rafflecopter or however the blog chooses to run its contest and enter to win a $20 gift certificate to the online store of your choice!
This tour is a serialized story featuring Roku MacCormick, the lead in Dim Sum Asylum and will be told over the blog tour stops. AND there is a separate giveaway on each stop so be sure to follow the short story, enter to win and grab a copy of Dim Sum for your ereader or bookshelf!

Wok This Way
(A Dim Sum Asylum Short)
Part 3
"Iesu," I swore low under my breath. "The three of them all look like blobfish. What the hell happened to these people?"
"Well, you made an ID on the scene, MacCormick." A perky blonde tech snarked a shot at me from behind a splash guard as she carefully sliced through what was once the foot of a large-hipped Chinese woman. "I'd give you a gold star but it'd just go to your already bit head. Every single one of these victims were bitten by an airsail squid. Funny thing is, the rainbow-swirl doesn't usually bite. Most of their venom is dispersed in their ink. Like that one did in your mouth. Didn't know you were into that kind of kink, Inspector."
"Cute, Horan. And you kiss your husband with those lips," I returned the volley. "I called it for a rainbow-swirl but… see, I'm not convinced. I didn't think their venom liquefied their victims. Is there something else there? Something the killer primed his victims with to turn them into gelatin sacks?"
"I've got to run a tox screen but I'm pulling the same suspicion," she jerked her chin towards the pho cook who was now sloshing about in a tall-walled steel tub.
"Can we… take this conversation outside?" Yamada called from the open morgue door. He was standing in the hall outside, his face averted from the room. I caught a glance at his fleshy cheeks and sighed. "What? I'm not like you, MacCormick. I didn't grow up knee-deep in slaughtered people."
"Is that a shot at my mother?" I drew my shoulders back, spine stiffening. With the exception of Arnett, there wasn't a lot I wouldn't take from a fellow officer but even I had lines. "Or are you talking about my grandfather?"
The humour bled from his face and Yamada studied me, intent and serious. "What would piss you off more? Mom or Takahashi?"
I had to think about it. My relationship with Old Man Takahashi was… complicated and to cut Yamada some slack, he'd been right about me growing up on crime scenes. My mother hadn't thought twice about dragging me onto a call if she was tapped while we were together. I'd racked up more murder victims before I was twelve before most uniform cops did their entire time on the force. Still, letting Yamada off the hook easily wasn't my style and I'd have wanted to string him along if we weren't sitting on what looked like a serial killer using floating squids as his method of execution.
Shaking my head, I offered him a way to save face, "Actually, both of them pretty much bathed in blood so you're not wrong. Let's break down what—"
"Oh ho! Found something!" Horan held something up for me to see but there was too much… everything… coating it to see. "This changes everything, boys."
"How about if you just tell us what it is so I don't have to go over there?" Yamada wasn't looking any less green, judging by the mushy pea tint to his face. The strings of goo connecting the dead woman to whatever Horan held up in her hemostats probably has something to do with it, especially when one translucent thread snapped with a wet sound and left a pink splatter over Horan's face shield. "Okay, I might have to go vomit. I'm better than this. Why is this making me so sick?"
"Probably because it looks like cooked rice noodles and that's what the guy was going to serve you before he began squid slag," I suggested. "Spongy and wet, probably with a hint of earthiness what with all the gut juice and blood."
And with that, Yamada horked, splashing his guts onto the hallway outside of the morgue.
"You are an asshole, MacCormick," Horan shouted over the sounds of Yamada's violent retching.
"Yeah, I know." I grinned at her. "He shouldn't have said shit about my mother though. So, what do you have there?"
"This, my evil friend, is a good luck charm. Gold from the looks of it and…wait for it, engraved with an image of a three-toed frilled chameleon, the natural predator of…" Horan trailed off.
"The rainbow-swirl squid," I finished. "But what the hell does that have to do with why these people are dying from a bite they should have survived." Recalling what I knew about the Chinese woman's medical history, I amended, "Most of them. Okay two out of the three."
She flipped over the back so I could see it. The goo coating it was thin, most of it having dribbled back down into its original vessel so the kanji on the back was as clear as the wing markings under my skin when I get excited. I knew that marking. Most seasoned cops working the Asylum did. Hell, even Arnett should have been able to scrape together two of his brain cells to recall where he'd seen that sigil before if he ever came to work and looked at the four inch circle.
"Gods damn her," I held off on any more curses, more than aware of the stink of magic that charm probably possessed. "Murgatroid's back and she's selling her fucked up castings again."
Follow the whole story on the Dim Sum Asylum Tour

About Rhys!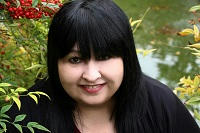 Rhys Ford is an award-winning author with several long-running LGBT+ mystery, thriller, paranormal, and urban fantasy series, including Murder and Mayhem, a 2016 LAMBDA finalist. She is published by Dreamspinner Press and DSP Publications.
She's also quite skeptical about bios without a dash of something personal and really, who doesn't mention their cats, dog and cars in a bio? She shares the house with Yoshi, a grumpy tuxedo cat and Tam, a diabetic black pygmy panther, as well as a ginger cairn terrorist named Gus. Rhys is also enslaved to the upkeep a 1979 Pontiac Firebird and enjoys murdering make-believe people.
Blog | Facebook | Twitter | My books can be purchased, folded and first chapters read at Dreamspinner Press & DSP Publications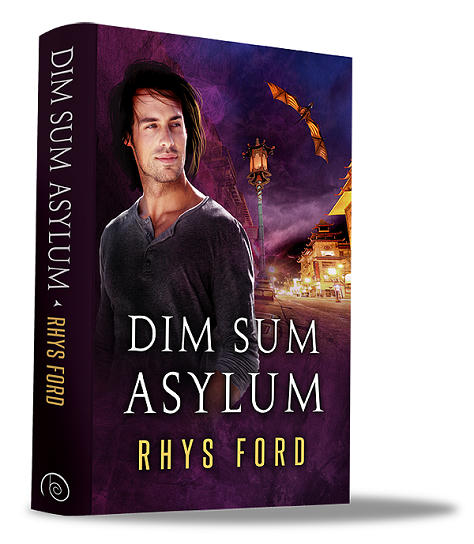 Giveaway!
Win a $20 gift certificate to the online store of your choice!
(Just leave a comment on this post. Remember to visit & comment on every tour post as each stop has it's own giveaway.)
Tell Rhys what you think of the short story so far!

Check out the other blogs on the tour!