Hiya Peeps! We have Layla Reyne popping in today with her new release Dine With Me, we have a great excerpt and a fantastic giveaway so check out the post and enter the giveaway! ❤️ ~Pixie~
Dine With Me
by
Layla Reyne
Life never tasted so good.
Miller Sykes's meteoric rise to award-winning chef is the stuff of culinary dreams, but it's all crashing down around him. He's been given a diagnosis that could cost him something even more precious than his life: his sense of taste. Rather than risk the very thing that defines him, Miller embarks on a last tour of his favorite meals while he still can.
But there's a catch: he needs a financial backer to make it happen, and he doesn't want anyone to know he's sick.
Dr. Clancy Rhodes has two weeks to come to terms with putting aside oncology to work at his father's thriving plastic surgery practice. When the opportunity to travel with a Michelin-starred chef presents itself, the foodie in him can't believe it. It doesn't hurt that Miller's rugged good looks are exactly Clancy's cuppa joe.
As Clancy and Miller travel from coast to coast and indulge in everything from dive bars to the most decadent of culinary experiences, they're suddenly sharing a lot more than delicious meals. Sparks fly as they bond over their love of flavors and the pressures of great expectations. But when Miller's health takes a turn for the worse, Clancy must convince him he's more—so much more—than just his taste buds. And that together, they can win a battle that once seemed hopeless.
One-click with confidence. This title is part of the Carina Press Romance Promise: all the romance you're looking for with an HEA/HFN. It's a promise!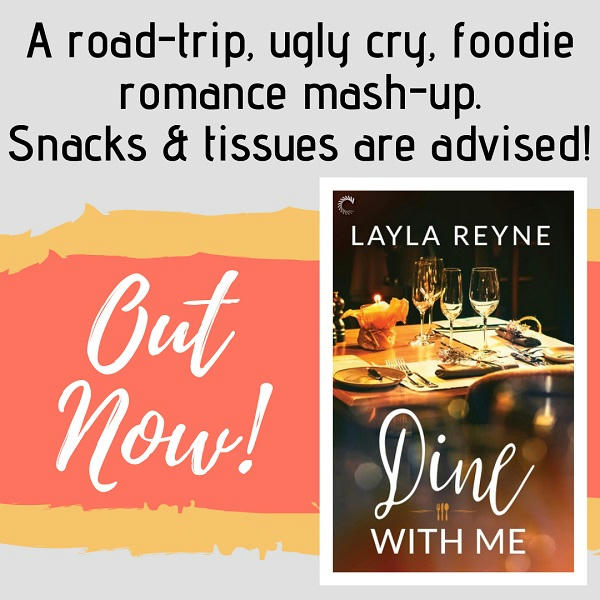 Exclusive Excerpt!
The bartender picked up the previous patron's tip and asked, "What'll it be?"
"Whatever he's having."
Miller's eyes popped open, and he swung his face toward Clancy. "What are you—"
Clancy cut him off, not giving Miller the chance to tell him to leave. "What did I just order?" Miller's cocktail tonight was reddish-brown; not his usual Campari-red Negroni.
"Vieux Carré."
Clancy scrunched his nose in a look that had drawn a laugh from Miller before. "English that up for me."
He didn't get a laugh, but Miller did release a big breath, easing some of the tension in the air around them. Miller propped an elbow on the bar and began ticking off ingredients on his fingers. "Rye whiskey, cognac, sweet vermouth, Benedictine, and both bitters."
"So, pure alcohol?"
The bartender set the cocktail down in front of him. "Pretty much."
Clancy sniffed and reared back, nostrils stinging. He was supposed to pour that down his gullet? At least his reluctance drew the laugh out of Miller he'd been after. Clancy bumped his shoulder. "Good to hear that."
"I don't want to—"
"Why this drink?" Clancy asked, determined to hold on to the easier mood, to hold on to Miller here with him. "From what I've seen, you're a Negroni guy. Why the changeup?"
Miller held his gaze, probably assessing if there was an ulterior motive in Clancy's question. Clancy didn't look away.
After a moment, Miller broke the stare down and sipped his drink. Clancy was afraid he'd lost him, but then Miller lowered his glass and swirled its contents. "The French translation is literally, 'French Quarter.' It was created here in New Orleans, and it's as much New Orleans in a glass as a Hurricane, maybe more so. It's a melting pot of flavors—the spiciness of the rye, the sweetness of the vermouth, the herbal notes of the Benedictine, the fermented fruits of the cognac, and the bite of the bitters. Like all good New Orleans creations, it's a mix of things, a flavor meld that's rich and decadent, and if you can find it barrel-aged, all the better."
Clancy took a cautious swallow, digging into the complexity of the drink and detecting all the flavors Miller mentioned. "You can't order these at home?"
"You can, but you order it here—" he rapped the bar with his knuckles "—in New Orleans, because you can always get it made with Sazerac. The distillery releases limited barrels out of state. Most bars where we are just use whatever rye whiskey they have in the well, unless you specifically ask for Sazerac."

Dine With Me is a sweet (and savory) love story that is an homage to the senses and a meditation on what truly makes us who we are.
–Roan Parrish, author of The Middle of Somewhere and Riven series
~~
Delicious, devastating, and utterly gorgeous, I devoured this book in two sittings. Could not put it down. An absolute must-read for any romance driven foodie, or indeed, food driven romance.
–Garrett Leigh, author of the Skins and the Misfits series
Layla Reyne's DINE WITH ME is a contemporary m/m romance following a dying chef on a last tour of his favorite meals, and the travel companion who must convince him he's more than his taste buds and that the cost of love is worth living for.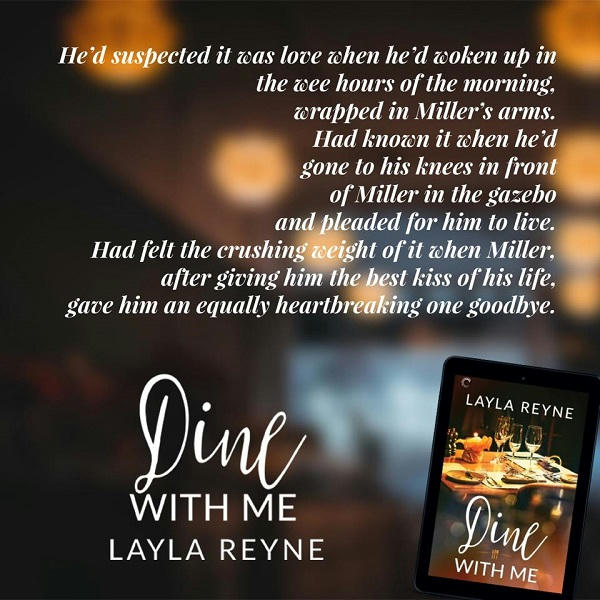 About Layla!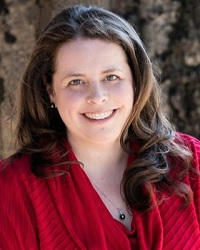 RITA Finalist Layla Reyne is the author of the Agents Irish and Whiskey, Fog City, and Changing Lanes series. A Carolina Tar Heel who now calls the San Francisco Bay Area home, Layla enjoys weaving her bi-coastal experiences into her stories, along with adrenaline-fueled suspense and heart-pounding romance. She is a member of Romance Writers of America and its Kiss of Death and Rainbow Romance Writers chapters. Layla is a 2019 RWA® RITA® Finalist in Contemporary Romance (Mid-Length) and 2016 RWA® Golden Heart® Finalist in Romantic Suspense.
Connect with Layla: Website | Blog | Facebook | FB Group | Twitter | Pinterest | Newsletter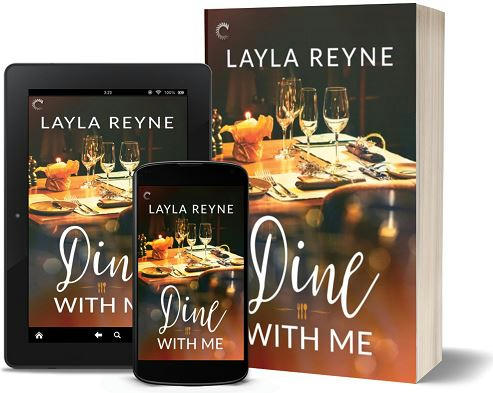 Giveaway!
Win a signed limited edition paperback + swag!


(equivalent value for international winner)