Hi peeps, we have Rick R. Reed stopping by with his upcoming re-release Dinner at the Blue Moon Cafe, we have a brilliant exclusive excerpt and a fantastic giveaway, so check out the post and click that giveaway link! <3 ~Pixie~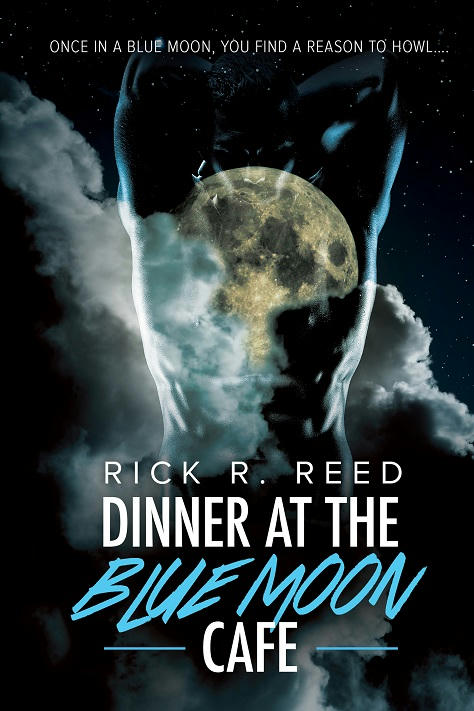 Dinner at the Blue Moon Cafe
by
Rick R. Reed
A monster moves through the night, hidden by the darkness, taking men, one by one, from Seattle's gay gathering areas.
Amid an atmosphere of crippling fear, Thad Matthews finds his first true love working in an Italian restaurant called the Blue Moon Café. Sam Lupino is everything Thad has ever hoped for in a man: virile, sexy as hell, kind, and… he can cook!
As their romance heats up, the questions pile up. Who is the killer preying on Seattle's gay men? What secrets is Sam's Sicilian family hiding? And more importantly, why do Sam's unexplained disappearances always coincide with the full moon?
The strength of Thad and Sam's love will face the ultimate test when horrific revelations come to light beneath the full moon.
First Edition published as The Blue Moon Cafe by Amber Quill Press/Amber Allure, 2010.

Exclusive Excerpt!
Thad experienced a miserable night of sleep. Tossing and turning, mind racing, the few moments here and there he drifted off had been destroyed by nightmares, the dreams so terrifying he awakened several times drenched in sweat, gasping, or even emitting a muffled scream. Only images remained from the dreams, but they were powerful enough to chill Thad. Pictures of moons, claws, fangs, and blood tortured him until finally, at about 6:00 a.m., he forced himself to get up from his sweat-soaked sheets. Trying to sleep was pointless.
Edith snored softly atop the pillow next to his head, curled into a tight ball. At least someone isn't plagued by nightmares… and doubt… and disappointment.
As Thad ground coffee beans and poured the grounds and a carafe of water into the coffeemaker, he had no doubt from where his restlessness and vivid bad dreams had come: Sam. Where had he been last night? Why hadn't he told Thad he would be taking the night off? And where was the rest of the family? If they were all going to be away, wouldn't that be a remarkable enough fact that Sam would find it worthy of mentioning to his boyfriend?
Unless….
Unless Sam was hiding something.
Oh, please don't get started with the paranoia again! I always do this. Have a little confidence in Sam and our relationship. Have a little confidence—for once—in myself.
Thad poured himself a mug of coffee and sat at his little breakfast bar, heaping three teaspoons of sugar into the steaming black liquid, along with a dollop of half-and-half.
Sam will probably supply the answers I need in short order. Once he gets back. From wherever it is he went… from wherever he couldn't be bothered to let me know he was going….
Thad shook his head and stirred. Sure, there might have been a logical reason for Sam and his whole family to disappear on a busy-for-the-restaurant Saturday night, but what could it be? An emergency? The grandmother in Queens had fallen ill? A sudden urge to visit the Olympic Peninsula, to see the mountains and ocean by the light of the full moon? Thad laughed out loud, but there was no mirth in it. He felt alone and excluded.
Insecurity and doubt ate at him, and he had to wonder, really, if Sam wasn't hiding something from him. Why else would he disappear without a word?
But what? Another lover? A wife? Was Graziela really not his sister? Were they, in fact, Domenic's mother and father? Did they have some sort of arrangement Sam didn't yet have the courage to share with him?
That's crazy. Why, after two months, wouldn't he tell me? And why would that cause the whole family to disappear? But what else could he be hiding? Something darker?
One of Thad's nightmare images—fangs coated in blood—rose up to chill and torment him. He had no idea what this image had to do with his fears and suspicion regarding Sam.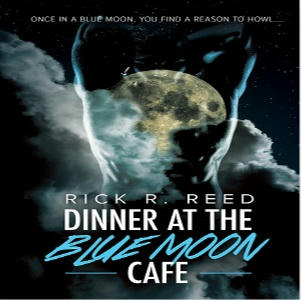 About Rick!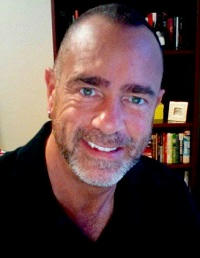 Rick R. Reed is all about exploring the romantic entanglements of gay men in contemporary, realistic settings. While his stories often contain elements of suspense, mystery and the paranormal, his focus ultimately returns to the power of love.
He is the author of dozens of published novels, novellas, and short stories. He is a three-time EPIC eBook Award winner (for Caregiver, Orientation and The Blue Moon Cafe). He is also a Rainbow Award Winner for both Caregiver and Raining Men. Lambda Literary Review has called him, "a writer that doesn't disappoint."
Rick lives in Seattle with his husband and a very spoiled Boston terrier. He is forever "at work on another novel."
Facebook Page | Twitter | Google+ | Blog | Website | Bookbub | Email: rickrreedbooks@gmail.com
Giveaway!
Win a ebook of Dinner at Home!
(Just click the link below)