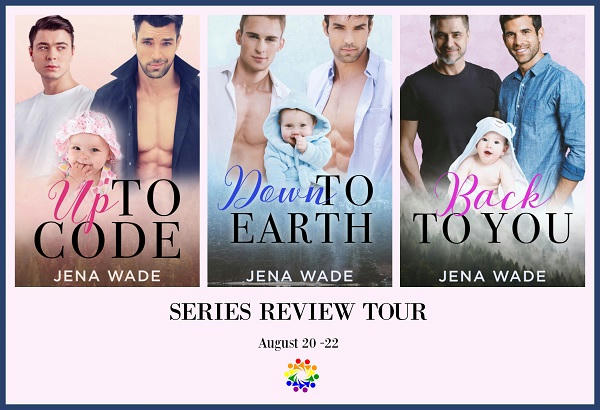 Hi guys! We have Jena Wade popping in today with the tour for her Directions series, we have a couple of excerpts for you to enjoy and a fantastic giveaway so check out the post and enter the giveaway! ❤ ~Pixie~ p.s. keep an eye out for the reviews in the coming days!
Up To Code
by
Jena Wade
Aiden was an Omega who needed a job doing what he loved. He never imagined he'd meet his fated mate during the interview. He was ready to bond right away, but something stopped his Alpha from claiming him. Aiden's patience held strong, but being near his mate every day without bonding threatened to drive him insane. 
Brandon owned a successful company, and he wanted to share that success with his mate and their child. But the continued thefts troubled him and the last thing he wanted to do was drag his new mate into any danger. 
Danger found them anyway.
This is a 28K non-shifter mpreg novella featuring a sweet romance, a HEA, and no cliffhanger
Down To Earth
Everett Surlin longed for the day that his Fated mate finally recognized him. It'd been eight years since he'd first met Matt Jenkins, he'd never imagined it take this long for his mate to realize their connection. 
Matt Jenkins had done his best to put his past behind him. The abuse he'd endured as a child stayed locked away inside him, never to be shared with anyone. He'd assumed that as a result of his upbringing, he was broken and he would never have a mate. That didn't stop him from desiring Everett and wishing that they could be together. 
When tragedy strikes, Matt stays at Everett's side, which just might be the push he needs to discover what had been there all along and a future he never dreamed would be possible.
This is a 26K non-shifter mpreg novella featuring a sweet romance, a HEA, and no cliffhanger.
This is the second book in the Directions series, but can be read as a standalone.
Back To You
Victor Docimo loved his mate more than anything, and he's worked hard to provide Charles with the life that he deserved. He's strived to be the Alpha that his own Father was not.
Charles spent the last twenty-six years mated to his perfect Alpha. He raised their son and managed their home. He's tried to provide his Alpha with a family, despite the fact that he can't have more children. After seeing Victor with another Omega, he begins to wonder if he's enough.
Now, the two of them must face their greatest challenge yet, something that shouldn't be possible: a broken bond.
This is a 25K non-shifter mpreg novella featuring a sweet romance, a HEA, and no cliffhanger.
This is the third book in the Directions series, but can be read as a standalone.
Up To Code Excerpt!
With one deep breath and a quick step I crossed the threshold and came face to face with pure sex dressed as a six-foot grown man with broad shoulders, slim hips, dirty blond hair and piercing green eyes.
Holy hell.
Mate, my mind screamed.
Blood roared in my ears as I took in his scent. Oh my God.I'd always wondered how a person knew when they'd met their fated mate. "You'll just know" was all I was ever told by my Omega dad.
I knew, all right. I could feel it in every part of my body. I belonged to him and he belonged to me already and I hadn't even heard him speak. All he had to do was give the word and I'd bare my neck, ready to bond.
I couldn't form words. I never was good with people, least of all people I was attracted to. Though, that hadn't happened in a long time.  I would have to leave the house in order to meet someone and I didn't do that very often, unless it was for work. In those cases, I kept it professional.
I didn't feel very professional right now.
Down To Earth Excerpt!
I twirled the wedding band around in my hand, running my fingers over the smooth, silver metal. The ring had once belonged to my father, and hopefully someday it would belong to my mate.
Matt.
My body heated at the thought of my mate, as it often did. I'd known for almost a decade now that Matt was my mate.
Matt remained oblivious.
My fists clenched instinctively. I couldn't help but feel angry at Fate for showing me my mate before he was ready. I often wondered if he would ever be ready. Usually, it was a magical moment full of marvel and enlightenment. Eyes met, fireworks burst, and nature took its course. A mate bond was established, and the couple lived happily ever after. I'd never heard an Alpha recognizing his mate before their Omega.
Back To You Excerpt!
I was about to tell my roommate I was heading home, when the air in the room shifted. I became hyper aware of everything around me and, as silly as it sounds, time stood completely still. I searched around the room, looking for what had changed, what was causing this awareness in me that made my skin tingle. Then, I locked eyes with him.
Victor.
Something in the back of my mind whispered his name to me. I knew him. Though I had only seen him one time and spoken to him for less than a minute. He made his way over to me, the crowd parted for him as he moved through the room. I couldn't look away. I couldn't move. I didn't want to look away.
When he finally reached me, he smiled. There was kindness in his eyes, but also a heat and arousal that set my body on fire, and we hadn't even touched yet.
"Charles, right?" he said.
"Mate." My hand flew to my mouth. I couldn't believe I'd said that aloud. I realized that it was the truth. The man, Victor, standing before me right now was my mate.
He chuckled. "I was hoping you'd notice this time."
About Jena!
Jena began writing in January of 2013 as a New Year's Resolution–and so far she has stuck to it!
She lives in Michigan. By day she works as a web developer, and at night she writes. Born and raised on a farm, she spends most of her free time outdoors, playing in the garden, or riding her horses. She also helps run the family dairy farm.
Giveaway!
Win a choice of ebook from Jena's backlist!