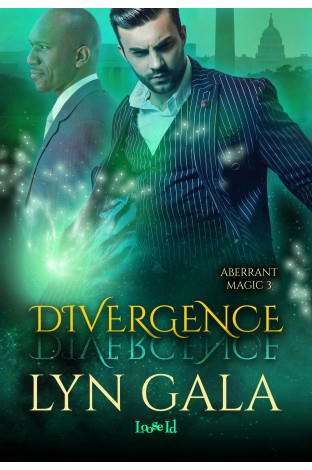 Title: Divergence
Series: Aberrant Magic # 3
Author: Lyn Gala
Genre: Multicultural, Urban Fantasy
Length: Novel (231pgs)
Publisher: Loose ID (August 30, 2016)
Heat Level: Moderate
Heart Rating: ♥♥♥♥ 4 Hearts
Blurb: Kavon and Darren believe they finally have the life they want—a lead on O'Brien, a better understanding of the failures that have plagued the team, and time to nurture the bond between them as shamans and lovers. However they've gotten involved in magical politics, and that has consequences that neither of them could foresee. Magic is changing, and Kavon and Darren are in the center of a coming storm. 
In the past, Kavon's only fear was that he might inadvertently damage Darren, and he is painfully aware that he has hurt his lover before. He's vowed to never make that mistake again, but new forces threaten their relationship and pose a special threat to Darren. With the danger growing more intense, Kavon struggles to find a way to protect the ones he loves and Darren realizes that the magic that gave him his heart's desire could take everything away just as quickly. Magic is a two-edged sword and the two lovers have to find a way to wield the weapon before it becomes the instrument of their death.
ISBN: 978-1-68252-209-7
Product Link: Loose Id | Amazon UK | Amazon US | Amazon DE
Reviewer: Shorty 
Review: Kavon and Darren are adjusting to their new lives as a couple with all that entails. They are not without their struggles as is with all pairs. Amid this is their continuing investigations of cases that are not closed yet. 
There was a lot going on in this story. I liked the explanations regarding the magical world as it gave me a better understanding. Some answers from the first two books are given as well. 
Yet I felt like the book was incomplete at the end. There were still questions left unanswered as well as some new characters thrown into the mix that left me feeling like maybe there will be another book in the future. 
Aside from this it was still a great read with plenty of mystery for all. Great read.