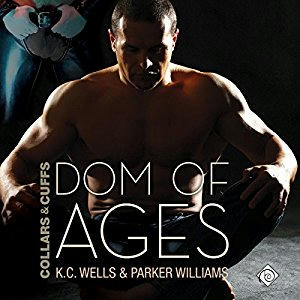 Title: Dom of Ages
Series: Collars & Cuffs 07
Author: K.C. Wells and Parker Williams
Genre: BDSM, Contemporary  
Narrator: Joel Leslie
Length: 10 hrs. 9 mins
Publisher: Dreamspinner Press (16th January 2017)
Heat Level: Explicit
Heart Rating: ♥♥♥♥♥ 5 Hearts
Narration: ♥♥♥♥ 3.5 Hearts
Blurb: Eli may only be 30, but he has had enough of pretend submissives. When he spies Jarod in a BDSM club, everything about the man screams submission. So what if Jarod is probably 20 years older than Eli. What does age matter, anyway? All he can see is what he's always wanted – a sub who wants to serve.
Jarod spent 24 years with his Master before fate took him. Four years on, Jarod is still lost, so when a young Dom takes charge, Jarod rolls with it and finds himself serving again. But he keeps waiting for the other shoe to drop. Because there's going to come a point when Eli realizes he's a laughingstock in the club. Who would want to be seen with a 50-year-old sub?
After several missteps, Eli realizes that in order to find happiness, they will need friends who will understand. At a friend's insistence, he visits Collars & Cuffs, where they are met with open arms. As they settle in to their new life, Eli begins to see things differently and he dares to think he can have it all. Until a phone call threatens to take it all away.
Product Link: Audible US | Audible UK    
Reviewer: Gigi
Review: This was an excellently written BDSM story with an interesting twist. Instead of all the trite hot young twink subs, we're provided a fine mature man of 50 filling the submissive role. The introduction is a tear jerker for sure. But as we read on and get to know both partners, a true romance, not just a kinkfest, develops. Not to say there isn't plenty of kink. We get a bit of restraint, a little pain, precision tools, and some deprivation, but it's all well written, and flows with mutual chemistry. The support characters are a joy to read and had me smiling the whole time I listened, and that's saying something because I was raking leaves. I'm sure my family had to wonder what the hell was going on.
Only one little thing stuck in my craw, the narrators voice for Jarod made him sound like he's an 80 year old geezer more often than not. My hubby is 54, and I can tell you he's no geezer, and his voice is not strained. That is the only reason I rated the narration like that. Joel does well with the narration everywhere else. Once I got beyond that I could appreciate how each character had their own distinctive voice. My favorite character in this story was actually Maggy, Jarod's mother. Not only did the narrator make her sound just like the Dowager Countess of Downton Abbey, she's just as wild and kinky as her son! Made me laugh out loud. 
If you like some bondage with your boyfriends and you're in agreement with me that with age comes refinement and richness, then you'll love this story. I did not read the previous books, and though they are all tied together, this read fine as a standalone. Dom of Ages was a pleasure to listen to, Wells and Williams make a great team, and I know I look forward to giving the rest of the series a try!