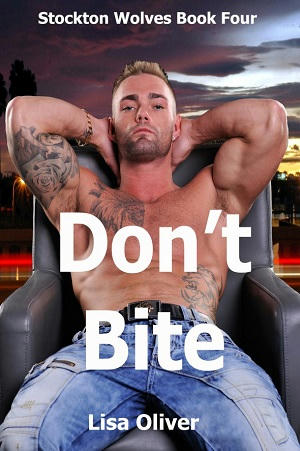 Title: Don't Bite
Series: Stockton Wolves #4
Author: Lisa Oliver
Genre: Paranormal
Length: Novel (203 Pages)
Publisher: Lisa Oliver (December 6, 2016)
Heat Level: Moderate
Heart Rating: ♥♥♥♥♥ 5 Hearts
Blurb: Trent Summers keeps a smile on his face, even though he feels like he's dying inside. Since he was horribly knifed by a killer bear he's had trouble with anxiety and panic attacks. Knowing most of his friends are shifters and immune to such things doesn't help. Mace's mating with Roan gives him some hope, but a mate of his own is just a pipe dream. In the meantime, he has to put aside his fears and help his friends find rogue vampires – not exactly a cure for stress.
Prince Alexi Vandermot is getting more than a little pissed off at his coven leader. There are rogue vampires in town and he's ready to hunt them down. The problem is, his cousin keeps saying no. Things aren't improved when the police come to call, bringing a consultant with them. Shifters are one thing, but Alexi is floored to find the consultant is his mate…human, scared and straight.
Claiming a mate is one thing; keeping him safe is another. When the rogues are found to have family ties to the coven and one of them fancies a bite out of Trent, the coven and the pack have to work together to make sure the body count doesn't get any higher. When problems start to erupt inside of the coven as well, Alexi wonders if he'll ever have any time to get to know his anxious mate. 
ISBN: B01MSTLFMG
Reviewer: Lisa
Review:  Each book in the Stockton Wolves Series collection features a different romantic couple. To enjoy the overall story arc and crossover characters, I would recommend reading this series in sequential order.
I started reading romance stories at the age of twelve and was always intrigued by the worlds that authors can come up with. Then a few years ago I read my first gay romance and I decided that there was just something about them that I liked more. I, like many, have favorites that we always follow and Lisa Oliver is one of those authors for me. There is just something about the worlds that she creates that keeps me captivated throughout the whole entire book. So much so that when a new book comes out, I must always start reading the very first book that leads up to this one.
I love how there is a serious tone to it, but that it is equally matched with humor. I can't stand a book that has no humor in it; I would rather be laughing then just sitting there. I love how our shifters and vampires are so protective of their mates, yet let their mates kick ass with them, otherwise well you know where they will be for the night.  There is always lust, love, hot sex and a good amount of danger placed in these stories that keeps my attention as well.
Trent Summers belongs to the pack, even though he is a human.  He had once been a police detective until he was stabbed by a rogue shifter.  Now he has panic attacks and trouble with anxiety.  However Mace and the others are very protective of each other.  He has never been with a man and never thought he would be.  However he had told Mace at one time, that if fate decided to give him one he would jump on it.  He just had not counted on that male to be a very big vampire.
Alexi is the second in command at his coven, and his leader is being a dumbass when it comes to humans.  Yet Hugh's own mate was a human.  Now there are rogue vampires draining humans and Alexi has an idea of who it is.  However on the first meeting of the shifters he realizes the human is his mate.  Protecting his mate is his top priority… that is if his mate doesn't kick him in the ass first. 
Watch out for Kalel and his hat fetish, and oh let's not forget our dear police Captain, well you will just have to read and see.  To me there is nothing better than a good romance, but when it is a paranormal then it hits higher marks to me.   I can honestly tell you that this is going to be one of those types of series that you can't put down and have to read more than once. It is the perfect story for me and gave me all that I needed.
I love the way all the feelings they felt was involved in this story. I had a blast reading it and I can't wait to read the next story. When Lisa puts out a book I am usually there to eat them up. I would definitely recommend reading this book. Trust me it will keep you laughing, crying, loving and having fun.