Hi guys, we have A.E. Via visiting today with the tour for her new audio release Don't Judge, we have a brilliant giveaway where you can win your own audiobook of Don't Judge, so check out the post and then enter the giveaway! ❤️ ~Pixie~
Don't Judge
by
A.E. Via
Detective Austin Michaels didn't think life could get any better after he was accepted into the most notorious narcotics task force on the East Coast, headed up by two of the baddest Lieutenants with the Atlanta Police Department – Cashel Godfrey and Leonidis Day.
Michaels knew he would fit right in as the team's sniper, having received his fair share of commendations for marksmanship. He was just as badass as the rest of the twenty brothers that made up their team. But when Michaels lets their prime suspect get away from a huge bust with over a quarter of a million dollars in drugs, he's willing to do whatever it takes to make it right.
Left with no other options, God chooses to bring in outside help, calling on his long-time friend and bounty hunter, Judge Josephson.
Judge was considered one of the best trackers during his enlistment in the United States Marine Corps. After retiring, he used those skills to become one of the most sought out fugitive trackers in the country. When Judge gets a call from his old friend needing his help, he quickly tells God, yes.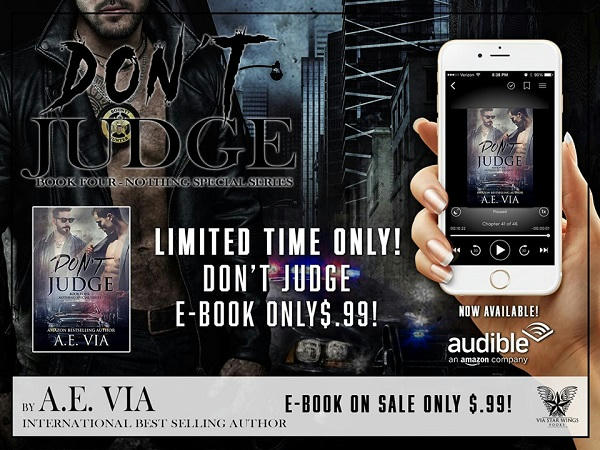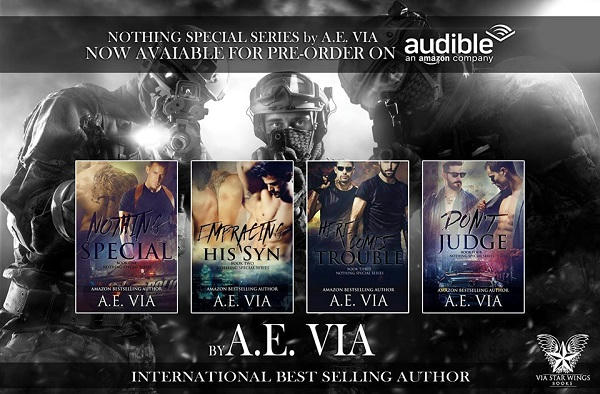 Nothing Special series!
Nothing Special (book 01)
.•.•.**❣️ Audible US | Audible UK | Amazon US | Amazon UK | Audiobooks.net❣️**.•.•.
Embracing His Syn  (book 02)
.•.•.**❣️ Audible US | Audible UK | Amazon US | Amazon UK | Audiobooks.net ❣️**.•.•.
Here Comes Trouble (book 03)
.•.•.**❣️ Audible US | Audible UK | Amazon US | Amazon UK ❣️**.•.•.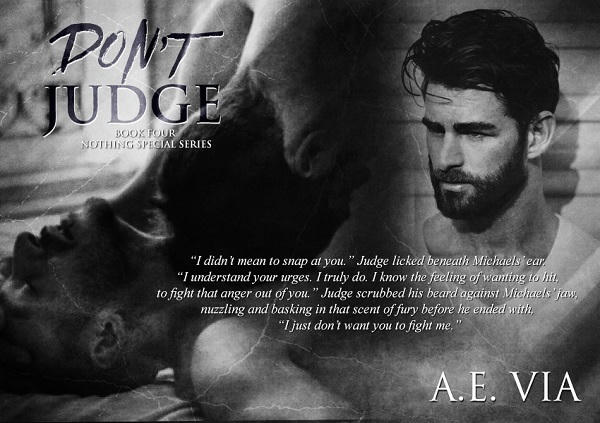 About A.E.!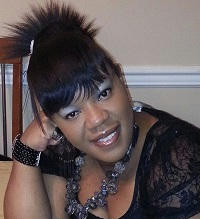 A.E. (Adrienne) Via has been a best-selling author in gay romance for five years now, but she's no stranger to MM. She's been an avid reader of gay lit for over twenty years before she picked up her laptop to place her own kiss on this beautiful genre. She's also the founder and owner of Via Star Wings Books, having published a couple of great new up and coming MM authors.
A.E. has a Bachelor of Arts in Criminal Justice from Virginia Wesleyan College that she used to start her own paralegal firm after she graduated in 2008. She spent five years preparing and filing bankruptcy petitions for struggling blue collar workers who couldn't afford to file with a lawyer. It was a rewarding and satisfying career… but another path called to me. Writing.
A.E.'s writing embodies everything from hopelessly romantic to adventure, to scandalous. Her stories often include intriguing edges and twists that take readers to new, thought-provoking depths.
Now that she's gotten over her 10 books published hump, she's kind of known now for her play rough and love hard, bad boy, alphas. However, I do like to push myself to step out of my comfort zone and explore with different tropes, but I never push myself into a whole other genre. I'm head over heels for gay romance and I have tons of more hot stories to tell.
Be sure to visit Adrienne on her social media pages and subscribe to her newsletter to never miss another release date! https://goo.gl/GbfCyk or Go to A.E. Via's official website http://authoraevia.com  for more detailed information on how to contact her, follow her, or a sneak peek on upcoming work, free reads, VSWB submissions, and where she'll appear next.
Amazon | Goodreads | Instagram | Facebook | Twitter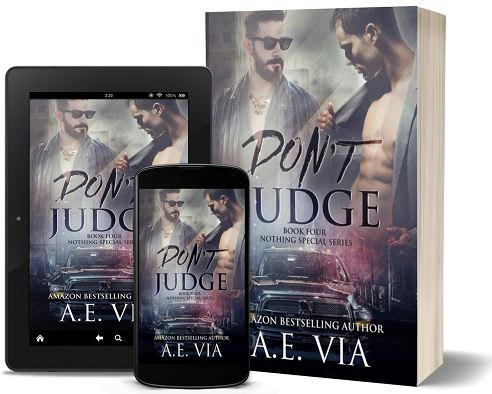 Giveaway!
Win an Audio Book of Don't Judge!