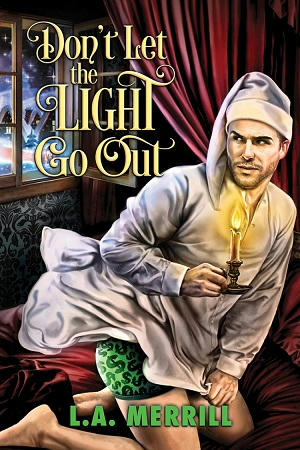 Title: Don't Let the Light Go Out
Series: 2016 Advent Calendar- Bah Humbug
Author: L.A. Merrill
Genre: Contemporary, Holiday
Length: Short Story (34 Pages)
Publisher: Dreamspinner Press (December 25, 2016)
Heat Level: Low
Heart Rating: ♥♥♥♥ 3.5 Hearts
Blurb: Ray Fine would like to forget Hanukkah even exists. The holiday holds too many sad memories for the young widower. When he's paired with new convert Josiah Wilson in a year-long welcoming program at his synagogue, he doesn't know how he'll get through eight days of celebration, let alone twelve months of guidance. 
Josiah has enough on his plate—school, conversion, the holiday concert season—without becoming someone's shoulder to cry on. But when he discovers there's more to his new synagogue buddy's sadness than a case of the "Hanukkah Blues," he sets out to show Ray how much there is to live for.
The first blizzard of the season has other plans, though, and Hanukkah might be a lost cause if Ray and Josiah can't plow through the snow—and their differences. Determined not to lose Ray to his own darkness, Josiah plans to teach him a lesson about the real Miracle of Light—and love.
ISBN: 978-1-63533-187-5
Product Link: https://www.dreamspinnerpress.com/books/dont-let-the-light-go-out-by-la-merrill-7981-b
Reviewer: Lisa
Review: Ray had lost his partner two years ago and seems to have lost his spirit along the way.  He was told by the Rabi that it was his turn to help a new convert.  It turns out that Josiah might just be the one to help him.
Now I hate to admit that this one didn't rock for me.  I also hate to admit that anything religious very rarely does for me.  I don't get into them like I should, however it is a really cute story that will brighten your day.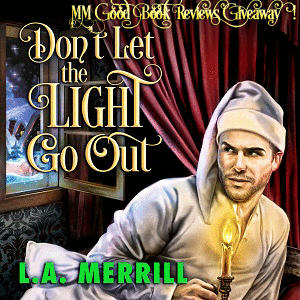 1st prize $100 DSP credits!
2nd prize $50 DSP credits!
3rd prize $25 DSP credits!
4th prize $25 DSP credits!
L.A. Merrill's Questions!
What is the correct name for the nine-branched candelabra used by Jewish people during the holiday of Hanukkah?
Alternate Trivia Question: In the Hanukkah story, warrior hero Judah led what band of fighters to victory over King Antiochus?
(Just leave a comment with the answers on this post)
Catch up with the previous questions: MMGBR Bah Humbug Giveaway!
(Winners will be picked by a dart on 1st January 2017)