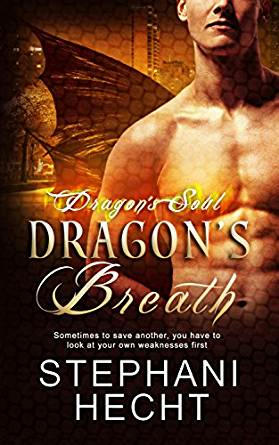 Title: Dragon's Breath
Series: Dragon's Soul 03
Author: Stephani Hecht
Genre: Paranormal
Length: Short Story (62 Pages)
Publisher: Pride Publishing (January 3, 3017)
Heat Level: Low
Heart Rating: ♥♥♥♥♥ 5 Hearts
Blurb: Sometimes, to save another, you have to look at your own weaknesses first.
Ever since Nicholas saw the small Dragon in chains in the scrying bowl, he knew that he had to save him. For some reason Nicholas is drawn to the other man and he won't rest until he knows he's safe.
Tommy has been a captive from the day he was born. When he is rescued by Nicholas he feels an instant connection to him. But Tommy is afraid to let his guard down and let anybody get close to him.
Can Tommy overcome his abusive past? Or will it doom him and Nicholas from finding love?   
ISBN: 978-1-78651-518-6
Product Link: https://www.pride-publishing.com/book/dragons-breath
Reviewer: Lisa
Review:  Each book in the Dragon's Soul collection features a new romantic couple. To enjoy the overall story arc and crossover characters, I would recommend reading the series in sequential order.  
Over the years you come to cherish and love certain authors more than many others.  It is the way they tell a story that will have you wishing you were right there with them.  And sometimes you wished you were the one falling in love.  This author has moved up the line to be one of my top favorite authors and from the way her stories are told, she will probably stay there.
Her characters are quirky as hell; protective to the point of, well, you can guess that answer.  I still have my ultimate favorite ones but many start to work their way into my heart.  Her stories also are full of action, suspense and danger plus some hot sexy time for our guys.  They catch my attention the moment I start reading and keep it all the way to the very last word.  This story gave me everything I could ask for in a story and so much more.
Tommy is a beautiful dragon, whose mother sold him into slavery.  For dragons that is punishable with death.  Nicholas knew from the moment he saw him in the scrying bowl that this man was for him.  Now he just has to get Tommy to believe and trust.
This story is perfect for when you are trying to take a break or when you just need the sun to shine for you. It caught my attention from the moment I started reading and kept it all the way to the end. It also gave me everything I could want in a book.
I can honestly tell you that this is going to be one of those types of series. One that I will have to read over and over. I love the way all the feelings they felt was involved in this story. It was the perfect story for me and I loved it. I can't wait to read the next story.