Hi guys! We have Andrew Grey stopping by for a quick visit today with his upcoming release Ebb and Flow, we have a short guest post from Andrew and a great excerpt, so check out the post and enjoy! <3 ~Pixie~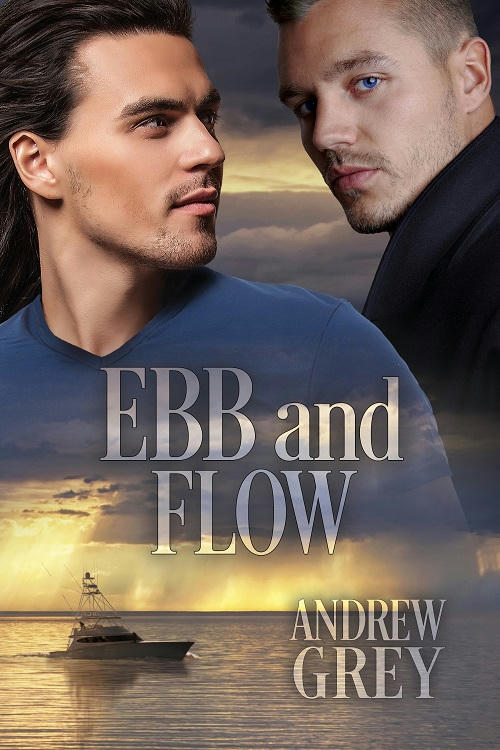 Ebb and Flow
by
Andrew Grey
To achieve happiness, they'll have to find the courage to be their own men.
As first mate on a charter fishing boat, Billy Ray meets a lot of people, but not one of them has made him as uncomfortable as Skippy—because he's drawn to Skippy as surely as the moon pulls the tides, and he's almost as powerless to resist. Billy Ray has spent his life denying who he is to avoid the wrath of his religious father, and he can't allow anyone to see through his carefully built façade.
Skippy is only in town on business and will have to return to Boston once he's through. But he doesn't count on Billy Ray capturing his attention and touching his heart. After all, his father has certain expectations, and one of them is not him staying in Florida.
Billy Ray doesn't realize just how much he and Skippy have in common, though. They're both living to please their fathers instead of following their own dreams—a fact that becomes painfully obvious when they get to know each other and realize how much joy they've denied themselves. While they can't change the past, they can begin a future together and make up for lost time—as long as they're willing to face the consequences of charting their own course.
Andrew Grey!
Almost a year ago I went on a gulf fishing trip.  It was an amazing experience.  However the trip wasn't exactly without mishap.  We had engine troubles on our way back in and an earlier hurricane had scattered the traps for the live bait.  But I did get to see the sun rise and set on the water.  That trip was the inspiration for Setting the hook as well as Ebb and Flow.  I found that I really loved being out on the water.  There was something primal as well as calming about it.  No phones, no television or media of any type.  It was just the guys and me on a boat.  We ate, we drank, we talking fishing, and all kinds of other things.  Some of the guys on the boat I had never met before, but by the end of the trip, we were friends.  As I said, it was an amazing experience, so of course I had to write about it.  I really hope you enjoy Ebb and Flow.  I put a lot of my own experiences into the story.  So you'll definitely get a glimpse of me in the pages.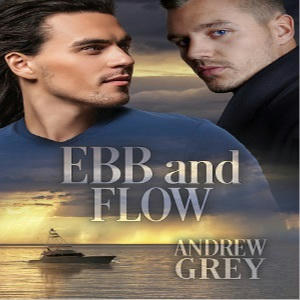 Excerpt!
"THAT WAS awesome!" Alec said from his chair as Harcourt Anson III—Skippy to his friends—strode past him on his way into his office. "You had that jury in the palm of your hand."
Skippy smiled. "It was a good outcome." He had fought half the members of the firm, who had urged him to settle and get done as quickly as possible. Skippy had recommended the clients take the case to court, and they'd won, big. He sat at his desk and leaned back in his chair, propping his feet on the desk. He had won a case most people thought was untenable, and the client had been ecstatic.
"Your dad should be pleased," Alec told him with a smile.
"Yeah." Skippy grinned. Maybe this time he'd catch the senior Harcourt's attention. It wasn't like his father could ignore the biggest judgment the firm had won in the last three years—and its biggest payday. That thought made him smile. Now his dad was going to have to look him in the eye and acknowledge Skippy's work.
"Do you want anything?" Alec asked, interrupting his thoughts.
"Coffee would be great. Though a fifth of scotch would be better, I'll have to make do with something more acceptable." Skippy would have liked to be able to leave the office right away and celebrate, but he had to speak with his father, the managing partner in Anson Law Firm.
"I'll be right back."
Alec hurried away, and Skippy allowed himself another smile and a deep sigh. Yes, he'd taken a real chance with the Mendoza case, but it had paid off. Some of the twisting that had taken up permanent residence in his gut unwound for the first time in weeks. Alec returned to put Skippy's coffee on the desk before going back to his area. Skippy had other cases he needed to work on, so he pulled out the files to get started. There was always another client waiting for his attention.
He worked for an hour, alone and blessedly undisturbed, which was a rarity. He'd expected the other attorneys to stop by to congratulate him, but with his door closed, they were giving him the space he needed.
Skippy picked up the phone and said, "Alec, can you come in, please?"
His door opened almost immediately, and Alec hurried in, ready and eager. Skippy was going to miss him once Alec decided he wanted to go to law school. He was gifted and understood the law and its processes better than many of the lawyers in the office. He deserved better than to be anyone's assistant.
"Close the door," Skippy instructed, and Alec complied. "I was wondering if you could do some case research for me." He handed Alec the file. "This is confidential, so handle it appropriately, but I need some help and I know you can do this for me." It was a simple case, and while Skippy could have done it himself, he wanted to give Alec some additional skills to boost his confidence.
Skippy's phone rang, and Alec leaned forward in his chair to answer it right away. "Mr. Anson's office." Alec always sounded both professional and cheerful, and Skippy's clients loved him. "Yes, sir. He is in a conference, but I will tell him." Alec hung up the phone. "That was your father. Not Marjorie, but your father himself. He wants to see you at your earliest convenience." Alec rolled his eyes. They both knew that while his dad said that, it was his polite way of telling him to get there now.
Skippy nodded and sighed. "Take care of that by the end of the week, please. I have a meeting with the clients next Tuesday. Also, put an appointment on my calendar for late Friday so we can go over things together." Alec nodded, already setting up the appointment using his tablet, and then he stood and left the office with a lilt in his step. Skippy did the same, heading down the row to his father's corner office.
Marjorie smiled at him and motioned for him to go right inside. She had been his father's assistant all the way back when they were called secretaries. She was a wonderful lady, and Skippy used to wish he could steal her away, but when he'd hired Alec, he'd found the assistant who worked for him in the same way that Marjorie and his father finished each other's sentences.
"Come in. Sit down," his father said without a hint of the celebratory tone that most people would expect. "You managed to pull that one out of the hat." Which was his father's way of saying that regardless of the outcome, Skippy should have done what his father had wanted. "Still, it was a win." He sat back down and opened a drawer, pulled out a file, and passed it across the desk. "We have another case that's going to require your talents. I'll leave it to you to read over. It'll require some travel to Florida to meet with the various parties." He leaned forward. "This case has the potential to make your national reputation."
Jesus! Skippy picked up the file, trying not to gape in near shock. The case he'd just won had garnered mentions on the national news, and he'd given remarks on the courthouse steps that had been carried by CNN, for God's sake, and his father…. He should have known.
"This is a huge one for the firm." His father sat back, putting his hands behind his head, a knowing look on his face.
Skippy knew there was no use in arguing. Instead, he opened the folder and skimmed it. His eyes stopped at the word Apalachicola and he smiled. "Great. But I want some time off as well." He'd damned well earned it. "I have some cases I need to wrap up, and then I'll head down and get started."
"Take a few days down there before you start if you want. Just keep your eyes on the ball." His father swiveled around to look out over the snow-gripped Boston skyline.
Skippy wanted to shake his father and make him acknowledge the amazing thing he'd done, but it was no fucking use. No matter what he did, his father's approval remained out of reach. And he knew when it had begun: the day his father had caught him with another boy. Skippy had seen the light in his father's eyes go out, and for years he'd worked his ass off to try to see that pride there once again.
With a wave of a hand, Skippy was dismissed, and he left, striding roughly back to his own office and closing the door with more force than necessary. Not that he gave a flying fuck about what the others thought. He sat at his desk, grabbed the phone, and dialed.
"Jerry," Skippy said, the file open in front of him.
"What's going on?" Just hearing his friend's voice was enough to cheer him up. "I saw you won. Nice speech."
"Thanks. Yeah, I won, and it felt good for about two minutes." There was no need for Skippy to go into the crap with his father. Jerry was well aware. "I have a new case, in Florida. Would you call the guys and see if they want to go down there with me for a while?"
"God, I'm in. This weather is killing me." The cold air always made a mess of Jerry's lungs, and he ran humidifiers all over his house in an attempt to hold off the dry cough that gripped him each winter.
"Good. I'm already checking, and the house we rented the last time is available. It seems they had a cancellation. I'll call and book it. You get in touch with the guys. Let's plan on two weeks from now."
"I got it. I'll call you back. Say, do you want to go fishing again?"
"Sure. A day on the water sounds amazing. I'll call them and set it up as soon as I know about the guys." Talking to Jerry always made things seem better, and this time was no exception. "How about we meet for dinner and go over the details?"
"Steak?"
"You got it." Hell, if his father wasn't going to celebrate with him, then he might as well go out with the guys.
"I'll call the others. If your dad is going to be a dick, we'll supply the party ourselves." Jerry congratulated him again and hung up.
Skippy returned to work, but Jerry called him back ten minutes later. Both Kyle and Steven were going to meet them for dinner and were in for the trip. Skippy excitedly booked the beach house for the two weeks they had open, figuring he could stay there and work after the guys left. Then he called the charter service and booked an all-day fishing boat for the four of them. With that done, he checked his email and figured he could head home. He'd had one hell of a day, but at least things were looking up.
Or they had been until he closed his office door and bundled up to go outside.
"Leaving for the day?" his father asked as he approached, checking his watch.
"Yes. I have work with me, but I'm done here for now."
His father stepped even closer. "You know that doesn't set a good example for the rest of the staff."
Skippy tried hard not to roll his eyes. Like his father didn't take two-hour martini lunches with clients at least once a week. "Well, I think they'll all survive." Skippy was tempted to announce that he was going to the bar on the corner and that drinks were on him for the next hour. That would clear the place out. But he bit his tongue and turned away without a word, heading to the lobby and the elevators.
About Andrew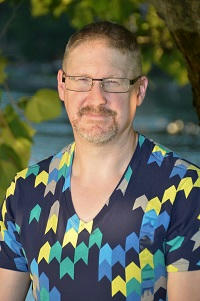 Andrew grew up in western Michigan with a father who loved to tell stories and a mother who loved to read them. Since then he has lived throughout the country and traveled throughout the world. He has a master's degree from the University of Wisconsin-Milwaukee and works in information systems for a large corporation.
Andrew's hobbies include collecting antiques, gardening, and leaving his dirty dishes anywhere but in the sink (particularly when writing)  He considers himself blessed with an accepting family, fantastic friends, and the world's most supportive and loving partner. Andrew currently lives in beautiful, historic Carlisle, Pennsylvania.
Author Links
Amazon Author Page | Barnes and Noble Page | Dreamspinner Press | Facebook | Facebook Group All the Way with Andrew Grey | Goodreads | Twitter | Website