Hi guys, we have A.E. Via visiting today with the tour for new audio release Embracing His Syn, we have a brilliant giveaway where you can win your own audiobook of Nothing Special, so check out the post and then enter the giveaway!  ❤ ~Pixie~ p.s. keep an eye out for Prime's review coming soon!
Embracing His Syn
by
A.E. Via
Sergeant Corbin "Syn" Sydney had dedicated his life to becoming the best detective. So when he heard there was an opening on the notorious Atlanta Narcotics Task Force, he jumped at the chance. But, what he wasn't ready for was realizing just how lonely he'd made himself, when he observed the loving and dedicated relationship between the two men he served under: Lieutenant Cashel "God" Godfrey and Lieutenant Leonidis Day.
Syn prepared himself to accept his lonely fate until he walked into a small pub and met the long-haired, tattooed bartender, Furious Barkley. Before Syn can even understand why, he's overcome with feelings he barely recognizes: passion, yearning, craving. And if the dark, lustful gazes are anything to go by, Furious might be feeling the same things for him.
Just two thing needs to happen before Syn and Furi can give each other what's been missing from their lives for so long…Syn needs to find the evidence that proves Furi's innocence of murder, as well as protect him from a past that refuses to let go.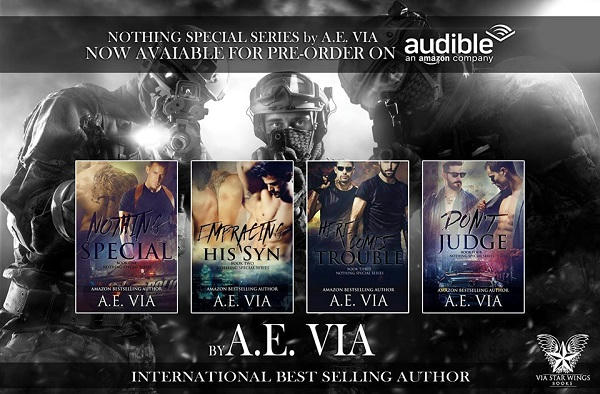 Nothing Special series!
Nothing Special (book 01)
.•.•.**❣️ Audible US | Audible UK | Amazon US | Amazon UK | Audiobooks.net❣️**.•.•.
Here Comes Trouble  (book 03)
OUT JULY 2nd
Don't Judge (book 04)
OUT JULY 24th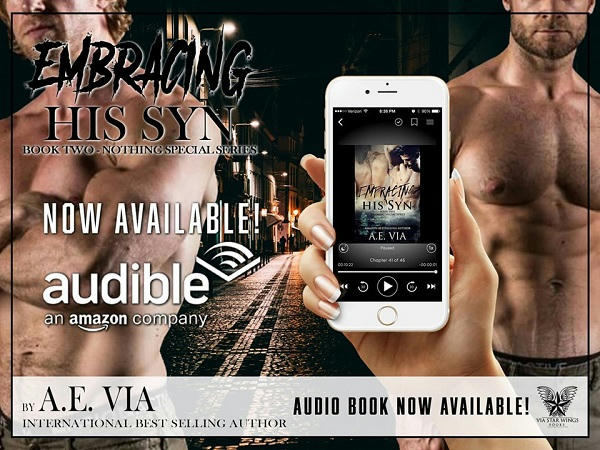 About A.E.!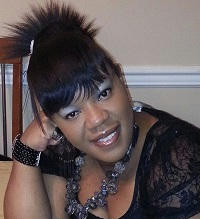 A.E. (Adrienne) Via has been a best-selling author in gay romance for five years now, but she's no stranger to MM. She's been an avid reader of gay lit for over twenty years before she picked up her laptop to place her own kiss on this beautiful genre. She's also the founder and owner of Via Star Wings Books, having published a couple of great new up and coming MM authors.
A.E. has a Bachelor of Arts in Criminal Justice from Virginia Wesleyan College that she used to start her own paralegal firm after she graduated in 2008. She spent five years preparing and filing bankruptcy petitions for struggling blue collar workers who couldn't afford to file with a lawyer. It was a rewarding and satisfying career… but another path called to me. Writing.
A.E.'s writing embodies everything from hopelessly romantic to adventure, to scandalous. Her stories often include intriguing edges and twists that take readers to new, thought-provoking depths.
Now that she's gotten over her 10 books published hump, she's kind of known now for her play rough and love hard, bad boy, alphas. However, I do like to push myself to step out of my comfort zone and explore with different tropes, but I never push myself into a whole other genre. I'm head over heels for gay romance and I have tons of more hot stories to tell.
Be sure to visit Adrienne on her social media pages and subscribe to her newsletter to never miss another release date! https://goo.gl/GbfCyk or Go to A.E. Via's official website http://authoraevia.com  for more detailed information on how to contact her, follow her, or a sneak peek on upcoming work, free reads, VSWB submissions, and where she'll appear next.
Amazon | Goodreads | Instagram | Facebook | Twitter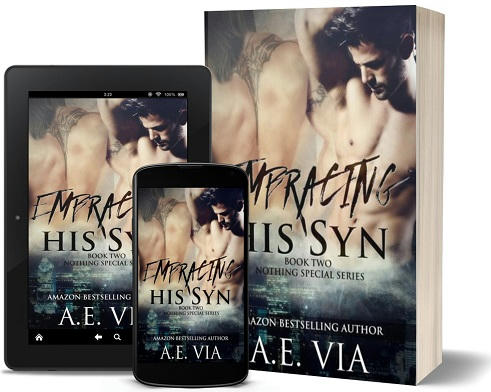 Giveaway!
Win an Audio Book of Nothing Special!