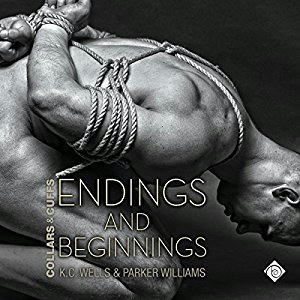 Title: Endings & Beginnings
Series: Collars & Cuffs Book 8
Author: K.C. Wells  & Parker Williams
Genre: Contemporary, BDSM
Narrator: Joel Leslie
Length: 12 hrs 34 mins
Publisher: Dreamspinner Press (20th October 2016)
Heat Level: Moderate – Explicit
Heart Rating: ♥♥♥♥ 4 Hearts
Narration: ♥♥♥♥ 4 Hearts
Blurb: In all his relationships, Darren Fielding never found the level of intimacy he witnessed between Thomas Williams and his sub, Peter, the day of Peter's "rebirth". Not only that, he never realized such intimacy was possible. For two years, Thomas's business card has been burning a hole in his wallet. When Darren's lover moves on, maybe it's finally time to see where that card takes him.
Collars & Cuffs' new barman, JJ Taylor, is really conflicted right now. He went to the club with a very specific purpose, already convinced of what he'd find there. Except it's not what he expected at all. He certainly didn't anticipate finding himself drawn to the new wannabe dom. Nor could he have guessed the direction that attraction would lead him.
Old love, new love, vows, pain, rage, moving in, moving on….The members of Collars & Cuffs face an event that touches some of them deeply, but it will only reinforce what they already know: together they are stronger, and some bonds cannot be broken.
Product Link: Audible US | Audible UK
Reviewer: Gigi
Review: Once I had developed a taste for the Collars & Cuffs series I couldn't wait for the next, and Endings and Beginnings delivers. What I truly enjoyed besides all the hot kink, was revisiting all of our favorite couples. Of course we get to see a new relationship develop first, that of JJ and Daren, both new to the scene, both carrying a lot of baggage that seems at first insurmountable. But with all the help of the Collars and Cuffs family, even during a crisis that haunts them all from the past, a happy relationship will spout.  
My favorite thing about Endings & Beginnings, is that we get just that… to revisit each relationship, remember the couple's struggles, strengths and passions, and join them in their heart-warming growth and promise for the future. A lot of HEA's here! I especially love Pietro's adventure…what a funny, heart melting surprise!! 
Joel Leslie's strengths at offering each character a defines voice comes to light here, because there are so many sets of characters to follow, he does it very well, though I still get crunchy about his voice for Jarod, he's only in his 50's not geriatric damn it! But take that with a grain of salt, the rest of this is fun, kinky, love fest material. I recommend this entire series to anyone who loves kink with their romance!