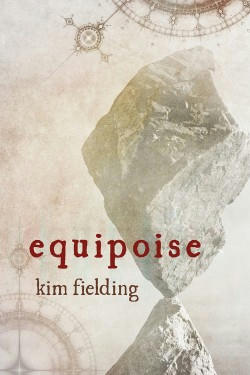 Title: Equipoise (2nd Edition) 
Series:  Ennek 03
Author: Kim Fielding
Genre: Fantasy
Length: Novel (204 pages)
Publisher: DSP Publications (November 29, 2016)
Heat Level: Low – Moderate
Heart Rating:  ♥♥♥♥ 4 Hearts
Blurb: Ennek, the son of the Chief, and Miner, a former slave, have escaped the totalitarian city-state of Praesidium and remain fugitives. Having defeated two mighty wizards, they begin to realize complete freedom can be as dangerous as absolute power. Now Ennek and Miner must face battles, corruption, and further journeys through lands both new and familiar.
As they grow more secure in their relationship, they learn the greatest challenges sometimes come from very close to the heart and everything of value has a price. With the help of a few allies, they seek equipoise—a balance for themselves and for their world.
ISBN: 978-1-63477-188-7
Product Link: https://www.dsppublications.com/books/equipoise-by-kim-fielding-333-b
Reviewer: Shorty 
Review: This is the third book in the Ennek series. Ennek and Miner have finally come home. Only to find things have changed since they have been gone. It is a struggle to accept the changes of this new society while at the same time dealing with their own fears.
It was a wonderfully written, if not slow, ending to an intriguing story. I loved seeing how both the MC's interacted with each other and others. They faced foes head-on and struggled to make a life for their selves in a world where nothing is certain.
As the story progressed I hoped for Ennek and Miner's chance to live a peaceful life without all the drama that usually ended up happening. All in all it was a great ending to a really good trilogy.
Great read.