Hi guys! We have Sean Ian O'Meidhir and Connal Braginsky popping in today with the tour for their new release Escape, we have a brilliant guest post and a great excerpt, so check out the post and enjoy! ❤️ ~Pixie~
Escape
by
Sean Ian O'Meidhir and Connal Braginsky
For sheltered Robbie, one week of freedom leads to sexual awakening and adventure… but when his world intersects with Theo's, they'll need all their wits and Theo's magic to fight for their future.
Rare male weresnake Robbie has had his whole life decided for him down to his meals. But when the time comes for him to perform an unspeakable duty to his clan, he runs.
San Francisco Pride is in full swing when technomage Theo spots a scared-looking young man with brilliant emerald eyes. He's only looking for a hookup, but before he knows why, he's taking Robbie home and introducing him to champagne and enchiladas. He doesn't have any intention of falling in love.
Robbie doesn't want to return to his clan, at least not without trying to fit a lifetime of experiences into a week, but every day he stays puts Theo in more danger.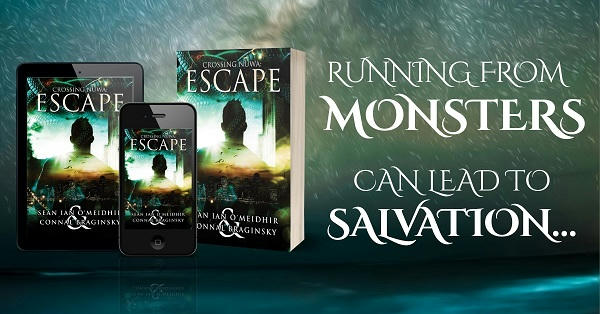 Role Playing Games and Writing
by Sean Ian O'Meidhir and Connal Braginsky
We've been very open about our origin story.  No, it wasn't a radioactive spider or mutual attraction to each other.  We started writing because of … *drum roll* … Dungeons and Dragons!  Yes, if what's posted all over our website and in other places hasn't pointed you in the direction of Connal and me being the biggest nerds ever, I don't know what will.  Except perhaps the Game of Thrones tee shirt I'm currently sporting while typing this.  We wanted to write a blog post about how gaming has influenced our writing, but the fact is that gaming is our writing.  Indeed, Connal and I call it "hey, are we gaming this morning?"  We start with a story concept, make up a few MC's and then play off each other really making it up as we go along.  But to just say that would make a very short and not so interesting blog post, so we asked each other – Hey, what three things have I learned from RPG or worked out through RPG? 
But first – for those of you who haven't heard of role-playing games, a brief tutorial.  Role playing has been around for a very long time and consists of people taking on characters and playing them in a story – very much co-authoring a story together.  There's usually one person who takes on the role of "storyteller" (aka "dungeon master or game master") who sets a basic outline of a plot that the rest of the gamers put their characters through.  This can be in any genre (medieval, modern day, future, alien worlds, this one, wherever your imagination takes you.)  When I was a kid it used to take place around living rooms, and still often does. But with the advent of the internet, the game can take place anywhere.  And a good thing too – for the D&D campaign that Connal and I played in was over Skype.  Connal used to play with my partner in San Diego, but after he moved to San Francisco to be with me, gaming could only take place with the assistance of the internet. 
But, what have we learned or worked through in all these years of gaming? 
Connal indicated that he has been gaming for many years before meeting me.  And he writes:  (1) I learned that having a set of rules and boundaries when playing is helpful in cutting down choices so I do not spin out trying to figure out what I can do right there and then.  When not playing is when I start having different ideas of what I can do with magic or different situations, etc.  I am certain that I have driven my game groups crazy.  So, it makes it enjoyable to talk to people/communicate with them, while having a set personality, set rules, and set setting that I could all learn easily.  Of course, how I acted I'm sure other players would tell you they found weird.
Connal and I have actually talked about this at length and while gaming is done verbally, our writing/gaming is all done in a written forum posts.  It's a different type of creativity which we both very much enjoy. 
Connal goes on to write a second thing he learned.   Imagining the situation in my mind while playing the game: seeing the sights, sounds, emotions, etc., of the persona I was attempting to play, and seeing how the GM and other players reacted, was also interesting.  It made it almost addicting because while we were playing, I could forget the stress from work, my family, etc., and just focus on living in this other world.  
The third thing Connal enjoyed was: One of the GM's I had would give us extra experience points for writing journal entries in character, and I found that I was pretty good at it (and he loved reading the entrees).  So not only did I get to live that world while playing it, but could then explore it more deeply when writing as the character, and explaining his perspective, his point of view, and his thinking behind the actions he took. 
This last piece I never knew about my coauthor! Of course, we were meant to write together!
When I posed that question, I was going to say math, history, and cooperation. (For you gamer nerds – ThAC0 am I right??)   I got into gaming because of my best friend's older hottie of a brother.  Then in college, it was a great way to meet guys.  But the delving into a fantasy to escape reality, the ability to be anyone, was intoxicating.  So, while initially it was the math, history lessons, and cooperation that I learned – over the years gaming has given me so much more.  Specifically, it has provided me a with a forum to try on various mental health disorders and personality traits; to grow in empathy for potential clients and understand their struggles in a much different way; and to expand my own abilities as a listener.  I'm a character builder and my main joy has always been the detail put into character creation.  This, like Connal's enjoyment of the rules and systems, has helped in building believable characters in our writing.

Excerpt!
"Reality started to sink back in, and I was standing under the water, trying desperately to have the boiling spray chase away my ruminations from the previous night on the run. I don't know how long I had been in there when a stir of air tickled across my back, alerting me that I wasn't alone. I spun around to see him standing there. Naked! He was incredibly tall (which is saying something considering I'm six foot two and felt dwarfed), with his broad shoulders and a thick furry chest, bristly goatee, and the bright curly electric-blue hair that somehow shone in the fluorescents of the bathroom in a way that it hadn't under the sun. His dark skin tone also shone differently with the indoor lighting, which seemed to illuminate the differences between us with my much paler skin. My eyes drifted down over his soft chubby belly to his manhood, which was sticking straight out at me! The burn of shame flowed over my entire head and shoulders as I almost lost my balance turning my immediate arousal away from him.

"Man, I hope you're a bottom." He exhaled as his huge arms encircled me. "I've never been wrong before." His breath, warm against my ear, sent a cascade of goose bumps down my side.

My brain practically short-circuited. I was no longer thinking about Mother and my aunt chasing me. I was no longer worrying about where I was going to go or what I was going to do. The only thing I could focus on was the soft comforting pillow of his belly against my back coupled with the enticing hard pressure that slid against my rear and made my breath catch for reasons I couldn't begin to process. I had never experienced anything like it in my life and was suddenly bombarded by too many emotions I couldn't identify, had never experienced. Above all of them was exhilaration as every nerve felt electrified, alive. And then his hands were everywhere. He was holding… soap? The small knobbed bar of hotel soap slid across my chest and flat belly… lower, encircling me with a few gentle strokes that sparked sensations throughout my entire body, then back up over my shoulders, kneading gently but firmly.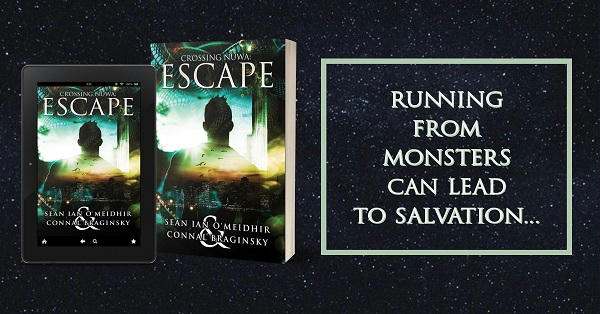 About Sean & Connal!
Sean is a shrink who by day spends time in jails and prisons (evaluating criminals) and by night writes romantic fiction. Sean and partner live in San Francisco ruled by their cats and can often be found trying new restaurants. With the understanding that they live in Heaven, Sean adores spending time sitting near the water with a laptop in hand, gazing at the bay and making daydreams a reality for others to enjoy.
Connal works as a Senior DevOps/System Engineer for a gaming company, and plays MMORPG's when he can, including World of Warcraft, Overwatch, and a few others. Also plays D&D with Sean and his game group. He is a fan of Lucille Ball, Alan Watts, as well as Carl G. Jung and his contemporaries; recently Peter Kingsley who is a scholar of ancient Greece, and a Mystic. He lives with his partner in San Diego with their two cats, but spends a lot of his time sequestered study, surrounded by books and thoughts of mostly dead (authors) people.
To read more about Sean's adventures, please visit www.dreamersworkshop.com.
Facebook | Facebook Group | Website | Goodreads | Twitter | Newsletter | Blog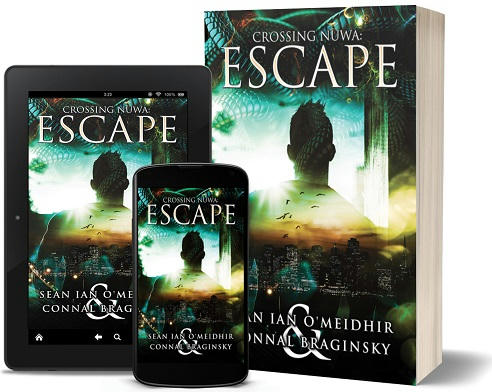 Check out the other blogs on the tour!
July 19
Books, Tattoos and Tea
Little Shop of Readers
MJ's Book Blog and Reviews
Stories That Make You Smile
July 21
Boy Meets Boy Reviews
July 22
Jenn's Book Obsession
Love Bytes
The Blogger Girls
Wicked Faerie's Tales and Reviews
July 23
MM Good Book Reviews
July 25
Bayou Book Junkie
Scattered Thoughts and Rogue Words