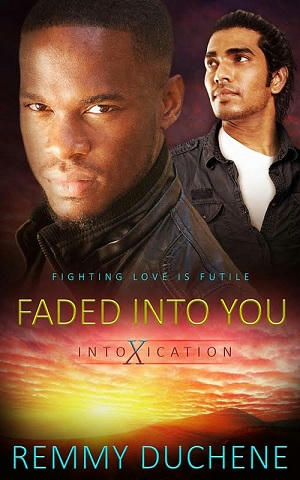 Title: Faded Into You 
Series: Intoxication #2
Author: Remmy Duchene
Genre: Contemporary 
Length: Novella (113pgs)
Publisher: Pride Publishing (1st November 2016)
Heat Level: Explicit
Heart Rating: ♥♥♥♥♥ 5 Hearts
Blurb: Fighting love is futile…
Ravinder Raja never saw himself as a jealous person, but when his best friend, Alfred, begins preparations to get married, Ravinder can't help feeling alone. While kicking his best-man duties into high gear, he finds a job in India working as the PR rep for a wounded security company. He just wants is to get away from all things 'wedding' until he has to face the music. He never expected Thaddeus Mastersons and the way his body will betray him when it comes to the sexy ex-hacker.
Thaddeus Masterson got into some serious trouble when he was young. But now, reformed and fresh off working with the FBI, he's decided to go back into business for himself—legally. When a friend's company is brought to its knees by hackers, Thaddeus reluctantly packs his stuff and jets off to India. It's the last place he expects to find love. But as they say, love always finds a way.
ISBN: 9781786514837
Purchase Link: https://www.pride-publishing.com/book/faded-into-you
Reviewer: Veronica
Review: I've read a few books by this author already and I'm always in-love with the characters. I ABSOLUTELY love this series. Was very sorry when the story ended.
Ravinder and Alfred (from Intoxication 1) are the best of friends, they've known each other for years and share most of the same interests. Now that Alfred is getting married Ravinder is doing his Best man duties for Alfred's up-coming Wedding and Ravinder is seeing the Green eye-monster. Ravinder never saw himself as the jealous type, but it is raring it's head to see how happy Alfred is and he is still alone with no love interest in sight.
Ravinder has accepted a job offer, but it is in India. He starts his new job, and there in Mumbai is where he meets the ex-hacker Thaddeus Masterson. On first sight. Ravinder isn't impressed, but Thaddeus is totally infatuated at the sight of Ravinder and wants to possess him body and soul. As they work together to complete the job that Thaddeus is hired to do, they can't resist the heat between them. Will Ravinder find his Cum Whisperer?
I love this series and recommend that it should be read in order.