Hi guys! We have Kaje Harper stopping by today with her upcoming release Fair Isn't Life, we have a short guest post from Kaje where she introduces us to Luke, and we have a great excerpt so check out the post and enjoy! ❤ ~Pixie~
Fair Isn't Life
(States of Love 45: Minnesota)
by
Kaje Harper
Luke Lafontaine survived the past year by not thinking about the father he lost, the dairy farm he couldn't save from bankruptcy, or his way of life that vanished with the rap of an auctioneer's hammer. Cleaning up city folks' trash at the Minnesota State Fair is just another dead-end job. But at the Fair, surrounded by a celebration of farm life, ambitions he'd given up on and buried deep start to revive. And seeing Mason Bell in the parade—gorgeous, gay, out-of-his-league Mason—stirs other buried dreams.
Mason left his hometown for college in Minneapolis without looking back. Student life is fun, classes are great, gay guys are easy to find, but it's all a bit superficial. He's at the State Fair parade route with his band when he realizes a scruffy maintenance worker is Luke, his secret high school crush. Luke should be safely home working on his dad's farm, not picking up litter. Mason wishes he hadn't fallen out of touch. He's an optimist, though, and it's never too late for second chances. Now he just has to convince Luke.

Guest Post!
Meet Luke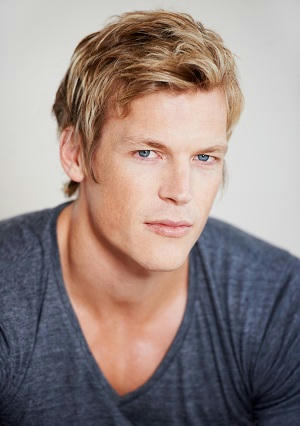 I really appreciate the opportunity from MM Good Book Reviews, to come talk to readers about my upcoming book, Fair Isn't Life, from Dreamspinner Press. Blog tours are a new thing for me (thanks for arranging it, Dreamspinner) and I'm having fun. Today, I'd like to introduce readers to one of my two main characters, in an exclusive excerpt from the story.
Luke is a big, blond, 21-year-old farm boy who lost both his father and the family dairy farm in the last two years. He's worked whatever city jobs he could find, and is now picking up trash at the Minnesota State Fair— work that lasts two weeks at ten bucks an hour. He's been trying not to look back, and unable to look too far ahead, focused on barely getting by. But he just saw his high school crush, Mason, marching in the State Fair Parade, and things are shaking loose in Luke's head, and heart.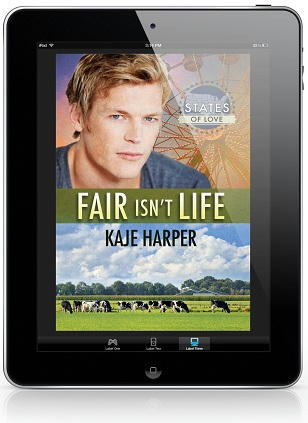 Exclusive Excerpt!
Luke made it through the rest of his shift somehow, riding on waves of mini donut aroma—I ate three bags one time—and the creak of the skyride overhead—Nick dared me to drop a shoe from up there once, had to buy flip-flops, and Dad took it out of my allowance—and a hundred flashes of the red, white, and blue Twins logo—I don't even know how the team's doing this year. Time seemed to stutter back and forth. One moment he could still hear the sound of the marching bands on the parade route, taking forever to finish, and an instant later, it was the end of his shift.
After clocking out, he checked his near-empty wallet. He wouldn't get paid for over a week. Smart thing would be to head out the gates, catch the bus, and go home to his ramen noodles and a tub of cold water for his feet.
I've never, ever been smart.
Being at the Fair today hurt in an odd way. Like jumping into the pond the first sunny April day, when it was still way too cold. Like crashing a sled at the bottom of a snow hill, a shock that reminded you how incredibly alive the run had felt. He'd been so numb, he'd forgotten there was still color and music in the world. And mini donuts. Must have mini donuts. He found the nearest stand and handed over his money like he was a millionaire. Hell, yeah. Give me the expensive manna from heaven. The first bite, crunchy with cinnamon sugar, soft and greasy-sweet with dough, burst on his tongue.
Since he was clearly a masochist and wallowing in memories, he headed toward the barns, but halfway there, his resolve ran out. In that cattle barn, he'd shown his 4-H calf, Anne, as a senior yearling, and again as a two-year-old when they'd won her class. He'd shown Brandy to first place as a dry cow before she sold at auction. Dad told him he'd done great.
He couldn't go there.
Off to his left he spotted the veterinary college's Miracle of Birth Center. They'd have lambs and piglets and ducks, maybe goats. Critters that were alive and real but not full of memories. He followed the families streaming into the red metal barn.
Inside, the scent hit him first. Clean shavings and hay, and warm animals—sweat and manure and feed—in a mix that made him breathe deep to hold it in his lungs. The aisles were more crowded than he expected. He shuffled along as the kids ahead of him darted between metal pens, oohing and ahing over the wobbly lambs and the huge sows nursing litters of piglets.
A girl pointed at twin lambs nursing. "Look. They like it! They're wagging their tails."
There was no reason for that to blind him with tears, but he found himself staggering past the kids toward the back, winding up scrunched against the rails of a pen that held a fine, big-bellied Holstein. Damn it. God damn it. He wiped his face on his shoulder, still clinging to the pen, and knocked his cap off over the rail into nice fresh cow shit. Damn it!
He blinked, then bent stiffly to pick it up. A man's gnarled hand got it first and held it out. "Here you go, son."
He kept his face averted. "Thank you, sir."
"Got a little dirty."
"It's good clean dirt."
The man laughed, deep and hoarse. "Most folk wouldn't say that about cow crap."
"It's just manure." He glanced up, getting the impression of a weathered face under thick gray hair. "Now if it was pig shit…."
"Hah. Yes." The man paused.
Luke turned the stained cap around in his hands, staring at his feet because they were easier to look at than the friendly man or the pretty cow.
"Son, are you all right?"
"Yes. Sure."
"That Deere cap's seen some weather. You a farm boy?"
"Yes, sir. Dairy. A little beans."
"Around here?"
"Buffalo." He pushed enough air through to say, "Was. Was my Dad's."
"Was?"
He kicked at a bit of straw with the toe of his sneaker.
"Ah." There was enough understanding in that single syllable to make his breath come short. "And what're you doing now?"
"Working the Fair. Sanitation."
"That's good, honest work. College in the fall?"
"No, sir."
"That's okay. It's not for everyone."
"I've never been book smart."
"Animal smart, though?" The man leaned against the rails beside him. "That girl, for instance. What do you think of her?"
Luke pulled himself together, squaring his shoulders like he was in 4-H judging class, and looked at the cow. "Nice strong frame, pinbones a bit high, nice feminine head. Good dairy character, deep chest, wide ribs. Decent legs, pasterns kind of long. Good udder, rear attachment a bit narrow. How many lactations?"
The man laughed. "I knew it. 4-H kid, right?"
"Yes, sir."
"So was I. About fifty years before you." He let out a long breath. "Farming's never paid worth a damn, but it's a noble calling. I went on to vet school, made a good living from it, now I'm teaching. But every year, there's less and less kids with a real feel for cattle or pigs or sheep."
"I guess." Down the aisle, a little kid was patting a ewe on the head like a dog. Probably thought she was a dog. A giant poodle maybe.
"You miss it, son?"
His throat closed up completely. He pushed the loose straw back under the bottom rail with his foot…
* Read the rest of Luke and Mason's story in Fair Isn't Life.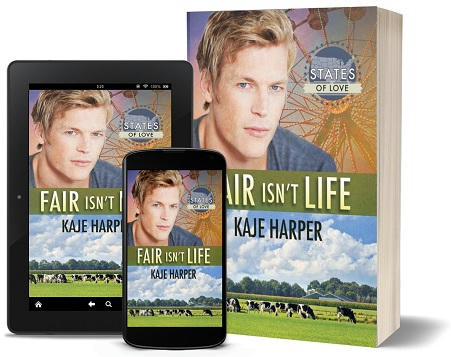 About Kaje!
I get asked about my name a lot. It's not something exotic, though. "Kaje" is pronounced just like "cage" – it's an old nickname. I've been writing far longer than I care to admit (*whispers – forty years*), mostly for my own entertainment, usually M/M romance (with added mystery, fantasy, historical, SciFi…) I also have Young Adult short stories (some released under the pen name Kira Harp.)
It was my husband who finally convinced me that after all the years of writing just for fun, I really should submit something, somewhere. My first professionally published book, Life Lessons, came out from MLR Press in May 2011. I now have a good-sized backlist in ebooks and print, both free and professionally published, including Amazon bestseller The Rebuilding Year and Rainbow Award Best Mystery-Thriller Tracefinder: Contact. A complete list with links can be found on my website "Books" page at https://kajeharper.wordpress.com/books/.
I'm always pleased to have readers find me online at:
Website | Facebook | Goodreads