Hi guys, we have Nell Iris & Kris T. Bethke stopping by today with their new release Falling Into Love, we have a great excerpt and a brilliant giveaway so check out the post and enter the giveaway! ❤ ~Pixie~
Falling Into Love
by
Nell Iris & Kris T. Bethke
Liam O'Donoughue is happy with his life. He runs V Wilderness Adventures with his best friends, his chosen brothers, and gets to spend his days hiking in the gorgeous Adirondacks. What's not to love? But when he meets Austin on a hike, he thinks he's found something he didn't even know was missing.
Austin Jock is content with his work as a radiology tech and playing bass in a cover band. Someday he wants to find his forever person but doesn't believe in romantic fireworks and isn't sure it'll ever happen. Then Liam comes crashing into his life, igniting sparks. Huge, life-altering sparks.
The connection between the two men is instant, and things move fast. But Austin isn't sure what to do with everything he's feeling inside. Can Liam convince him falling in love is the easiest thing in the world?
Excerpt
As Austin relaxed, he smiled more, and his body lost that tight posture. He leaned against me a little as the evening wore on, and when he started to shiver, I put my arm around him. The soft sigh he gave was one of the sweetest sounds I'd ever heard. I wanted to push him down onto the ground and devour him, taste and touch every inch of his delectable skin. But it was much too soon for that, and I definitely didn't want to do it with an audience.
Eventually, he pulled out his phone, woke it up, and sighed. He turned into me so his entire side was pressed against my chest and tilted his head back, so he could look into my eyes.
"I have to go. I've got an early-ish shift tomorrow."
Acute disappointment flooded my veins. But I nodded.
"Let me walk you to your car," I murmured.
He nodded and stood. It took a little bit to say goodbye. I appreciated the enthusiasm Everett gushed over him, and I was pleased to see Drew give him a warm handshake. Finally, we moved out of the ring of firelight and ambled toward his car. Neither one of us seemed in a hurry for things to end.
"So, uh." Austin cleared his throat, and then whispered so softly it was barely audible. "Poop."
I laughed quietly, and reached out, tilting his face up. "Thanks for coming. I really wanted to see you."
Austin sucked in a breath and held it, then let it out in a rush of words, "Was this a date?"
It took me a second to understand, because he'd spoken so fast I almost couldn't make out what he said. But when I did, my grin was so wide my face hurt.
"Well, I certainly thought it was. I definitely wanted it to be. What's your verdict?"
He gave a shaky laugh. "Me, too."
"Good." I cautiously took a step closer, wanting to be in his space, and he let me. He even lifted a hand and placed it on my waist. I cursed the layers between us. I wanted to feel his touch on my skin.
"Do you maybe want to do it again? Uh, go on a date, I mean?"
"No maybe about it. I definitely want to do it again."
Austin nodded, opened his mouth, and then shut it again. He shook his head, mouthed a word I couldn't make out in the dimness, and then said, "Can I cook for you?"
"I would love that," I said fervently.
"Oh. Good." Austin's smile bloomed on his face, and for a long minute, I was captivated by his full, kissable mouth. I almost didn't hear what he said next. "I have Tuesday off. Want to come over?"
"Just tell me what time."
Austin laughed, and I swore it sounded like music. "I'll text you as soon as I figure out what to make. You don't have any allergies, do you?"
"Not to food."
"Good. Then. Tuesday?"
"Absolutely."
Austin sucked in another breath, kissed my cheek again with one of those fleeting, butterfly kisses, and then scrambled to get in his car. I couldn't keep the grin off my face as I waved him on and stood there until his car disappeared around the bend in the drive.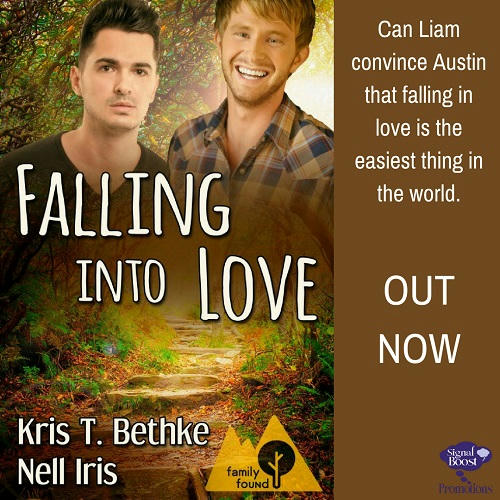 About Nell & Kris!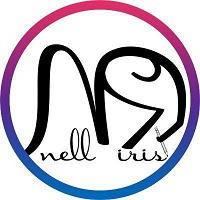 Nell Iris is a romantic at heart who believes everyone deserves a happy ending. She's a bona fide bookworm (learned to read long before she started school), wouldn't dream of going anywhere without something to read (not even the ladies' room), loves music (and singing along but, let's face it, she's no Celine Dion), and is a real Star Trek nerd ("Make it so"). She loves words, poetry, wine, and Sudoku, and absolutely adores elephants!
Nell believes passionately in equality for all regardless of race, gender, or sexuality, and wants to make the world a better, less hateful, place.
Nell is a forty-something bisexual Swedish woman, married to the love of her life, and a proud mama of a grown daughter. She left the Scandinavian cold and darkness for warmer and sunnier Malaysia a few years ago, and now spends her days writing, surfing the Internet, enjoying the heat, and eating good food. One day she decided to chase her lifelong dream of being a writer, sat down in front of her laptop, and wrote a story about two men falling in love.
Nell Iris writes gay romance, prefers sweet over angst, and wants to write diverse and different characters.
Website | Twitter | Facebook Page | Facebook | Instagram | QueeRomance Ink | Email contact@nelliris.com
Kris T. Bethke!
Kris T. Bethke has been a voracious reader for pretty much her entire life and has been writing stories for nearly as long. An avid and prolific daydreamer, she always has a story in her head. She spends most of her free time reading, writing, or knitting/crocheting her latest project. Her biggest desire is to find a way to accomplish all three tasks at one time. A classic muscle car will always turn her head, and naps on the weekend are one of her greatest guilty pleasures. She lives in a converted attic with a way too fluffy cat and the voices in her head. She'll tell you she thinks that's a pretty good deal. Kris believes that love is love, no matter the gender of people involved, and that all love deserves to be celebrated.
Find her on Website | Facebook | Twitter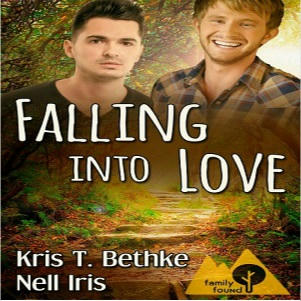 Giveaway!
Win a Backlist Ebook from Kris T Bethke & Nell Iris!