Hi guys, we have Clancy Nacht & Thursday Euclid stopping by today with their new release False Flag, so check out the post and enjoy! ❤ ~Pixie~
False Flag
by
Clancy Nacht & Thursday Euclid
Sequel to Rainbow Award-winning m/m romantic thriller "The Phisher King."
FBI Agent Callum Riggs and hacker Hunter Walsh have settled into a quiet, contented life together with their Pomeranian, Bruiser. Under a hostile new administration, Cal's changing duties at the Bureau frustrate his career and personal ambitions. Meanwhile, unbeknownst to Cal, Hunter pursues vengeance against his would-be rapist Chad, following him into the heart of Seattle's blossoming Alt-Right scene.
Will Cal's handsome former partner Justin Barnes and Hunter's mounting pile of secrets drive a wedge between them? With Barnes trying to woo Cal away from his current life, Hunter in too deep with a band of White Nationalists, and the authorities focused on all the wrong suspects, will Cal and Hunter find a way to save Seattle before tensions explode?
This sexy 60k romantic thriller contains: an undercover Pomeranian, a buff FBI agent who likes being called daddy, and a pink-haired hacker who has serious issues with authority.
.•.•.**❣️ Amazon US  | Amazon UK  ❣️**.•.•.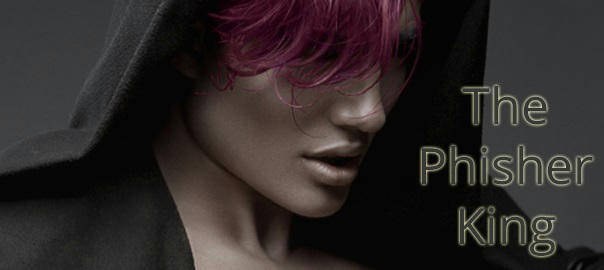 The Phisher King series!
The Phisher King (book 01)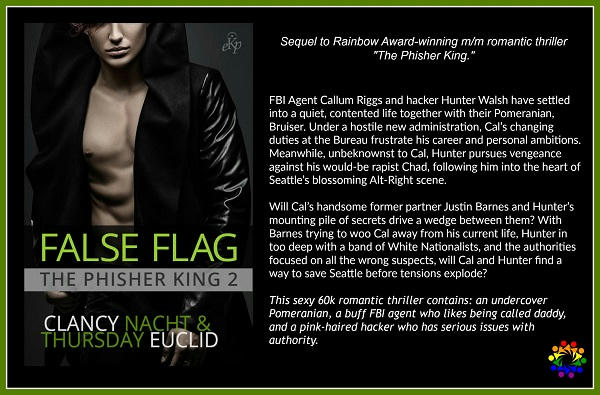 About Clancy & Thursday!
Clancy Nacht
Clancy Nacht is a bisexual genderqueer person who lives in Austin. Clancy has published several bestselling romances. Many of her books have been honored with Rainbow Awards; Le Jazz Hot won for Best Bisexual/Transgender Romance & Erotic Romance. In 2013, Black Gold: Double Black was a runner-up for a Rainbow Award. In 2015, Gemini won an Honorable Mention for Gay Erotic Romance and in 2016, Strange Times won an Honorable Mention for Science Fiction. Wyatt's Recipes for Wooing Rock Stars was a finalist in the highly competitive William Neale Award for Best Gay Contemporary Romance. The Phisher King won second place in the Rainbow Award for Romantic Suspense, 16th for Gay Book of the Year.
Thursday Euclid
The Thursday Euclid is a strange and elusive creature dwelling in the Texas Gulf Coast region. Frequently mistaken for Bigfoot, Chupacabra, or the monster of the week, he is, in fact, a 30-something black sheep with a penchant for K-pop, geekery, and hot and sour soup. When he's not playing Dragon Age or SWTOR, he's probably watching B-movies or talking to his best friend and frequent collaborator Clancy Nacht. You can find him on Facebook, Twitter, or email him at thursdayeuclid at gmail dot com.
Social Media Links
Blog/Website | Facebook | Twitter