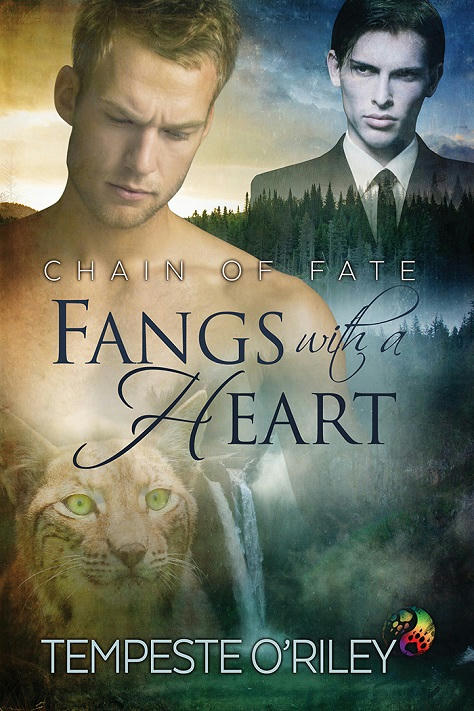 Title: Fangs with a Heart
Series: Chain of Fate: Book 2
Author: Tempeste O'Riley
Genre: Paranormal
Length: Novel (236 pages)
Publisher: Dreamspinner Press (May 22 2017)
Heat Level: Explicit
Heart Rating: ♥♥♥♥ 4 Hearts
Blurb: Lynx shifter Trace Wilson's fun-loving exterior hides a heart scarred by severe domestic violence—a heart that might not ever trust another male, fated mate or not. When Trace moves to Seattle to take his place as trainer and council representative to the Glacier Rim Tribe, he discovers his mate is the vampire prince Sasha Tolstoi, leader of the Konstantin Coven. It's not something Trace is ready to accept. Not now, maybe not ever. But if there's one thing Sasha knows how to do, it's how to be patient, especially when his fated heart is also his perfect sub.
When an outside force threatens the fragile bond slowly forming between them—and nearly kills Trace—Trace's instincts shift into high gear. Sasha is powerful, and that means he has enemies, among them several rival covens and an uncle determined to force Sasha into a marriage with a vampire princess. But why involve the lynx Trace in their maneuvering? Finding the culprit won't be easy, and it will mean building trust—a slow and difficult prospect for someone who's suffered as much as Trace. Finding a way to move beyond the past, and to love, before those out to finish Sasha can destroy either, is a race the two fated hearts have to win.
ISBN: 978-1-63533-501-9
Product Link: https://www.dreamspinnerpress.com/books/fangs-with-a-heart-by-tempeste-oriley-8488-b
Reviewer: Prime
Review: Fangs with a Heart is the second book in Tempeste O'Riley's series Chain of Fate, the sequel to Whiskers of a Chance. I was so excited to read this one because this was the story that I wanted to read. I absolutely adored Vampire Prince Sasha in book 1, where he was best friend to the human MC, and I really did like Lynx shifter Trace, who was friend and valued pride member to the alpha shifter MC in book 1. You don't need to have read the first book to understand all the components of this story, although we do get to see couple of the previous book.
This one's a little angsty and sometimes I felt like I was running pointlessly in circles because of the reticence of Trace to be with his fated mate due to his past abuse. Sasha is the vampire prince, the leader of his coven. He's used to having things done to his liking and is hurting badly because he cannot be with his fated mate. However, being a vampire Prince means that he has enemies, enemies that could be a danger to his mate that refuses to be with him. It's a complex situation but this is a story that is so easy to read.
For me, I hated seeing the boisterous, happiness of Sasha be so severely deflated because of his hurt from Trace's rejection. For me it was so much easier to connect with Sasha than it was to Trace, yet still loved the chemistry when the guys got together and started to battle their physical and mental demons.
For new comers to the series, if you're a fan of paranormal romance, this is definitely a book to try out.