Hiya guys! We have Shira Anthony popping in today with the tour for her upcoming release Finder's Keepers, we have a brilliant guest post from Shira, a great excerpt and an awesome giveaway, so check out the post and enter the rafflecopter giveaway and leave a comment! <3 ~Pixie~
Finder's Keepers
(Dreamspun Beyond 04 / Heart's Gate 01)
by
Shira Anthony
The truth might ruin his dreams—or make them come true.
When Zane moves into an old gothic brownstone, he discovers the house comes equipped with a caretaker—Kit, who lives in the basement. Zane is immediately drawn to the charming and attractive Kit. But Kit is much more than he seems. He is a two-hundred-year-old half-human, half–red-fox spirit who guards a Gate between the mortal and spirit worlds—a fact Zane should recognize, but doesn't.
Orphaned at a young age, Zane never learned he comes from a long line of mystical Keepers. Kit needs Zane's help to protect the Gate, but how can he tell Zane of his legacy when that will crush Zane's dreams of traveling the world? If he takes up the mantle, Zane will be bound to the Gate, unable to leave it. But when Zane realizes Kit's true nature, and his own, he'll have to make a choice—fight to protect Kit and the Gate, or deny his destiny and any chance of a future with Kit.

Shira Anthony!
Gentle Spirit
Thank you for joining me the first stop on the Finder's Keeper blog tour! Be sure to read to the bottom of the post for a chance to win a unisex red agate fox pendant I'll be giving away at the end of the tour.
Finder's Keeper is my first novel in the brand new Dreamspun Beyond line from Dreamspinner Press. Much like the Dreamspun Desires line, Dreamspun Beyond are all about the romance. The difference between the lines? The Desires line are contemporary paranormal stories.
Finder's Keeper is the sweet story of a half-human, half-fox spirit named Kit who has waited many years for his "Keeper"—the human whose powers allow Kit to maintain a gateway between the human and spirit worlds. That Keeper is Zane, an engineer who inherits the old gothic brownstone where the Gate is hidden. The problem? Zane doesn't realize he comes from a long line of mystical Keepers. And Kit doesn't know how to break it to him.
I absolutely loved writing the gentle Kit (short for "Kitsune", the Japanese word for fox). He's a beautiful soul who wants nothing more than to care for Zane and ensure Zane's happiness. Kit is willing to protect Zane at all costs. Zane quickly falls for Kit. And why wouldn't Zane fall for the sweet, freckled ginger whose kindness and self-effacing manner welcomes Zane to the first true home Zane has ever known?
I hope you'll enjoy Finder's Keeper and the sweet romance between Zane and Kit. Their need for each other runs beyond love. Together, they are stronger. And they'll need to be strong to face the challenges that await them.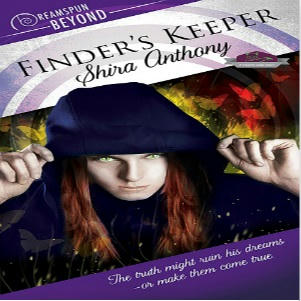 Excerpt!
ZANE WOKE to the smell of coffee and baking bread. He'd been dreaming of breakfast. Eyes still closed, he yawned and stretched. Then he realized he really did smell breakfast. Jim had mentioned the caretaker might stop by. But breakfast?
His stomach growled. Time to get your sorry ass out of bed.
He opened his eyes and looked around. The heavy brown drapes drawn over the windows made the room darker than he expected. He fumbled for the table lamp and blinked as his eyes adjusted to the light. The siren call of coffee too much to ignore, he slipped out of bed and walked barefoot from his room to the top of the stairs.
Plates clinked and the whistle of steam from a kettle sounded as he reached the bottom of the stairs. In the sitting room near the front door, the fireplace had been lit. The sweet smell of burning wood made him smile. Zane rounded the corner to the kitchen and found the table set for one. A french press filled with coffee waited next to a pitcher of steaming milk.
A tall man with curly red hair bent down and retrieved a pan from the oven. He wore a simple white apron over a pair of gently worn Levi's and a pressed button-down shirt.
"Hello?" Zane ventured.
The man looked at Zane and smiled, his green eyes bright with pleasure. "I hope you slept well," he said and set the pan on the stovetop. He then piled several muffins into a basket already half-filled with bread and placed the food on the table.
"I…. Wow. It smells amazing." Zane looked around. The remodeled kitchen sported sleek tile walls, slate countertops, and stainless metal cabinets, not to mention stainless appliances and a professional-grade oven and stove. Ralph had clearly been better off than Zane realized.
"I'm Kit." The man smiled and offered Zane his hand.
"Zane," he said and shook Kit's warm hand.
"I'm glad you're finally here." Kit smiled and tiny lines gathered at the corners of his eyes. In the bright morning sunlight, his hair looked like fire against his pale skin and flush of freckles. "Hot milk and a teaspoon of sugar, right?"
"Huh?"
"In your coffee."
"Thanks." Zane watched as Kit filled a mug. "But how did you—"
"I made blueberry and chocolate-chip muffins," Kit continued, undaunted. "There's also some baguette if you'd prefer. I know how you like it when it's hot."
"I do." Zane was too tired to wrap his brain around how Kit knew this. Maybe he'd mentioned it to Ralph. Zane remembered telling him he'd lived in France for a year during college.
"I put jam and butter on the table, but if you prefer honey, I can get you some."
"No, this is perfect," Zane replied. He took a sip of his coffee and moaned with pleasure. "Really perfect."
"I'm glad." Kit turned and went to work on something by the stove.
Way too adorable for his own good. Zane brushed the thought away and said, "I didn't realize when Jim said the house had a caretaker it meant a full breakfast and personal service." Zane offered Kit what he hoped was an appreciative smile.
"Jim?"
"The attorney handling Ralph's estate."
Kit looked momentarily confused, then said, "Oh, right." He laughed and gestured to the table. "Please, have some breakfast, before it gets cold."
"Thanks." Zane took a drink of the orange juice and sighed. He couldn't remember the last time he'd had fresh squeezed.
"Did Ralph tell you about the… house?" Kit asked as Zane drank.
"The house? No. I mean, I knew he'd left the place to me and my sister," Zane explained, "but I had no idea he'd done all this work on it. From the photos Jim sent, I figured I'd be doing some serious remodeling. But it looks incredible." If he'd realized just how incredible the place was, he might have considered moving sooner.
"Oh. Sure. Ralph did a lot of work on the place." Kit nibbled his lower lip, reminding Zane of a child who wanted to please a favorite teacher. A little strange, but endearing. "Did he tell you about me?"
"You? No."
Kit's face fell.
"But we didn't talk much," Zane said quickly, hoping he hadn't hurt Kit's feelings. "I'm sure if we had, he'd have mentioned you."
"Oh. Right. I'm sure he would have." Kit picked up a towel and folded it neatly.
Zane wondered what Ralph might have said about Kit. Zane's family had always referred to Ralph as a "confirmed bachelor." Had they been more than friends? He debated whether to ask but decided to let it go. He'd bring it up again later, when Kit seemed less nervous. And when he could focus on something more than the charming company.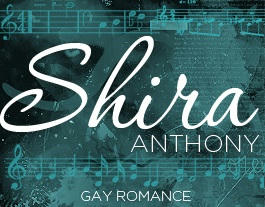 About Shira!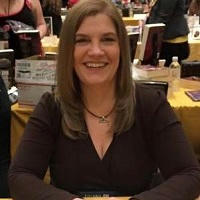 Shira Anthony was a professional opera singer in her last incarnation, performing roles in such operas as Tosca, i Pagliacci, and La Traviata, among others. She's given up TV for evenings spent with her laptop, and she never goes anywhere without a pile of unread M/M romance on her Kindle. You can hear Shira singing "Vissi d'arte" from Puccini's Tosca by clicking here: Shira's Singing
Shira loves a great happily-ever-after and never writes a story without one. She's happy to write what her muse tells her, whether it's fantasy, sci fi, paranormal, or contemporary romance. She particularly loves writing series, because she thinks of her characters as old friends and she wants to visit them even after their stories are told.
In real life, Shira sang professionally for 14 years, and she currently works as a public sector attorney advocating for children. She's happy to have made writing her second full-time job, even if it means she rarely has time to watch TV or go to the movies. Shira writes about the things she knows and loves, whether it's music and musicians, the ocean, or the places she's lived or traveled to. She spent her middle school years living in France, and tries to visit as often as she can.
Shira and her husband spend as many weekends as they can aboard their 35′ catamaran sailboat, Land's Zen, at the Carolina Coast. Not only has sailing inspired her to write about pirates and mermen, her sailboat is her favorite place to write. And although the only mermen she's found to date are in her own imagination, she keeps a sharp lookout for them when she's on the water.

Where to find the author:
Website | Facebook | Facebook Author Page | Twitter | Pinterest |  Goodreads | Google+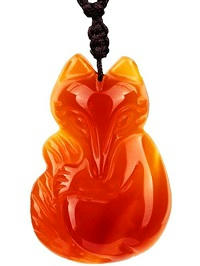 Giveaway!
Win a beautiful fox pendant!
To enter for a chance to win the beautiful fox pendant? 1) at each stop on the Finder's Keeper blog tour answer a question in the comments, and 2) claim your entry on the Rafflecopter
Here's the question you need to answer: What is your favorite spirit creature or animal? Mine's pretty obvious. A fox. Good luck! -Shira