Hiya guys! We have Ari McKay popping in with the tour for their newest release Forged In Fire we have a brilliant guest post, a great new excerpt and a fantastic giveaway, so check out the post and enter the giveaway! ❤ ~Pixie~
Forged In Fire
(Asheville Arcana 02 / Dreamspun Desire 19)
by
Ari McKay
The magic touch.
Ever since Harlan Edgewood was bitten by a possessed werewolf, his monthly shifts have been agonizing. When he meets Whimsy Hickes—a mage who specializes in transformation—the attraction is mutual. But Harlan believes his curse is too great a burden to inflict on any romantic partner.
Fortunately, Whimsy thinks he can help.
When Harlan is provoked into an unexpected change, Whimsy uses his magic to help ease Harlan's pain, but with an unexpected consequence. While he's shifted, Harlan's wolf claims Whimsy as his mate.
As they draw closer, suspicious events in the Asheville magical community escalate. Shifters are disappearing, others are murdered, and Harlan's curse makes him an obvious target. It will take all of Whimsy's magic to force back the rising evil—and if he fails, Harlan will lose not only his life, but his very soul.
Ari McKay!
Boo! Did I scare you? Ah, probably not – it's not Halloween time yet, after all, but it'll be here sooner than you think? I'm Ari, of the writing duo Ari McKay, and MM Good Book Reviews has been nice enough to invite me here to natter at you a bit about our latest release, Forged in Fire from Dreamspinner Press!
I mention Halloween because that's the time when the veil between the worlds is thinnest, so naturally it's the time of year when dark forces find it easiest to cross over. In our Asheville Arcana world, the supernatural creatures know things get a little dicey during the dying time of year, and so that's when the main action in our books takes place. But the story storts well before Halloween, because in Asheville, the things that go bump in the night just might be your best friends!
Take, for example, Harlan Edgewood. Poor Harlan was born a human, and he was blissfully ignorant of the dark forces hovering just beyond the world he knew. Unfortunately ignorance doesn't offer any protection, and while Harlan might not have known that shapeshifters or demons were real, he learns the hard way when he's bitten by a demon-possessed wolf shifter and turned into a lycanthrope. Harlan's existence becomes cursed. Although he gains the long life of the shifters, he can't transform by will, only painfully, once each month when forced by the full moon. Of course he can't exist among humans any longer, but he never really feels like part of the paranormal community either. Rather he's stuck in a sort of limbo between the world he knew and the world he can't quite fully join. It's left him lonely, but Harlan isn't really bitter. He knows he could have died, and he feels life is too precious to waste, even his own, cursed though it may be. Still, he sees no hope for anything better.
Whimsy Hickes, on the other hand, was born into a magic-using family, with a family line stretching all the way back to Salem. His Puritan-descended family has intermarried for a long time with a nearby tribe of Cherokee, so Whimsy is, in a way, also a child of two worlds. He fully embraces his magical nature, enjoying the advantages of his birth while also being able to enjoy the non-magical world. Whimsy is also a natural caretaker – show him a lost puppy or someone who needs a helping hand and he's first in line to help out. So when Whimsy meets Harlan, it's only natural that he wants to use his magic to help Harlan through his painful transformations.
The fact that Harlan is big and buff and everything Whimsy wants in a man is beside the point. Sort of. Okay, not really, but he would have offered to help even if he hadn't wanted to lick Harlan all over.
Alas, the road to romance can't be smooth, or we wouldn't be on the edge of our seats, now would we? Whimsy and Harlan have plenty to go up against, even as they are trying to see if they can make a relationship work. Between a snarky, somewhat jealous vampire, demons who are bent on nastiness, possessed shifters, and a traitor among their circle of acquaintances, it's not an easy road for our boys! But Whimsy, like love, will find a way to get his lycanthrope. It's going to take all he's got, but he knows he must succeed, or lose not only the man he loves, but his entire world!
We had a lot of fun writing Forged in Fire, and we hope you'll have just as much fun reading it! Thanks for spending a little time with me, and happy reading!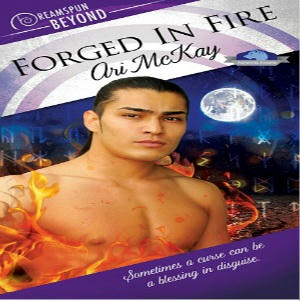 Excerpt!
As they stepped into the kitchen, Harlan barely had time to blink before a small form hurtled toward Eli, and he caught a brief glimpse of an attractive brown-haired man before Eli wrapped his arms around his mate.
"You're home! It's been a long day. I'm so glad you're finally back! I invited Whimsy over to keep me company."
Harlan glanced over at the island where a slender man was seated, a cutting board in front of him and a knife held in his long, graceful fingers. He had copper-colored skin set off by the red shirt he wore, and thickly lashed dark eyes above high cheekbones. His long black hair was pulled back in a braid that hung almost to his waist, and Harlan thought it likely he was part of the Cherokee tribe whose lands were to the west of Maggie Valley.
"I'm sorry if Eli was late. It's my fault," Harlan explained. "We were dealing with a buck that got hit by a car. But it's nice to meet you at last, Mr. Gilmarin. Eli talks about you constantly."
"Call me Arden. Everyone does," Arden replied, still wrapped around Eli like a clinging vine. He smiled at Harlan, his green eyes crinkling at the corners. "He talks about you too, you know. Eli says you've helped him settle into his new job."
Eli wound both arms around Arden and stroked his back tenderly. "It's true," he said. "I sure do appreciate it too."
"You're welcome. It's good to have another experienced ranger on staff, especially a werewolf. And besides, you didn't treat me as… different."
"Far as I'm concerned, you ain't," Eli said matter-of-factly. "Born or made, you're still one of us."
"Thanks." Harlan appreciated Eli's acceptance, since not all werewolves felt lycanthropes were their equal.
"And where are my manners?" Arden craned up to give Eli a brief kiss, then pulled away. He walked over to Harlan, looped an arm through his, and pulled Harlan over to the island. "Harlan, this is my best friend in the world, Whimsy Hickes. Whimsy, this is Harlan Edgewood. Believe it or not, he's part of Tharn's pack, and we somehow missed meeting him before."
Harlan chuckled, amused at being dragged around by Arden, who he could have picked up and slung over his shoulder without any effort at all. Not that he would have—touching a werewolf's mate in such a way was beyond rude and could cause a serious misunderstanding. Instead, he held out his hand to Whimsy. "I'm pleased to meet you."
Whimsy slid off his stool and stood next to Arden, revealing he was maybe an inch or two taller at most, and regarded Harlan with a warm and friendly smile. "It's nice to meet you too, Mr. Edgewood," he said, clasping Harlan's hand in a firm grip.
Whimsy's hand was warm, and Harlan held it carefully, aware of how delicate Whimsy's fingers felt despite their obvious strength. He looked into Whimsy's eyes, relaxing instinctively as he felt that Whimsy, like Eli and Arden, didn't hold his curse against him.
Asheville Arcana series!
Out Of The Ashes
About Ari McKay!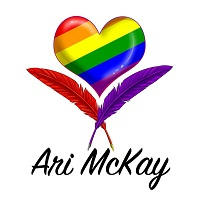 Ari McKay is the professional pseudonym for Arionrhod and McKay, who have been writing together for over a decade. Their collaborations encompass a wide variety of romance genres, including contemporary, fantasy, science fiction, gothic, and action/adventure. Their work includes the Blood Bathory series of paranormal novels, the Herc's Mercs series, as well as two historical Westerns: Heart of Stone and Finding Forgiveness. When not writing, they can often be found scheming over costume designs or binge watching TV shows together.
Arionrhod is a systems engineer by day who is eagerly looking forward to (hopefully) becoming a full time writer in the not-too-distant future. Now that she is an empty-nester, she has turned her attentions to finding the perfect piece of land to build a fortress in preparation for the zombie apocalypse, and baking (and eating) far too many cakes.
McKay is an English teacher who has been writing for one reason or another most of her life. She also enjoys knitting, reading, cooking, and playing video games. She has been known to knit in public. Given she has the survival skills of a gnat, she's relying on Arionrhod to help her survive the zombie apocalypse.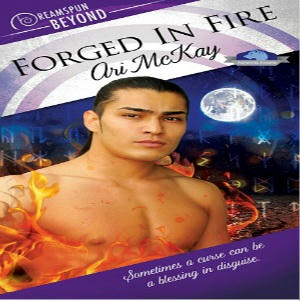 Giveaway!
Win an Ebook of Out Of The Ashes (Ashville Arcana #1)!
Check out the other blogs on the tour!