Hiya guys! We have Ari McKay stopping in for a quick visit with their new release Forged In Fire we have a great excerpt and a brilliant giveaway, so check out the post and enter the giveaway! ❤ ~Pixie~
Forged In Fire
(Asheville Arcana 02 / Dreamspun Desire 19)
by
Ari McKay
The magic touch.
Ever since Harlan Edgewood was bitten by a possessed werewolf, his monthly shifts have been agonizing. When he meets Whimsy Hickes—a mage who specializes in transformation—the attraction is mutual. But Harlan believes his curse is too great a burden to inflict on any romantic partner.
Fortunately, Whimsy thinks he can help.
When Harlan is provoked into an unexpected change, Whimsy uses his magic to help ease Harlan's pain, but with an unexpected consequence. While he's shifted, Harlan's wolf claims Whimsy as his mate.
As they draw closer, suspicious events in the Asheville magical community escalate. Shifters are disappearing, others are murdered, and Harlan's curse makes him an obvious target. It will take all of Whimsy's magic to force back the rising evil—and if he fails, Harlan will lose not only his life, but his very soul.
Excerpt!
AS HE left the highway and turned his truck down a narrow two-lane road that paralleled the French Broad River, Harlan Edgewood relaxed. He'd always loved the forest, and the trees lining the twisting roads were stately, mature oak and pine that hadn't yet been lost to the needs of the ever-expanding human population of Asheville. Dusk had fallen, so he couldn't see the river, but with the windows rolled down to let in the fresh late-summer air, he caught its scent, his lycanthrope sense of smell keen enough to discern the cool tang of water and the trace of fish and aquatic vegetation.
This area was a fair distance from his own home on pack lands out on the eastern edge of the Nantahala National Forest. Harlan wasn't a wolf shifter, or at least not one like the others in the pack, but he found it easier to live among them and to acknowledge Tharn as his alpha. It provided him protection. As a lycanthrope—a creature much closer to the werewolves of human myth and legend than Tharn and his kin—Harlan was used to being an outsider. He'd outlived his family and his community, and sometimes he felt he'd lost his connection to humankind as well. But the trees and the creatures of the forest, even the magical ones he'd only learned of after his transformation, were constant, and protecting them kept him grounded and gave him purpose.
He did have casual friends among the werewolf pack, of course, although his human upbringing and religious beliefs still marked him as different. Harlan had lost more than most werewolves, too, because his human family had all died out two hundred years before, so he didn't share the blood kinship that bound many of the pack together. Perhaps that was why he'd been drawn to his fellow park ranger, Eli Hammond. Eli was also an outsider who had lost many of his pack after a group of demon-possessed werewolves had attacked them. Eli had come to Asheville looking for assistance in rescuing the survivors, then chose to remain in the area rather than return home afterward, which was almost unheard of for an alpha.
Of course Eli had gained his half-elf mate, Arden, in the process, but Harlan wasn't certain he wanted a mate. He hated his curse, and he didn't think any of the werewolves he knew would care to find themselves bound to someone who couldn't shift at will. He'd been alone a long time, and it seemed to be his destiny to remain so.
Harlan glanced to his right, where Eli sat in the passenger seat. They were both still dressed in their ranger uniforms, having just finished their workday. Eli had invited Harlan to his home to meet his mate, and Harlan had accepted, curious about Eli's life with a mate who was of an entirely different species of supernatural. Harlan had met plenty of elves over the years, but he'd never known one who was bonded to a werewolf before.
"This is the turnoff," Eli said, pointing to a break in the trees. Harlan turned onto the gravel path, recognizing that an enchantment had been placed on the area to obscure it from humans. He drove a short distance along it and stopped next to an SUV and Eli's truck, which were parked at the base of a huge oak. Harlan frowned, not seeing a house, but as his vision adjusted to the dim light under the trees, he saw a staircase winding around the oak.
"You live in a tree house?" he asked, grinning. "I think I'm jealous. What a wonderful idea."
"It was Arden's idea." Eli unfastened his seat belt and opened the door. "He had this place before I came along, but I sure as hell didn't mind moving in here. The view's amazing."
"I can imagine." Harlan got out of the truck and took a moment to look up into the huge oak. He could see lights between the gently waving boughs, and he found himself eager to see the inside.
Eli led him up the staircase that wound around the wide trunk, then across a small bridge to the front door of the house. He followed Eli inside, surprised by the size of the spacious circular main room, which was decorated in a tasteful but comfortable fashion. On the far side was a wall of windows, and Harlan could see the last light fading from the highest clouds. There was also a mouthwatering scent in the air, and Harlan could hear low voices coming from an area off to the right.
"Whatever your mate is cooking, it smells delicious."
Eli's pride was obvious as he led Harlan to the kitchen, his chest practically swelling at the compliment to his mate. "Arden's a right good cook," he said. "But coming home to a home-cooked meal every night means I've had to spend extra time working all that good cooking off too."
Harlan chuckled quietly at Eli's reaction. Most werewolves were proud of their mates, but Eli and Arden had been together for less than a year, so no doubt there was still a certain lingering honeymoon effect in play.
As they stepped into the kitchen, Harlan barely had time to blink before a small form hurtled toward Eli, and he caught a brief glimpse of an attractive brown-haired man before Eli wrapped his arms around his mate.
Asheville Arcana series!
Out Of The Ashes
About Ari McKay!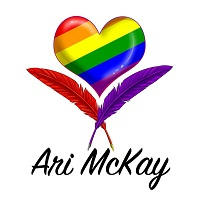 Ari McKay is the professional pseudonym for Arionrhod and McKay, who have been writing together for over a decade. Their collaborations encompass a wide variety of romance genres, including contemporary, fantasy, science fiction, gothic, and action/adventure. Their work includes the Blood Bathory series of paranormal novels, the Herc's Mercs series, as well as two historical Westerns: Heart of Stone and Finding Forgiveness. When not writing, they can often be found scheming over costume designs or binge watching TV shows together.
Arionrhod is a systems engineer by day who is eagerly looking forward to (hopefully) becoming a full time writer in the not-too-distant future. Now that she is an empty-nester, she has turned her attentions to finding the perfect piece of land to build a fortress in preparation for the zombie apocalypse, and baking (and eating) far too many cakes.
McKay is an English teacher who has been writing for one reason or another most of her life. She also enjoys knitting, reading, cooking, and playing video games. She has been known to knit in public. Given she has the survival skills of a gnat, she's relying on Arionrhod to help her survive the zombie apocalypse.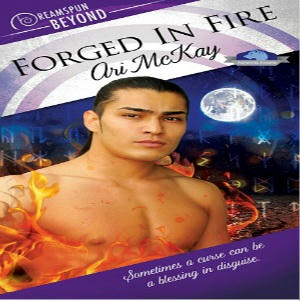 Giveaway!
Win an Ebook of Out Of The Ashes (Ashville Arcana #1)!