Hi guys, we have Grace R. Duncan popping in today with the tour for her new release Forgiveness, we have a great new excerpt and a fantastic giveaway so check out the post and enter the giveaway! ❤ ~Pixie~
Forgiveness
by
Grace R. Duncan
Ben's love can help Eric find the forgiveness he needs… if Eric can accept it.
Nine years ago Eric Joyce went wolf when his chosen mate broke the bond, and he hasn't walked on two legs since. Convinced he lost his friends when he ran out on them, he cut himself off from the pack. But a surprising visitor prods him back down the mountain, and he finds himself welcomed warmly.
Ben Arellano grew up in Texas with a human Catholic mother who didn't understand a thing about wolves—and didn't try to learn. He spent his whole life being told his wolf was a demon that needed to be exorcised, surrounded by a wolf pack made up of good ole boys who had no tolerance for his Mexican ancestry or his bisexuality. When he's given the opportunity to relocate to an accepting pack in Pittsburgh, he jumps at the chance.
When Eric and Ben meet for the first time, neither is ready for it. Where Ben expects rejection, Eric is convinced yet another mate will leave, break the bond, and put him through the same hell all over again. Can they get past their reservations and have a happily mated life?
Excerpt!
"Hello?"
"Hi, Mr. Pearce, this is Ben Arellano, from Texas?"
"Oh, ugh. Tanner, please. Or alpha, if you must. Mr. Pearce is my father."
Ben found himself laughing. "All right, alpha. I just passed downtown Pittsburgh. I understand I still have a bit before I'll get out there, but I wanted to ask if you'd like me to meet you first before I did anything else."
"It's not necessary. Hey, your dad said you were just moving into the area. I meant to ask if you have an apartment already lined up?"
"Oh, no. I was going to find an Extended Stay and look. I left a day before I expected to."
"In that case, yes, come see me first."
Ben wasn't sure what that had to do with anything, but he wasn't about to argue with his new alpha. "All right. Could you, um, send directions? The GPS thinks I'm driving into a river."
Tanner laughed. "Yeah, it's not so great out here. I'll text them as soon as we hang up."
"Thank you. I'll see you soon."
"See ya."
Tanner was as good as his word, and directions that seemed almost too easy arrived within a couple of minutes. Ben managed to focus on them rather than the scenery—except for the second tunnel he went through—and before too long, he was off the interstate and following the state roads, then a small paved road, and finally what could only be called a dirt path.
He found himself intensely grateful he'd gone with an SUV. The CR-V handled itself and the bumps well, and a moment later, he pulled up next to a deep blue Outlander. He turned off the engine, his heart pounding. Despite the friendly tone of the voice on the phone, there was still so much that could go wrong here. He'd pinned a lot of hopes for his future on working with and being a part of this pack.
He closed his eyes. Despite his argument with his mother, he hadn't necessarily embraced the gods the way he probably should. She'd done her best to instill her Catholic faith in him. And while he didn't believe in her god, he still wasn't 100 percent sure of those his father followed. He accepted something was up there, but he wasn't entirely positive what yet. He took a deep breath, though, and spoke. "Diana, if you are up there, please… I… I do not know. Just let them accept me? Please?"
With one more breath, he climbed out of the car.
Before he could even knock, the door opened. A tall, somewhat muscular man with thick black hair and green eyes full of good humor opened the door. He smelled of welcome, and Ben immediately liked him.
"You must be Ben!"
Ben nodded, a little stunned. "Um. Yes. Hi. Are you… Tanner?" He didn't sound like the man on the phone, but phones could do weird things to voices.
The man laughed. "Oh, no, that's my mate. I'm Finley. Come in, please."
Mate? So the rumor is true. At least the fact that the alpha was mated to a man.
Letting go of some of his nervousness, Ben followed Finley into the house.
He immediately loved the rustic, warm feeling. The focal point of the main room they stopped in was a huge river-rock fireplace. Overstuffed couches and chairs invited him to sink in and get comfortable. Before he could absorb more, the most amazing scent hit him. Leather, something sweet, and a smell that he could only call home.
"Fin, where can I put these?"
Ben spun around to face a gorgeous man. Longish black hair parted to frame a round face. Bright hazel eyes and a beautiful smile filled it. And all this topped a long, lean body that made Ben's mouth water.
It also caused his eyesight to go gray, his teeth to drop, his claws to sprout, and his dick to stiffen.
Mate.
He stared at the man, who stared back at him, looking as if he'd just been shot. His eyes bled black, teeth dropped, and the scent of arousal hit Ben with the rest.
"Oh, fuck no," the man said, dropping the bundle of clothes he held. Then a moment later, he'd shifted, shredding the jeans and T-shirt he wore, and bolted for a set of stairs that went down.
Ben blinked after him, his heart twisting. His mate was here. He had a destined mate. A male destined mate.
Who didn't want him.
He couldn't breathe all of a sudden, and the twisting in his heart spread to knot his stomach as well. He tried to suck in air, but his lungs refused to cooperate.
"I'm sorry, Ben," Finley murmured, putting a hand on his shoulder. "He'll be back."
"He sure as hell will. I'm not letting him do this a second time," another man said, coming around the corner from the other direction. Ben was so messed up, he couldn't take in more than a muscular body much like Finley's and a head full of thick auburn hair. "Especially not now. Hi, Ben. I'm Tanner. It's nice to meet you. My mate will take care of you for a few."
"Come sit down, Ben," Finley murmured as Tanner went down the same steps Ben's mate had just disappeared down.
Ben followed Finley to one of the couches and took a seat. He stared into space, trying to make sense of what had just happened. He turned to look at Finley, finally finding his voice. "Is… is it me? That I'm a guy?"
Finley frowned. "I don't know? I didn't know he was bisexual, but he might just have been in the closet. Diana doesn't make mistakes, though, with destined mates. He'll come around."
Ben wondered, then, if it wasn't something else about him. Was it his appearance? He didn't think he looked that Latino that one look could tell someone his family's origin. But what else could it be?
As if reading his mind, Finley spoke again. "I'm sure it's not you. He's been through a lot recently—and not so recently. It's not my place to tell you. But trust me, he'll be back. Can I get you some coffee?"
Ben nodded absently and took another breath. Diana, what do I do now?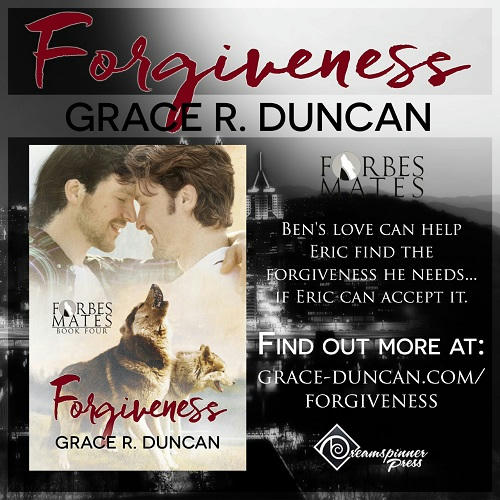 About Grace!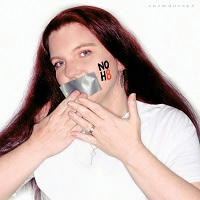 Grace Duncan grew up with a wild imagination.  She told stories from an early age – many of which got her into trouble.  Eventually, she learned to channel that imagination into less troublesome areas, including fanfiction, which is what has led her to writing male/male erotica.
A gypsy in her own right, Grace has lived all over the United States.  She has currently set up camp in East Texas with her husband and children – both the human and furry kind.
As one of those rare creatures who loves research, Grace can get lost for hours on the internet, reading up on any number of strange and different topics.  She can also be found writing fanfiction, reading fantasy, crime, suspense, romance and other erotica or even dabbling in art.
Find Grace here:
Website  ◊ Facebook ◊ Twitter ◊ Youtube ◊ Goodreads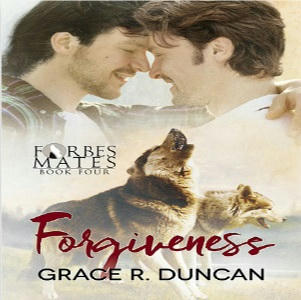 Giveaway!
Win a Paperback copy of Forgiveness (Forbes Mates #4)!
Win a Backlist E-book for each Blog stop!
Win! All three previous Forbes Mates books in ebook format!