Hi guys, we have Elvira Bell popping in today with the tour for her new release Forlorn. We have a great exclusive excerpt and a brilliant giveaway so check out the post and enter the giveaway! ❤ ~Pixie~
Forlorn
by
Elvira Bell
Nick Andrews is back in England. He is a broken man, living on the streets and trying to cope with everything he's been through. Nick thinks that his life is over, but then Tom comes along. Tom, who is handsome and wealthy and intent on making his acquaintance.
Nick ends up as Tom's valet, a position that brings him to the remote estate of Ravensleigh. At Ravensleigh, he soon realizes that Tom and his family have a past laden with shadows. Nick regrets coming there, but at the same time finds it harder and harder to resist Tom's advances.
Then one night, a stranger arrives at Ravensleigh. And Nick's world is turned upside down once more.
Warning: This book ends with a cliffhanger. The series as a whole will have a HEA ending.
Please note that the books in the Wavesongs series should be read in chronological order!
.•.•.**❣️ Amazon US | Amazon UK | B&N | Kobo ❣️**.•.•.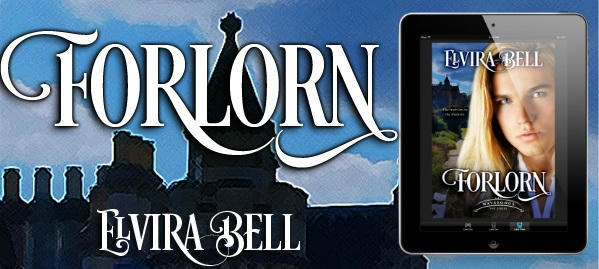 Exclusive Excerpt!
The coffee house is smaller than Goodall's, and only one table is occupied. Arlington finds seats for them at the back. He greets the proprietress with a smile as she comes to serve them.
"We'll be closing soon, gentlemen," she says.
"Of course, Mrs. May." Arlington gives Nick a glance. "No coffee tonight, if you please. I was thinking chocolate."
Mrs. May sighs, but can't hide a weary smile. "Dear me, Mr. Arlington, you come in here at this hour and want me to prepare chocolate?"
"Only because yours is the finest in all of London, Mrs. May."
"Well, you certainly have a way with words. And I'm a right old fool, falling for it." She walks off, disappearing into another room.
"What do you think of this place?" Arlington leans over the table. "I've always liked Mrs. May's. She serves a great deal more commoners than Mr. Goodall has ever done, but it's not too shabby in here. And I'm certain the chocolate will appeal to you, Mr. Andrews."
Nick doesn't know what chocolate is, but he won't ask. It's humiliating enough as it is, to sit here in a tatty coat and have Mr. Arlington speak about "commoners."
Mrs. May comes back with a cup in each hand. When she puts them down on the table Nick frowns, thinking that the dark, thick liquid in his cup looks just like coffee.
"Have a taste," Arlington says after Mrs. May has left. "Trust me, you'll like it very much."
Nick doesn't want to owe Mr. Arlington anything, but with every moment he's more and more in his debt, because he's sitting here and letting Mr. Arlington spend money on him. But the chocolate smells nice, and he lifts the cup to his face to inhale the scent. It's like something he could never have imagined, all smooth and rich and sweet. In a flash, he is reminded of the Hideaway—of tasting bananas for the first time. But the Hideaway is one of many things that he mustn't think of, and to forget, he drinks, taking a sip of the hot chocolate.
"Damn." The word escapes his lips, quietly, before he drinks some more. The chocolate tastes even better than it smells—a strong flavor that still has mildness to it, and so much sweetness that it goes to his head. He wants the cup to never become empty.
"You like it, then?" Mr. Arlington watches him. He doesn't touch his own cup. "That's a relief. There are some people who don't."
Nick swallows the last of his chocolate. Then he puts the cup down and pushes it away, as if it embarrasses him. And in a way it does, because he has acted just as Arlington wants him to.
"Where are you from, Mr. Andrews? Not London—that much is apparent from your way of talking." Arlington reaches out and pushes his own, untouched cup toward Nick. "Have mine as well, by the way. Go on. I'd like you to."
"Don't want it," Nick says, before taking it anyway. Arlington chuckles as he starts drinking.
"How did you end up in London?" he asks.
"Needed work." The lie is ready, waiting well rehearsed inside Nick though he hasn't used it much before. He's had no desire to speak to strangers or give them details of his life.
"I see. You must come from some remote village no one's ever heard of?"
"Yeah. I'm from a village."
The door shuts as the only other remaining customers leave.
"Aren't you going to ask me any questions, Mr. Andrews?"
Nick shrugs. He finishes the chocolate, sad that it's gone so quickly.
"Very well. I was born far from here, but I moved to England as a child. I have no brothers or sisters." Arlington pauses. "I won't tell you another thing until you tell me more about yourself. That's fair, after all, is it not?"
"Suppose so."
Mrs. May comes up to them, looking apologetic. "I'm frightfully sorry, Mr. Arlington, but I need to close up. Did you enjoy the chocolate?"
"Yes." Arlington stands, taking his hat. "We enjoyed it immensely."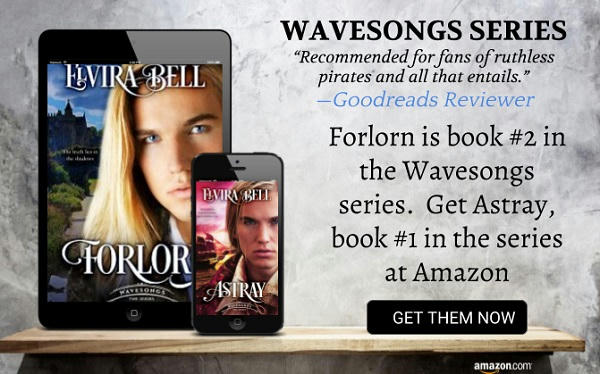 About Elvira!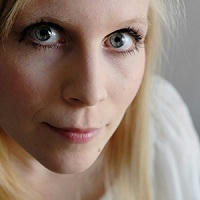 Elvira Bell lives in Sweden and spends most of her time writing, reading or watching movies. Her weaknesses include, but are not limited to: vintage jazz, musicals, kittens, oversized tea cups, men in suits, the 18th century, and anything sparkly.
Elvira writes m/m fiction with a touch of romance and has a penchant for historical settings. She adores all things gothic and will put her characters through hell from time to time because she just loves watching them suffer. It makes the happy endings so much sweeter, after all.
Website | Twitter | Goodreads | eMail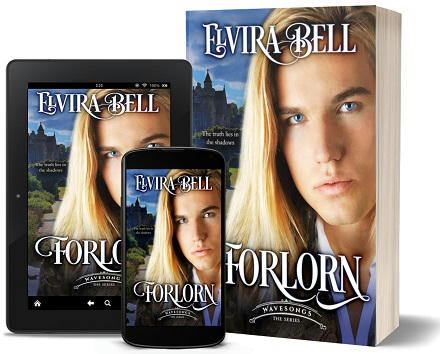 Giveaway!
One lucky winner will receive a digital copy of Astray

(Wavesongs #1)

!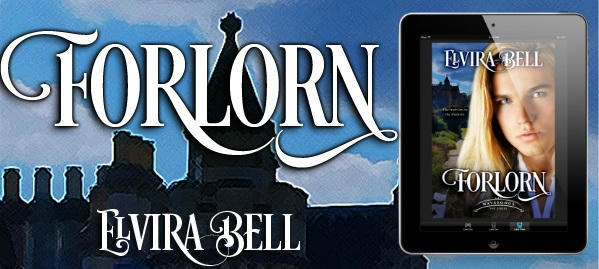 Check out the other blogs on the tour!