Hi guys, we have K.A. Merikan stopping by today with their new release Gray's Shadow, we have a great excerpt and a fantastic giveaway so check out the post and enter the giveaway! ❤ ~Pixie~
Gray's Shadow
by
K.A. Merikan
— There can be no shadow without the man to cast it. —
Gray. Lost his twin. Will never be complete. Works alone.
Shadow. Monster? Human? Exists to be Gray's one true companion.
After losing his twin brother, Gray has devoted his life to the Kings of Hell MC. He will do anything to protect his family and that means anything.
Even sell his own shadow to the devil.
Following a fire that left him without one arm, Gray feels pushed to the sidelines. In order to prove to his club that he is still capable of completing dangerous tasks, he will have to team up with the strange creature from the Other Side. Tall, inhumanly strong, and menacing despite the handsome exterior, Shadow is just the tool Gray needs.
The moment Shadow lays his eyes on Gray, he wants to crawl under Gray's skin and make the human his.
Gray on the other hand isn't willing to get attached to a monster destined to do the devil's bidding and disappear once his time is up. Rejected, Shadow has to do everything in his power to convince his human that they belong together.
But as the clock ticks away precious minutes of Shadow's existence, Gray will have to choose between his loyalty to the Kings of Hell MC and responsibility for the creature he brought into this world.
*
"Do you feel me running through your veins?"
Gray nodded.
*
POSSIBLE SPOILERS:
Themes: motorcycle club, alternative lifestyles, demons, monster, tattoos, secrets, crime, gothic, grief, mourning, enemies to lovers, forced proximity, fish out of water, opposites attract, demisexuality, gentle giant
Dark, paranormal M/M romance
WARNING: This story contains scenes of violence, offensive language, and morally ambiguous characters.
Excerpt!
Shadow opened one eye, watching the water as if it were toxic waste, but in the end he followed Gray's request, and stepped in with one foot. His slouching shoulders rose at once, and the ruby eyes glinted in wonder. "It's warm," he said and packed his massive body into the tub with no lingering hesitation.
Gray shut his eyes when scented drops hit his face. "Well, yeah. And it smells nice, doesn't it?" he asked before mentally chastising himself for talking to the creature as if he were a child.
Shadow gathered the water into his hands and poured it over his head time and time again until his thick hair ran straight down and into the water. He seemed to love splashing about, but while soaking in scented water was a good start, he still needed a wash. "It does. I was scared it would be freezing like last time," he said with a genuine smile.
Right. Last time. When Gray had blasted Shadow with an icy shower as punishment for the attack. Being alone with Shadow had Gray on pins and needles, but he had since decided Shadow's behavior shouldn't be measured against that of humans. Still, it was hard to comprehend that a creature who killed two men less than an hour ago could be 'scared' of a cold bath.
"Back then, I was angry at you. Needed you to cool off," Gray said.
The red eyes were pinned to Gray's face, hungry for knowledge. "Why?"
Gray leaned on the edge of the tub, watching the strands of hair float close to the surface. He was glad he'd chosen to use the bath milk, because it gave the water a tint that obscured details of Shadow's anatomy that he shouldn't be wanting to see.
Kings of Hell MC series!
Book #1 – Laurent & The Beast – Amazon US | Amazon UK
Book #2 – My Dark Knight – Amazon US | Amazon UK
Book #3 – On Your Knees, Prospect Amazon US | Amazon UK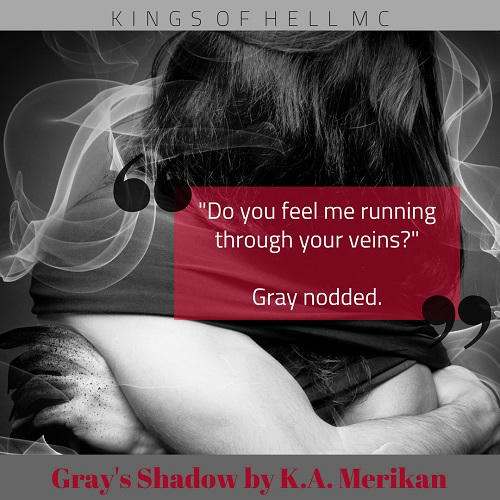 About K.A.!
K.A. Merikan is the pen name for Kat and Agnes Merikan, a team of writers, who are taken for sisters with surprising regularity. Kat's the mean sergeant and survival specialist of the duo, never hesitating to kick Agnes's ass when she's slacking off. Her memory works like an easy-access catalogue, which allows her to keep up with both book details and social media. Also works as the emergency GPS. Agnes is the Merikan nitpicker, usually found busy with formatting and research. Her attention tends to be scattered, and despite pushing thirty, she needs to apply makeup to buy alcohol. Self-proclaimed queen of the roads. 
They love the weird and wonderful, stepping out of the box, and bending stereotypes both in life and books. When you pick up a Merikan book, there's one thing you can be sure of – it will be full of surprises.
Facebook | Twitter | Goodreads | Pinterest | Miss Merikan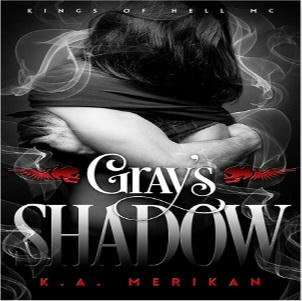 Giveaway!
Win a Backlist Ebook from K.A. Merikan!