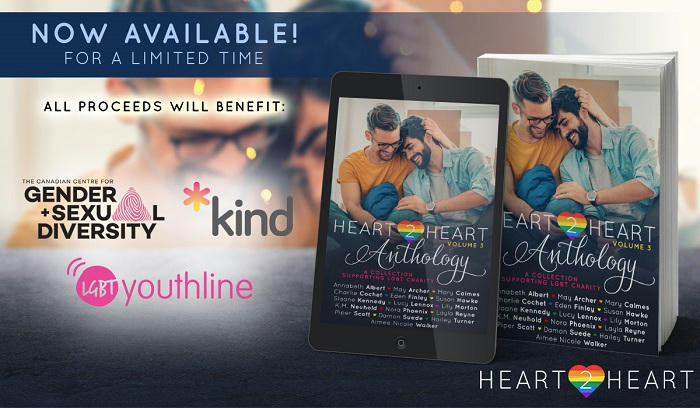 Hi guys! We have the charity Anthology Heart2Heart Vol 03, we have some great excerpts so check out the post and enjoy! ❤️ ~Pixie~
Heart2Heart Vol 03
by
Aimee Nicole Walker, Annabeth Albert, Charlie Cochet, Damon Suede, Eden Finley, Hailey Turner, K.M. Neuhold, Layla Reyne, Lily Morton, Lucy Lennox, Mary Calmes, May Archer, Nora Phoenix, Piper Scott (writing as Emma Alcott), Sloane Kennedy, Susan Hawke
Once upon a time, a group of authors wondered… What if the Heart2Heart app — the dating app with a glitch that matched up the oddest, most perfect couples, and sponsored the charity date raffles that helped dozens of people find love — offered a classifieds section, too?
Need a handyman who knows how to wear a tool belt? Have a closet of drag costumes that needs a new home? How about finally tracking down that guy who made the perfect drink, or who's just the right height to reach the top shelf? 
Join some of your favorite authors of gay romance as they bring you sixteen brand-new stories inspired by reader suggestions!
Once again, all proceeds from this collection will go to the authors' favorite LGBTQ charities, to ensure that love in all its forms will be celebrated and protected every single day of the year!
Available October 1 – December 30, 2019 only.




This collection will be available for only 90 days before it's gone forever.


.•.•.**❣️ Amazon US | Amazon UK ❣️

**.•.•.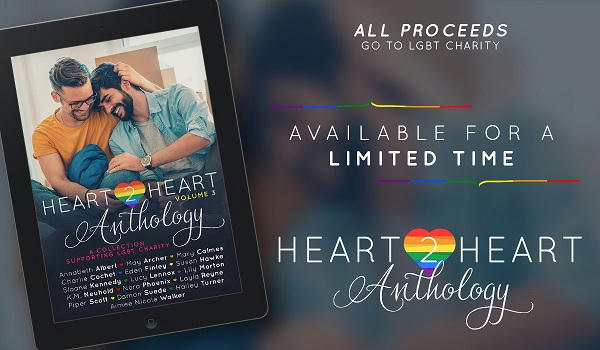 Excerpts!
ALL EXCERPTs FROM HEART2HEART: A CHARITY ANTHOLOGY, VOLUME 3
The Vase
By May Archer
The door swung open to reveal a tiny doll of a woman with possibly the whitest hair I'd ever seen.
Both of us turned to face her with a smile.
"Good afternoon, ma'am," we said at the same time. In unison, we turned and scowled at each other. "I'm here for the Nauticollie vase," we both blurted. Our frowns deepened. "No, you're not! I am!" we chorused. "I saw it on Heart2Heart!"
Holy shit.
The woman clasped her hands together beneath her chin. "What a neat trick!" She looked at us expectantly. "What else do you do?"
"Uh… ma'am," the guy said, with a hard look that dared me to speak over him, "I had an appointment to buy the Nauticollie vase you're selling—"
"Incorrect," I argued. "That vase is mine. I had an appointment at one o'clock."
"No," he said hotly, "I did."
The woman smiled in confusion. "Which of you is Timmy?"
The man and I exchanged a look. He shrugged. "Not me. I'm Landon Lang."
"Malachi Fortier." Out of habit, I reached into my pocket and handed over my business card.
"Really?" Landon shot me a disgusted eye roll I ignored.
"We spoke on the phone earlier," I reminded the woman. "Remember? You asked where I was from, and I said Bitterleaf?"
"You? Are from Bitterleaf, Vermont?" Landon scoffed.
"Originally." I lifted my chin. "Now I live in New York."
He was unimpressed. "Teeny, tiny Bitterleaf?"
"What's your point? Bitterleaf has an arts center now. I hear it's delightful."
The woman's expression brightened. "I have a great-nephew in Bitterleaf! Kit took the pictures and helped me list all the things I'm selling on the internet." She leaned forward confidingly. "It's like a rummage sale, only invisible. The internet has everything."
Landon made a choking noise.
"So true," I agreed with a smile. "You, ah, mentioned your great-nephew when I called. And when I explained why I was so eager to purchase the vase, you told me—"
"It was my son's," she said sadly. But it was clear from her tone that she was presenting this as new information and had no recollection of our conversation. As she said the words, her sweet face collapsed and her eyes clouded with tears. "Poor Rodney. He passed on. Did you know?" She looked back and forth between us, needing connection, or reassurance, or… something. Shit, I was out of my depth.
Landon wasn't faring any better. "I'm so sorry for your loss," he said. "But, um…Mrs.…?"
"White. Dorothy White. You can call me Dot."
"Right. Dot. I want you to know that if you sell me his vase, it'll be going to a very good home. It'll be treasured. Just the way your son would want."
"Hey!" I protested, shifting in front of him. "Not nearly as treasured as it will be if you sell it to me! It'll join a whole collection of Nauticollie vases at my parents' house. Like a… a giant family reunion!"
Dot's eyes widened. "Oh, how lovely."
"That's not a real thing," Landon argued. He bumped his shoulder into mine, hard enough to move me, and I glanced at him in surprise. He was a big guy, but I was bigger. I wasn't easy to move.
Landon gave Dot a winning smile. "Dot, if you let me buy that vase, you'll be doing a huge service to a hardworking guy who's down on his luck. It would be your good deed for the year, and the universe would repay you a hundredfold!"
I snorted. "Please. New age mumbo jumbo. Is that a guaranteed dividend? Can the universe afford that rate of return?" I shook my head. "Sounds like a Ponzi scheme to me. Karma goes in but never comes out. Sell the vase to me and—"
Landon's nostrils flared sharply. "I truly need that vase—"
"Uh, so do I," I interjected. "More than you." I bumped his shoulder, but he didn't move at all. Solid fucker.
Landon looked up at me, green gaze hot. "For your collection? Who cares?"
I folded my arms over my chest and leaned toward him. "I do. It's a gift. For my mother," I added, turning to Dot. "A wonderful woman with the patience of a saint."
"She'd have to be," Landon muttered. He smiled at Dot also. "As I was saying, Dot, acquiring this vase would change my life, and—"
"Nope. I call bullshit. It's a vase with a pirate dog in an eyepatch. It's not life changing."
"You," Landon said grimly, "have no idea."
"No, I think you're lying."
Temper made his eyes spark. "And I cannot control what you believe, Malachi." His voice was sweet, though he spoke through clenched teeth. "I can only control my reaction to you. Namaste!"
The Book
By Aimee Nicole Walker
"Hello, I'm Evan. I mean, you already know that from the ad, but it seems appropriate to formally introduce myself since I publicly propositioned you. What's your name?"
"Gideon."
"Gideon," Evan repeated, liking the way it rolled off his tongue. "It suits you."
"Nerdy and pathetic?"
Anger rose inside Evan. Who had made this beautiful man felt so unwanted? "Shut the door, Gideon. We have arrangements to make."
"What? No. I didn't come here to take you up on your offer."
Evan might've believed Gideon if he'd maintained eye contact instead of glancing down at his rainbow-colored Chucks. "Close. The. Door."
Gideon's head snapped up. He must've seen the determination in Evan's eyes, because he heaved a deep sigh then shut the door.
"Have a seat," Evan said, gesturing to the empty chair in front of his desk.
As if he were walking to the gallows, Gideon slowly placed one foot in front of the other. He lowered himself onto the leather chair, balancing on the edge.
"Lesson number one: from this day forward, you will banish the words nerdy and pathetic when describing yourself. Is that understood?" Jesus. When had he become so bossy? Why did he care so much what this stranger thought about himself? Evan held up the copy of Cherry Pop. "This book offers some great tips on being a power bottom, but it leaves off the most important factor."
"What?" Gideon asked, appearing to forget about his embarrassment.
"Confidence."
"I'm sunk then," Gideon said, slumping back against the chair like his spine had turned into limp spaghetti noodles. "I'm a horrible liar. I've never been able to fake it."
"Sweetheart, I don't want you to fake confidence; I want you to feel it."
"That's why I wanted the book," Gideon said. "I wanted tips on how to relax and become more assertive."
Evan shook his head slowly. "You can't learn everything from a self-help book. Sometimes, you need hands-on experience."
"And you want to give that to me?" Gideon asked in disbelief.
"That's right."
"You expect me to believe that sex with you one time will teach me how to knock a man's socks off in bed?"
"First off, there are to be no socks in bed. Ever. It's just tacky and also lazy. Also, I will need more than one night to teach you everything. How does a few nights a week for a month sound?"
Gideon's mouth fell open in shock. "You can't be… What? An entire month?"
Evan opened his planner on his desk. "When would you like to start? How does next Monday sound?"
The Last Drop
By Layla Reyne
Three strikes and you're out, according to baseball and conventional wisdom, neither of which Greg Valteau liked all that much. If he believed in that kind of nonsense, he would have never gone to culinary school, never made a hollandaise that didn't break, never bought the fucking Saints jersey on his back. He believed in ghosts and vampires more than he believed in some three strikes bullshit.
But something about tonight felt different. Felt final.
He'd known it would be tough. More restaurants failed than succeeded, and New Orleans itself was a challenge. While things were better now in his hometown, it had taken time to bounce back after Katrina. He'd hoped to be a part of the vibrant re-awakening. Instead, he had three failed concepts and a pair of very callused hands to show for all his efforts, for the heart he'd poured back into his city only to have his dreams washed out into the Gulf.
Maybe it was time to pack it up and go back to New York or join his best friend in the Bay Area. Except as much as his heart ached to be with him, it ached even worse at the thought of leaving his hometown again. He was committed to the humidity, the mosquitos, to his family here, and to the soulful culture he loved, that was a part of him. But making that commitment work with the part of his soul that also wanted to cook for a living was fucking hard.
"What can I get you to drink?"
Greg looked up from his empty hands and blinked, twice. He didn't normally go for hipster, but damn. The Mohawk of black curls, the amber eyes fringed by thick lashes, and the trim dark beard worked for the bartender. As did the fitted gray vest, mint green dress shirt, and tight black jeans, all showcasing a compact, fit body, and… just, damn.
Talk about hard; Greg had to shift on his stool.
The bartender tilted his head and bit his plump bottom lip. Not making things any less hard for Greg. Neither did the much-missed accent that blanketed the bartender's words when he spoke. "Judging by that look on your face a moment ago," he said, "I'd say something heavy on the alcohol and light on everything else." Clipped as the thick New York accent was, Greg would lay odds on Manhattan.
"Was I that obvious?"
"Well, you were doing your best Virgin Mary impression." He struck a palms-up pose, and Greg half groaned, half laughed. He hoped he hadn't looked quite so woeful. Mr. Manhattan winked and slid a napkin in front of Greg. "I promise, all is not lost."
"How many times have you made that promise tonight?"
He shrugged a shoulder. "Half a dozen. Doesn't make it any less true." He flipped an old-fashioned tumbler right side up and dropped a giant sphere of ice into the glass. "And I know just the drink for you."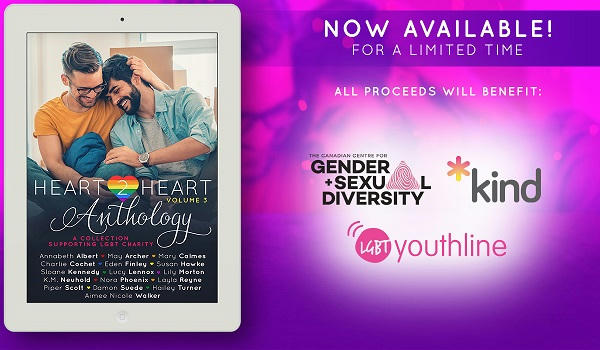 Charity information!
With this third volume we are proud to be donating a portion of our proceeds to each of the following charities:
🏳️‍🌈 LGBT Youth Line: a Queer, Trans, Two-Spirit* youth-led organization that affirms and supports the experiences of youth (29 and under) across Ontario. We do this by:
-Providing anonymous peer support and referrals;
-Training youth to provide support to other youth; and
-Providing resources so youth can make informed decisions.
🏳️‍🌈 Kind Space: committed to providing accessible resources, events, social, and educational programming to celebrate and support people of all sexual orientations, gender identities and expressions.
🏳️‍🌈 The Canadian Centre for Gender & Sexual Diversity: aspiring to support and transform Canadian and indigenous communities from coast to coast to coast in a shared vision of a discrimination-free gender and sexually diverse world.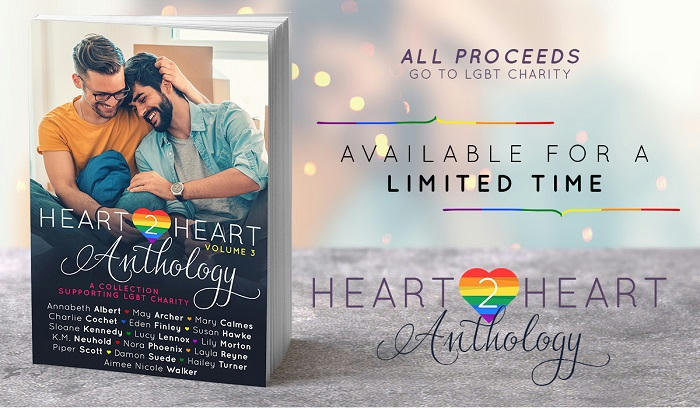 More Info!
The first 2 volumes of Heart2Heart made a combined total of more than $50k USD. The net proceeds were donated to six incredible charities, including One-n-Ten, Ali Forney Center, Trevor Project, Rainbow Railroad, Trans LifeLine, and the Bisexual Resource Center. These volumes are no longer available, but thankfully the passion for the project hasn't faded. Every step of the process has been donated:
Cover design, logo, and promotional graphics by AngstyG

Beta reading, editing, proofreading by the team at LesCourt Author Services, as well as Allison Roy

Promotional posting by LesCourt Author Services and the ANTPR group

And of course, the authors' time and efforts
What you want the takeaway of the book to be for readers: 16 all-new stories, written by some of the biggest names in gay romance, supporting three amazing charities, for a limited time.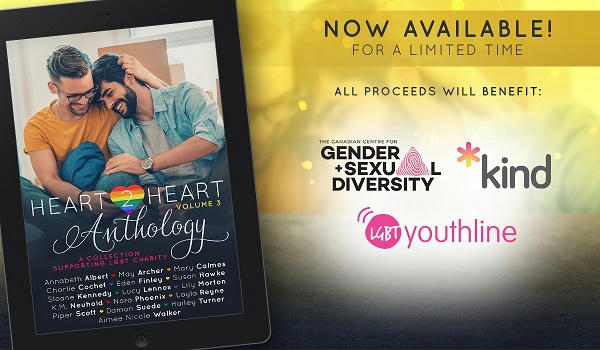 The authors!
Aimee Nicole Walker : Facebook | Instagram
Annabeth Albert: Facebook | Instagram
Charlie Cochet : Facebook | Instagram
Damon Suede: Facebook 
Eden Finley: Facebook | Instagram
Hailey Turner: Facebook | Instagram
K.M. Neuhold : Facebook | Instagram
Layla Reyne : Facebook | Instagram
Lily Morton: Facebook | Instagram
Lucy Lennox : Facebook | Instagram
Mary Calmes : Facebook | Instagram
May Archer: Facebook | Instagram
Nora Phoenix: Facebook | Instagram
Piper Scott (Emma Alcott): Facebook | Instagram
Sloane Kennedy: Facebook | Instagram
Susan Hawke : Facebook | Instagram